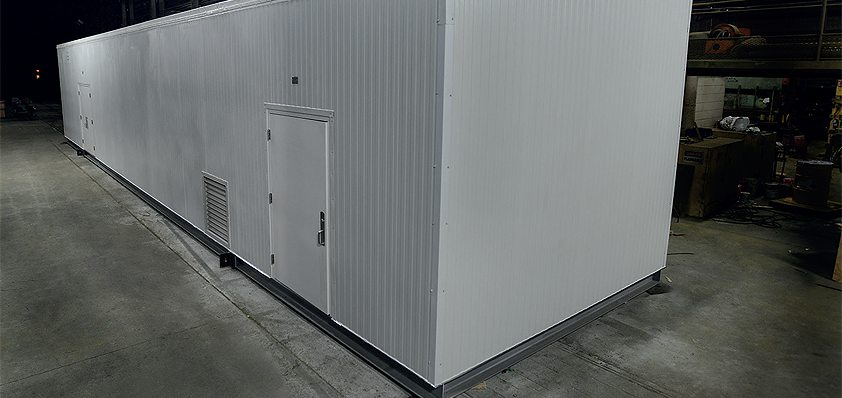 Cool solutions
Celebrating its 75th anniversary in 2020, Gartner Refrigeration blends decades of experience with modern technologies to provide innovative refrigeration solutions for the food industry and beyond
Gartner Refrigeration opened its doors for the first time in 1945 with two primary goals: to embrace and refine evolving technologies in industrial refrigeration, and to work closely with its customers throughout each step of its operations. 75 years on, these founding values remain at the heart of the business and Gartner continues to build upon them, establishing itself as a refrigeration specialist with a reputation for innovation and a genuine partnership philosophy.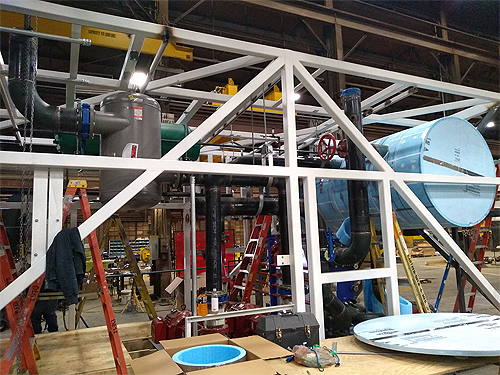 Today, in 2020, Gartner specializes in the planning, design, and installation of refrigeration equipment for industrial applications. Primarily serving the food and food storage industries, the firm boasts a full engineering staff, a dedicated design department and celebrated construction capabilities that allow it to deliver solutions across a full spectrum of application situations. Custom-developed and expertly carried out, the company aims to design-build high-quality systems that are energy efficient and cost-effective.
Founded by German immigrant brothers, George and Herb Gartner, Gartner Refrigeration is a multi-generational business and a sense of family runs through the entire organization. According to company President Jim Andrie, the culture of encouragement and togetherness drawn from the firm's family roots is beneficial to the way Gartner performs.
"There are a lot of things that make us stand out in this industry," Jim states. "For example, some competitors that have similar market strategies to us maybe don't have the bandwidth we've got. We have a large engineering group here and one thing we are doing is recruiting several younger engineers to provide continued growth long term to meet our customers' needs for the next 75 years.
"We want to make sure that we are not short-sighted as a business, and have a good mix of ages and talents throughout the organization," he adds. "Bigger projects might be led by a senior person with more years of experience, with the assistance of the younger personnel to work as a team. It ends up working like a family-type support system where we collaborate and learn from one another to make sure we are moving the company forward. If somebody struggles, we reach out and help them. It's a culture of support."
As evidenced by the way Gartner handles its workforce, people are important to the business. This notion extends to the firm's customers, or 'partners' as Jim calls them, recognizing the active role that Gartner's clients have played in the company's success.
"We really have taken a very strong approach to making sure we are partnering with the right people," Jim asserts. "Part of our growth comes through building relationships for the long term. We are a solutions provider, and rather than just fitting something mechanical, we are able to deliver a fully engineered product and back it up with good operating efficiency and support services. We develop systems that we expect to operate 20 to 30 years and we want our relationship to last the same amount of time."
Gartner's personal, relationships-based approach to refrigeration solutions has won the company a number of major projects over the years. Among these, in 2019, the firm performed design-build services for a large alcohol producer in the US, delivering cooling tower chilling systems, as well as mechanical cooling chilled water system with refrigeration compressors. The successful development added yet another multi-million-dollar achievement to Gartner's growing portfolio.
Built on a history of continuous improvement, Gartner has been an early adopter of new technologies as far back as the 1940s when George and Herb introduced ammonia and the two-stage blast freezer to the firm, which acted as twin catalysts into the ice cream and red meat business. Technology may have advanced significantly since then, but Gartner remains as excited and open to new ways of doing things as it was in the beginning. Alongside exploring
critical charge systems and natural refrigerants, Gartner has added modular construction to its expansive list of capabilities. Earlier in 2020, the company completed its largest modular project to date, delivering a 1000-ton chilling system for warehouse cooling.
"Technology in general is advancing incredibly quickly and the way construction is carried out is constantly changing with 3D modelling and offsite fabrication now being preferred methods of working," Jim says. "I don't think these technologies were that advanced five years ago, but they have certainly progressed and we continue to engage with them.
"Along with prefabrication, both internally and externally, we can now scan huge areas of some of our bigger projects and use the scans to create a model of where all the pipes, pipe supports, and hangers are going to go. When it's all planned out, a system can then be fabricated offsite, brought in and just fitted together.
"Offsite fabrication and modular construction are, on average, 30 per cent more efficient ways of working as they save time, reduce cost on labor and shipping, and minimize risk for the owner because the number of people onsite, and how long they are onsite, is decreased. There are so many benefits," Jim concludes, "and I can see things working this way for a long time."
Perhaps the most groundbreaking innovation Gartner hopes to incorporate into its offering in 2021 is AI technology. Though currently still in the early stages of discussion with the firm developing the software and equipment, Gartner has already highlighted a number of key advantages that AI technology could offer the refrigeration industry, namely the ability to compile predictive weather data for the week ahead and feed those needs into a facility to ensure that a system is operated as effectively as possible.
"There are a lot of different types of controls out there right now, but I don't know many that are as adaptive as this is, so it is a partnership we are looking to establish and a product we hope to take to a wider audience," Jim reveals. "Ultimately, we want to be a leader in technology rather than following the rest of the market."
As we approach the end of a challenging year dominated by Covid-19, Jim is pleased with the way Gartner has negotiated the difficulties presented by the pandemic. Deemed an essential business for most of the previous eight months due to its association with the food and construction industries, Gartner has continued working in line with government safety protocols such as social distancing, regular sanitization, and daily temperature checks. Having made it through one of the most problematic periods of its history unscathed, Jim claims that Gartner remains very much on track heading into the New Year.
"Overall, I think we are very satisfied with 2020," he remarks. "It's been a tough year to say the least and at times we have had half or three quarters of the staff working remotely, but I think people have stepped up and embraced the challenge. The pandemic has had an impact on the company, but we are still very close to the business plan we set for the year and we know we are fortunate that the food industry is still so busy."
At its core, Gartner prides itself on being a learning organization and this is how the company aims to approach the future. Alongside offering a variety of industry training courses, including Ammonia Response Training and Standard Operating Procedures, the firm will continue to teach and support its employees, facilitating their growth into Gartner's next generation of leaders.
"We are on a very good path and our growth potential right now is very positive," Jim declares in summary. "There are a couple of new markets we want to move into over the course of the next three years and we will definitely be expanding, either through acquisition or natural growth. Within the markets that we already have a presence in, we are going to be embracing AI technology and increasing the scope of the controls technology that we already provide on a smaller scale. We know there is going to be progress and as a business, we are very confident of a really bright future."
Gartner Refrigeration
Services: Industrial refrigeration solutions
www.gartner-refrig.com