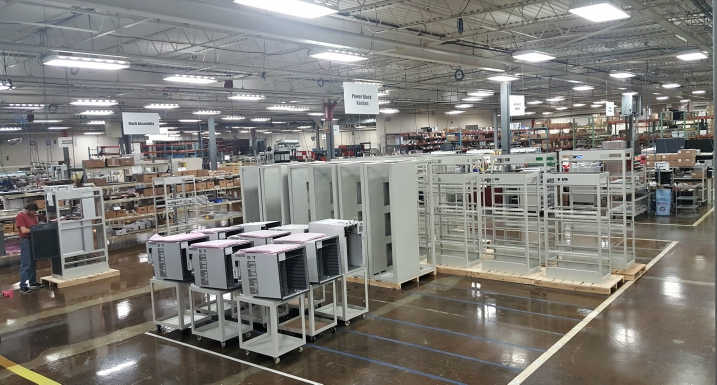 In the world of broadcasting, both industry standards and technology change at a rapid pace. GatesAir, a global leader in wireless, over-the-air content delivery solutions for radio and TV broadcasters, is prepared to help guide its clients into the future.
"As broadcasters around the world tackle these challenges, they're turning to the company with the scale, technology, solutions, quality, reliability and customer support to help them come out ahead of the competition," says Bryant Burke, vice president of global operations and services.
GatesAir believes it is that company. It has been powering over-the-air networks worldwide for nearly 100 years. The company provides complete solutions for over-the-air radio and television broadcasting, leveraging wireless spectrum to maximize performance for multichannel, mission-critical services.
Its turnkey solutions enable broadcasters to create, transport and transmit radio and TV content. With customers in more than 185 countries, the company leads the industry in innovation and design breakthroughs, improving efficiency and reducing total cost of ownership with all products designed and assembled in the United States.
Making Its Mark
GatesAir has earned nearly 300 active global patents and two Emmy Awards from the National Academy of Television Arts and Sciences, and it won Best in Show awards from TV Technology, Radio Magazine and Radio World for its ultra high frequency air and liquid-cooled transmitters and internet protocol link family of audio codecs.
"GatesAir continues to innovate groundbreaking, robust and reliable solutions in low-, medium- and high-power transmitters, reduced footprint, energy use and more to establish the industry's lowest total cost of ownership," Burke says. "We are prepared for significant growth driven by global digital roll-outs, U.S. TV spectrum reallocation and the adoption of new broadcast standards that will again significantly change TV audio and video quality."
All research, development and innovation are driven from the company's facilities in Mason, Ohio, and supported by a long-standing manufacturing center with more than 200 associates in Quincy, Ill. The company's product lifecycles range between five and eight years.
"Because we are vertically integrated with direct control of all aspects of design, development and manufacturing, it makes it possible to verify the quality of the products and processes, introduce innovations, discover synergies and new operating methods, and optimize time and cost," Burke says.
GatesAir maintains its manufacturing quality by focusing on continuous improvement and through the implementation of best practices in the areas of lean techniques, manufacturability, testability and serviceability. The company regularly refreshes its capital equipment and tests automation as well as focuses on training and cross-training.
Showing Quality
Concurrent with the 2017 World Quality Day, GatesAir demonstrated compliance with global standards for quality management, environmental and safety practices. In December, the company announced that it had successfully implemented the latest iterations of the International Organization for Standardization (ISO) 9001 standard for Quality Management Systems and the ISO 14001 standard for Environmental Management Systems.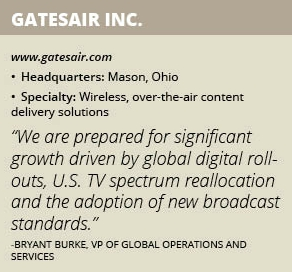 In addition to these standards, set by ISO in 2015, GatesAir also achieved full compliance with the OHSAS 18001 Occupational Health & Safety Assessment. The National Standards Authority of Ireland (NSAI) was the accredited registrar that completed the audit to assess compliance for both ISO and OHSAS standards.
"Together, these widely respected global standards establish best practices for world-class business performance and safety procedures, while improving the company's overall environmental impact," Burke says. "These values are also in alignment with the principles expressed during World Quality Day."
World Quality Day, observed on Nov. 9, fosters greater global awareness of the importance of quality to any organization's growth and prosperity. As an international standard, ISO 9001 is recognized by organizations in more than 170 countries worldwide, with more than one million companies certified.
It is based on a number of quality principles, including best practices for manufacturing, strong customer focus, the engagement of top management and a dedication to continual improvement.
ISO 14001 recognizes companies that have adopted environmentally responsible practices in their business processes. It raises the profile of environmental management to a new level of proactive environmental initiatives, enhanced performance benchmarks and lifecycle thinking.
OHSAS 18001 is a standards series, established in 2007, for assessing and auditing occupational health and safety management systems and best practices at today's corporations.
"We believe that aligning our QMS and EMS practices with our business strategy is essential to delivering innovative, high-quality, customer-focused broadcast solutions to our customers," Burke says. "I'm extremely proud of the GatesAir team for achieving this important quality milestone of global ISO and OHSAS standards accreditation."
Award-Winning Innovators
In December, two longtime GatesAir employees, Keyur Parikh and Joe Seccia, were named winners of the first annual NewBay Media Industry Innovator Awards from NewBay Media publications Radio World and TV Technology. Winners were selected by a panel of experts and evaluated on their professional achievements, technical and business innovations and continuing influence within their industries.
Parikh, GatesAir's director of Intraplex products, is responsible for many company innovations that further the possibilities of IP transport. His new award-winning IP Link MPXp cuts the bandwidth for digital AES192 transport in half, while supporting FM MPX composite transport within the same compact device.
Parikh's other innovations include the industry's first implementation of the Opus codec; the development of LiveLook, the industry's first solution to analyze and troubleshoot end-to-end IP network performance; and the continued development of legacy STL solutions including HD Link, GatesAir's 950 KHz microwave STL system. Seccia, who today manages GatesAir's market and product development strategy and TV transmission, has helped shape its advanced broadcast transmission standards and technology enabling several major DTV transitions, including ATSC 1.0 and ATSC 3.0. He has been the principal architect behind the design and development of key company products that advance the possibilities of over-the-air TV.
Seccia recently led a research and development team to develop the IP-native Maxiva XTE exciter, which provides a seamless migration path to ATSC 3.0 and IP distribution. He has also consulted with several pioneering broadcasters to enable several historic DTV firsts, including the world's first baseball game broadcast in HD over 8-VSB by WHD-TV and WETA-TV.
"It's a pleasure to honor those who make such a difference in their industries — innovating in technology and business while also inspiring others," said Eric Trabb, vice president and group publisher for NewBay Broadcast and Video Group. "The awards are designed to shine a spotlight on the people behind the companies and technologies on which our industries depend."
Global Investment
GatesAir is a portfolio company of Los Angeles-based The Gores Group. Founded in 1987 by Alec Gores, The Gores Group is a global investment firm focused on acquiring controlling interests in mature and growing businesses that can benefit from the firm's operating experience and flexible capital base.
The firm combines the operational expertise and detailed due diligence capabilities of a strategic buyer with the seasoned mergers and acquisitions team of a traditional financial buyer. The firm prides itself on being a leading investor and having demonstrated a reliable track record of creating value in its portfolio companies alongside management. The Gores Group also maintains offices in Boulder, Colo., and London.