GB Manufacturing/GB Fabrication/Par-Kan Co.
Mark Ries knew from an early age that there was one big problem faced by people who work with tools. "My father was a carpenter, and I worked with him from when I was eight years old into my mid-20s," he says. "It seemed like every time I went to the tool box, the tool I needed was always on the bottom."
Ries – who now works as vice president of sales and engineering for GB Manufacturing and GB Fabrication, a metal fabrication company based in Delta, Ohio with divisions in Shiloh and Shelby, Ohio – recently had an idea that would solve this problem. "I wanted to put a door on the front of it; that way, you could just open the door and get what you wanted from the bottom," he says.
During development of the toolbox, a few of Ries' colleagues from GB Fabrication had additional suggestions about further uses. "One member of the team said this could be turned into a dog box," Ries says. "We also realized the top shelf would be a great place to store guns."
Release the Hound
The vision of Ries and his team became realized last August, when GB Manufacturing introduced the Work Hound toolbox. The toolbox is targeted to contractors and other professionals who, like Ries, have experienced the pain of having a needed tool be buried at the bottom of a conventional toolbox.
The box has two front doors and a bi-level lid providing easy access to four levels of tool storage. The bottom of the box is large enough to hold a circular saw, and the top of the Work Hound can safely store expensive tools such as laser transits, Ries says.
The Work Hound can easily be converted from a toolbox to a dog box by removing shelves. The box's sides are ventilated, and optional ventilated doors are also available. The top of the box offers safe cushioned storage for guns, and the rest of the box can hold ammunition.
No tools are required to modify or install the toolbox, which is designed for placement in the back of a pickup truck or behind the back window. The body, doors and shelves of the Work Hound are made from heavy-gauge aluminum that is four times thicker than that used in typical toolboxes.
The Work Hound retails at $2,195. "We wanted to produce a very durable, high-quality and high-end toolbox," Ries says. "This is not for people who want to spend a few hundred dollars at a discount store." A video can be seen at www.theworkhound.com.
The toolbox is available in more than 250 different color options. The lid, box body and doors can be powder coated in different color combinations, he adds.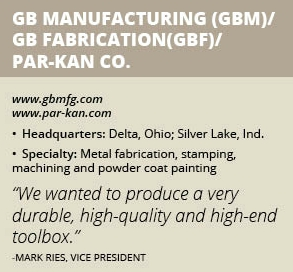 In the Dump
GB Manufacturing will unveil the Work Hound during the Work Truck Show in Indianapolis in March. GB will share Booth No. 5877 with sister manufacturing company Par-Kan Co., which will display its Easy Dump, a refuse collector that can be installed on the back of a basic pickup truck.
The collector can be used in narrow alleys and other restricted areas that cannot be accessed by large garbage trucks, or used during supplemental pickup runs. The Easy Dump can be operated without the need for a commercial drivers license.
"This was developed to fill a void within the waste industry," says Abbie Hepler, director of sales and marketing for Par-Kan. "For example, if a hauler misses your stop, they can send a vehicle equipped with the Easy Dump instead, saving the hauler time and money."
The Easy Dump has applications beyond the waste management industry. "We have found that it is versatile," Hepler says. "We have customers who use it to collect recycling, trash and food waste, and others in the landscaping market who use it to carry ground cover [such as mulch]."
The 2018 Work Truck Show will be the first for both companies. "This has a lot of potential in terms of what others can do with it," she adds. "We're looking for anybody in search of a dump-type truck that needs to enhance their daily operations."
'Making Customers Happy'
GB Manufacturing and Par-Kan manufacture the Work Hound and Easy Dump in their manufacturing facilities in Shiloh, Ohio, and Silver Lake, Ind., respectively. Par-Kan also operates a manufacturing facility in Nebraska.
GB Manufacturing is a metal fabrication specialist whose specialties include stamping, machining and powder coat painting. The company works in several markets including automotive manufacturing. Examples of its work in the automotive sector include fabricated metal steps and decks used on Volvo and Mack semi trucks and stamped diesel truck engine parts.
"We can make between one piece to a million pieces of different products," Ries says. "That's what makes us special – we're the guys who can make prototypes, put products on press brakes for low-volume production and then convert to a stamping die for high-volume production."
Par-Kan also specializes in fabricating high-quality products from metal. The company's product lines include SeedWeigh tenders and other agriculture equipment; baggage carts and ground support equipment; refuse containers and liquid waste recycling containers.
Both companies are privately owned, certified Minority Business Enterprises that take a similar approach to their work. "The customer experience is something we take very seriously, and we have the same quality expectations," Ries says. "We have great people throughout our businesses, and take great pride in solving our customers' problems. The end game for all of us is to make our customers happy and give them a great product."