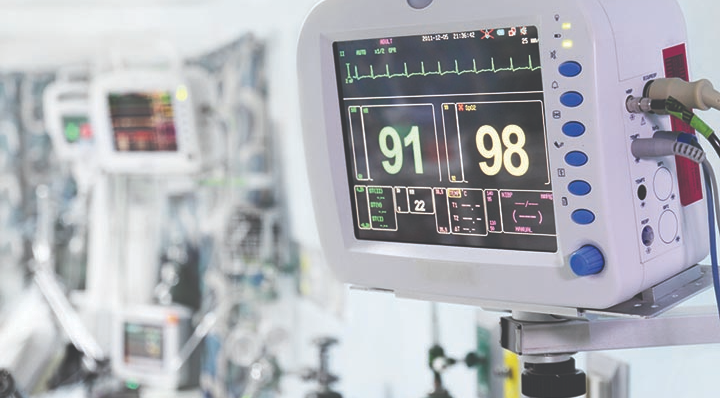 Rich Dodele was visiting a Kaiser Permanente hospital in May when he noticed a familiar mounting device used to hold computer equipment. It was one of his company's products, originally installed a decade ago and still working years later like the day it was new. That longevity speaks to GCX's quality but it's not an uncommon occurrence for the company. Some other hospitals and OEMs still are using the same mounting devices from when Dodele started with the company 31 years ago.
After more than four decades filling a niche in the medical industry, GCX is preparing to stretch itself into new market. Industrial and manufacturing companies may not have the same reasons for needing secure mounting products, but they require the same level of quality all the same.
"The level of testing we have to do with our product to put it into the medical industry is substantial," says Dodele, GCX's manufacturing manager. "We can't have a product that is hanging over a patient that will fail." The arm that holds up a patient interaction screen will see the same kind of abuse as those that carry an engineer's computer or the screen detailing the latest data on assembly line productivity.
For manufacturing and industrial customers to invest in the devices, the mounts must hold up to the wear of daily use. "We're talking about putting IT mounting solutions in manufacturing and industrial [settings] that will last companies 15 years," Dodele says.
Leading a Niche
Gary Gilbert founded GCX in 1971 and the company remains owned by his stepson, John Kruger. The company got its start manufacturing mounting solutions for hospital TV sets. Those early products were designed so they could be lowered to easily repair the bulky televisions. Hospital customers soon became familiar with GCX's quality and the company transitioned into a full line of mounting solutions for medical devices by the late 1970s. Today, GCX boasts $100 million in annual revenue and is one of the leading developers of medical device mounting products.
GCX's lineup includes carts and roll stands, arms, countertop mounts, ceiling mounts, post and pole mounts, and rail mounts. Hospitals use the products for a variety of needs, including housing computers, patient monitoring systems and medical equipment such as anesthesia machines. Earlier this year, GCX launched its patient engagement table and overhead arm that can hold a tablet or computer screen that patients can swing over their beds and interact with.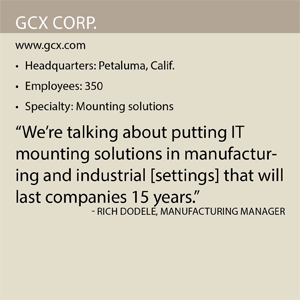 The product is a key component in the patient engagement systems being adopted at many care facilities. The systems allow a patient to watch movies, turn off their room lights, order food, review healthcare information and even communicate with their doctors.
Also this year, GCX launched two variants of its second generation of its variable height arm, called the VHM-P and VHM-PL. The VHM can accommodate eight cables and conceal 80 percent of that cabling. The products feature a seamless unibody construction and swivel/tilt and pivot-tension adjustments.
GCX has warehouses in Petaluma, Calif.; El Paso, Texas; the Netherlands and Taiwan. In Petaluma, Calif., the company's primary focus is engineering, R&D and new product development. The El Paso facility is used for mid to high-level manufacturing, assembly and distribution. The 35,000-square-foot facility in Taipei, Taiwan, is used for low-volume assembly and distribution to the Asian and European markets. GCX has also partnered with Pyramids Technology Corp., located in Taiwan, for its high-volume production of cast, molded and core assemblies.
Helping Manufacturers
Because it is a company that prides itself on innovation and staying ahead of its market, GCX makes a conscious effort to put technology in every working environment. The company uses about 250 of its own mounting products in its manufacturing facilities.
In today's world where every employee expects and needs to have their own computer, mounting devices have several advantages over the traditional desk and monitor. Mounting allows computer workstations to be variable heights and makes them mobile so they can be moved between spaces. GCX is using its own products to save space a time. Employees who used to have to walk across the factory floor to get updated inventory numbers can now pull the information up on their screen, and then push the monitor away to create working space. Dodele says mounting its IT equipment has made GCX more productive and leaner, with fewer people able to do more work.
It didn't take long for GCX to realize other manufacturers could see a similar benefit. The company is now marketing its products to manufacturing and industrial customers and plans to have a booth at the International Manufacturing Technology Show in Chicago this September.
To develop its products, GCX works closely with the medical divisions of its largest customers such as General Electric, Philips, Medtronic, Drager and Siemens. "By working with our OEMs we're constantly at the forefront of what's coming in the future," Dodele says. GCX will rely on many of those existing relationships as it transitions into the manufacturing and industrial space.
GCX has created lasting relationships in the medical world, but for the company to grow it must expand its scope. "There are no more white whales out there," Dodele says. "We have them. It's how can we partner with them in other areas that we're not involved in."