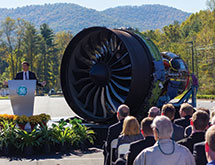 One of the world's leading providers of jet engines and integrated systems for commercial and military aircraft continues to make significant investments in its future.
GE Aviation, an operating unit of General Electric Co., is committing $195 million in its four manufacturing facilities in North Carolina through 2017. The company employs 1,300 people in sites in Durham, West Jefferson, Wilmington and Asheville. The West Jefferson, Wilmington and Asheville plants manufacture engine components, and final engine assembly is performed in Durham.
One large part of the company's investment came to fruition in October, when the company opened the doors to a new facility adjacent to its Asheville plant. The new 170,000-square-foot facility is the first in the world to mass produce engine components made of advanced ceramic matrix composite (CMC) materials, Plant Manager Michael Meguair notes.
"GE has been developing this technology for many years, but this is the first time we've been able to put it into production on any of our engine platforms," he adds.
Made of silicon carbide ceramic fibers and ceramic resin, CMCs are manufactured through a highly sophisticated, proprietary process. The material enables engine components to be lighter, more durable and able to withstand higher temperatures than typical super alloys, Meguair says.
The new material will be used to produce a high-pressure turbine shroud, an engine component that directs exhaust gases through turbines. The component will be a part of the LEAP jet engine, developed by CFM, a joint venture between GE Aviation and French aircraft and engine manufacturer SAFRAN. The LEAP engine will be used starting in 2016 on next-generation aircraft including the new Airbus A320 neo and Boeing 737 MAX. The joint venture has already received orders for more than 8,000 LEAP engines; each engine will include 18 CMC turbine shrouds.
Meguair credits the facility's distinction as the first GE Aviation site to produce CMC parts to the workforce in Asheville. "Our strongest attribute here in Asheville, and the reason we were selected to house this technology, is the talent of our employee base," he says. "We have an overall culture of innovation and change, and our employees have a will to win and be successful at what they do."
The Asheville plant employs 290 people; that number is expected to increase to more than 340 people within the next five years. Operations at the plant, which today include machining rotating parts including shafts, seals and blade retainers, will gradually transition entirely to the production of CMC components in future years.
Local Partnerships
GE Aviation worked closely with the North Carolina Department of Commerce to secure the new Asheville location. The company also worked with the state and several local municipalities and agencies to provide technical support and incentives related to investments in all four of its manufacturing sites in the state. One of these partnerships was with the Asheville-Buncombe Technical Community College, which assisted in training on the new equipment, GE Aviation says.
GE Aviation also invested in improvements to its three other facilities in North Carolina. This includes increasing the capacity and investing in new equipment at the Durham facility for engine assembly. The company also intends to expand its West Jefferson and Wilmington facilities.
The West Jefferson facility, which houses machining of rotating parts, is in line for an 80,000-square-foot expansion anticipated to open before 2017. At Wilmington, where the company manufactures medium- to large-sized rotating parts, investments will include the purchase of new plant equipment.
Worldwide Commitment
GE Aviation this year also broke ground on a significant investment in its U.S. manufacturing operations outside of North Carolina. The company within the next few years will open a $100 million jet engine assembly facility in Lafayette, Ind.
The Indiana facility will be GE Aviation's seventh new facility in the past seven years, joining the Asheville facility as well as sites in Batesville, Miss.; Auburn, Ala.; Greenville, S.C.; Dayton, Ohio; and Ellisville, Miss.
The 225,000-square-foot facility will assemble the new LEAP engine. Within five years, the plant's workforce is expected to exceed 200 people performing final engine assembly for the engine as well as producing components including compressors, combustors and high-pressure turbines.
"We are thrilled by the airline industry's enthusiasm for the new LEAP engine and its groundbreaking technologies," GE Aviation President and CEO David Joyce said in a statement.
"Beginning in 2015, the LEAP engine will experience a dramatic production ramp-up for the remainder of the decade. We are grateful to the entire Indiana team for ensuring that our Lafayette assembly plant will be soon up and running."
The plant will be minutes from Purdue University in West Lafayette, which has a long history of collaboration with GE Aviation and its parent, GE. GE employs more than 1,200 Purdue University alumni, including more than 400 at GE Aviation. Over the past five years, GE has financed more than $2.5 million in research and development projects at Purdue, the company says.
The investments in North Carolina and Indiana represent a portion of the company's worldwide commitment to growth. The company expects to invest more than $3.5 billion in plants and equipment worldwide between 2013 and 2017, with most of that investment in the United States.
"This long tradition of commitment to new technology has helped GE maintain its leadership position within the industry with a proud list of firsts in both military and commercial jet propulsion, tracing back to 1942 with America's first jet engine," the company says.