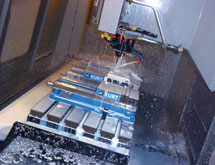 Geater Machining and Manufacturing Co.
The manufacturing and machining business has changed a lot since Duane Geater founded Geater Machining and Manufacturing Co. in 1962. Although the technology certainly has become more advanced, it's far from the only way in which the industry had changed, according to Vice President of Operations Joe Meier. He says customers have become more focused on cost in recent years, and the high turnover in many companies' sourcing departments means long-term vendor relationships don't mean as much as they did in the past. Under these conditions, Meier says, the stakes are higher than they ever have been.
"You're constantly proving yourself," he says, but adds that Geater Machining and Manufacturing is more than equipped to rise to the challenge. "It's a very competitive market, but we've established some competitive advantages, too."
Based in Independence, Iowa, Geater Machining and Manufacturing specializes in precision machining and sheet metal fabrication for customers in the aerospace, electronic and high-tech sectors. "Our very first customer was Rockwell Collins, and to this day they're still our largest customer," Meier says, adding that the company's customer base also includes General Dynamics, John Deere and Fisher Controls.
Machining accounts for about 65 percent of the company's business, Meier says. "What we specialize in is high-speed aluminum machining," he says, but adds that the company's added fabrication capabilities set it apart in the marketplace. "Usually you hear of shops doing machining or sheet metal; we're unique in that we do both."
Strong Advantages
The depth of Geater Machining and Manufacturing's services gives the company a strong advantage. Meier says the fact that the company has machining and fabrication capabilities in-house gives it the ability to turn jobs around faster and more efficiently than many of its competitors.
A quick turnaround also serves the company well with its prototyping service. The company says its prototyping cell is one of a kind, with operators able to operate the equipment as well as do CNC programming and use CAD software to check parts to customer-supplied models. Prototyping, along with machining and fabrication, gives the company a variety of ways to help its customers. "If we keep a balance of those three things, then we have a pretty unique balance model," Meier says.
Perfecting Processes
With the machining and fabrication business more competitive than it's been in the past, Geater Machining and Manufacturing works to continuously improve its processes and achieve greater levels of efficiency. Meier says this means the company participates in kaizen events and follows six sigma principles. "We're heavily into lean," he says.
Because the company offers more than 5,600 different part numbers, it does not maintain a lot of inventory, and it has to be quick and nimble on set-ups. Meier says the company maintains flexible machining systems that can operate even when no one's watching them. He says the company has two horizontal machining systems that run 24/7, even though the company's employees only operate two shifts per day. The machines are loaded up on a Friday and can run all weekend, he adds. "So that's definitely a competitive advantage."
Also contributing to the speed with which Geater Machining and Manufacturing operates is the fact that its flexible machining systems are scheduled automatically. "That's very big in our industry to be able to do that," he says.
Expansion Team
Geater Machining and Manufacturing sees growth in the near future – Meier says the company hopes to grow 85 percent in the next five years, with a goal of reaching $30 million in revenue by 2016. He says the company plans to add new capabilities to achieve those goals.
For example, the company is working on a 27,000-square-foot addition to its facility for powder coating. The company also expects to expand its assembly processes and add more welding services in the future.