Gebr. Märklin & Cie. GmbH
A whole new world
From its humble beginnings as a small factory creating tin toys 150 years ago, Gebr. Märklin & Cie. GmbH has since grown to become a global leader in modern model railway manufacturing
Headquartered in Göppingen, near Stuttgart, Germany, since its inception, Gebr. Märklin & Cie. GmbH (Märklin) boasts a long and illustrious history since it presented the first model railroad system in 1891. Over the years the company developed its knowledge of model-railway manufacturing and enhanced the world of model railroading as a whole with innovations such as the halving of 0 Scale to HO (half of zero), which allows for complete layouts on table top railroads, in 1935; it also added the first sound effects circuit in 1966 and presented the mini-club, the world's smallest mass produced electric train system, in 1972.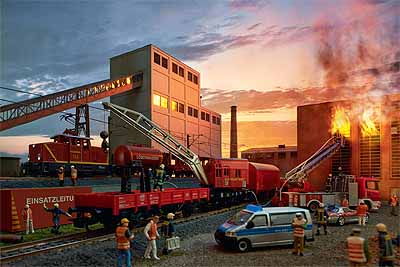 During the first decade of the new century a weighty amount of Märklin products were manufactured in China, however, over recent years the company made the strategic decision to reclaim its products and instead create almost everything in-house, as managing director of Gebr. Märklin & Cie. GmbH Florian Sieber discusses: "Throughout 2014 we invested in the construction of a new facility in Györ, Hungary, which is next to our 20 year old production facility. We have increased our capacity a tremendous amount to ensure we have enough space to successfully relocate the production volumes from China. More than 80 per cent of our production takes place in our own production facilities currently, a percentage that was a lot lower five years ago.
"As our main sales area region is central Europe, it includes a lot of German speaking countries such as Austria, Switzerland, Germany of course, Benelux and Scandinavia; we also have strong customer markets in the UK and France. We feel it is important to be near the markets we sell to. Time to market and logistic costs are optimised. Another benefit of producing locally is that we can set reliable delivery dates that will be met. On top of this, we are now in charge of our own quality control, which is a critical issue for our clients who want optimum quality products."
Today the world leader for gauges in the model railroad market, Märklin is the only manufacturer to offer users the option of adding to existing layouts and collections over the years, thus linking generations through knowledge and technology. Elaborating on the process of creating high quality prototypes, Florian says: "It is very time consuming and complex. First of all, we have many old models that aren't on tracks these days, so we have a documentation department that gathers all material, such as footage and data information, on these models and prepares this for the design engineers in Göppingen. Everything is done in-house, so the construction team then designs the products with the CAD system CATIA; Every original has to be scaled down perfectly in accordance with its original measures; this is easier for modern locomotives and wagons as we can contact the train manufacturer and get the construction data that way. The next step takes places in our tooling department, where we plan and create die-cast plastic tools.
"Parallel to this we have the sounds and electronics departments; our sound specialists go to locations such as museums to record all of the noises of old trains before they then put the noises in the right place in combination with the functions our models have."
Ever motivated by the opportunity to deliver charming and prototypical, true-to-life models to its customers, Märklin integrates tradition with impeccable standards and innovation to continuously fascinate and attract both dedicated collectors and beginners to its product range. "Our main customers are men above 40 as not many kids can afford our products; nearly all our models are made of metal and are highly detailed, so you must handle them with care. However, two years ago we began to introduce two new product segments, one is Märklin My World, which targets children from three to six years. The toys are made of plastic and have a high play value due to their robustness; they also have sounds and lights and an affordable track system that allows customers to build a huge layout if they wish," says Florian.
He continues: "We also established Märklin Start Up in 2014, which is for children aged seven and above. The price is not as high as our regular programme but is fully compatible with it, so it provides an easy-to-use start for children in the model rail road hobby."
Notable products within Märklin My World is the ICE and Eurostar pack model, which boasts three speeds forward and reverse drive, three audio functions and three headlights. The product's quality was commended with the 2011 Top 10 Toys award. Meanwhile, a highlight within Märklin Start Up is the Fire Department Digital Starter Set, which includes class 212 diesel locomotive, crew car, low side car and tank car prototypes, all painted and lettered with optimum accuracy.
"Although we are continuing to create products for our main target group, we are putting more effort on our new client target group, children, because children that come into contact with model trains are more likely to return to us when they reach our main target group's age; however, this can only be achieved when they have had the experience of Märklin models when young," concludes Florian.
Märklin
Products: Model railroads
Sites: Göppingen, Germany, and Györ, Hungary
Employees: 1000+