Gemini Accident Repair Centres
Applying a fresh approach
By striving to make its customers' experience of receiving motor vehicle repairs as painless as possible, Gemini ARC has become one of the UK's most inspirational success stories of recent times
Although Gemini Accident Repair Centres (Gemini ARC), as a business, was established in 2008, it derives its strengths from the 20-plus year experience its founders and various teams possess in running highly efficient and professional bodyshops. It was in 1986, to be exact, that twin brothers, Andrew and Tim Hopkins, decided to open their own site in Stourport, and since then the company has evolved to become the UK's second largest operator of automotive bodyshops, with a network of almost 30 locations found nationwide.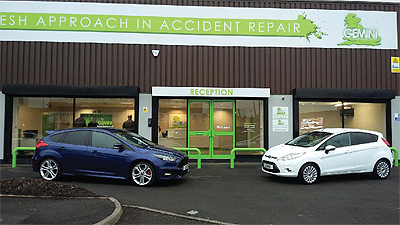 David Sargeant, Managing Director of Gemini ARC, has been an integral part of the business' growth story since 1999, when he joined Andrew and Tim at their Stourport site, and he begins by telling Manufacturing Today Europe about what he believes to be some of the company's biggest strengths. "By balancing pay, working conditions and benefits equally across our people, we have maintained consistency, meaning that wherever a vehicle is being repaired – be it in Scotland, Cornwall or Wales for instance – the same outcome will be achieved, giving our customers excellence and stability. This is a major reason why we have been able to grow from one site employing 20 people in 2008, to 28 sites supporting 680 employees, 11 years later," he declares.
All of Gemini ARC's repair centres possess the BS:10125 standard, ensuring that all vehicles are repaired to the exacting requirements, with correctly sourced parts and paint. The company is able to repair aluminium, steel and has specialist areas in each shop to allow for the safe and correct working of electric and hybrid vehicles. All of its staff, including the 50 apprentices it suppor ts, are trained and cer tified to carry out all manner of tasks, while Gemini ARC's continuous investment in all of the necessary tooling means that it is exper tly placed to bring its customers' vehicles back to their pre-accident conditions.
As David goes on to state, another important development for the business was its creation of a unique approach to repairs. "When we started the business, we were able to build a process which effectively removed all unnecessary costs and inefficiencies, questioning completely the way, traditionally, that cars had been repaired. From this blueprint, the Intelligent Repair Process was created, and we ensured that every site and every member of staff understood and followed our plan."
The process that David speaks of is made up of six stages, beginning with the clarifying phase where Gemini ARC's teams can assess an individual vehicle's problems/damage and determine the method of repair and its estimated duration. From there, the vehicle in question is then sent for initial assessment, followed by pre-cleaning, diagnostics, repairs and ultimately completion. This process has proven to be a hit with not only customers, but insurers too. It is they that know exactly what they are getting with Gemini ARC, which is excellent results!
Today, Gemini ARC is so well versed in its field, that it has the capabilities needed to transform an empty space into a fully operational bodyshop in as little as six weeks. "What we have," David explains, "is a model that we use as a template to creating a successful bodyshop. Typically, the workshop element needs to be between 8000 and 10,000 square foot in size, and this will include a side loading spray booth, jig, ramps, four-wheel alignment, and all other relevant welding and pulling equipment necessary. When it comes to the front office/reception layout, meanwhile, this is already planned and exists under an 'open-plan' approach, so that all front-end staff work under one roof as a team, supporting each other as well as the customer.
"The equipment we use is the same in each shop, and this means that we need only to contact those manufacturers/suppliers that we work with and they know exactly what we require. With all interested parties working closely together – including our senior operations team that consists of four individuals – we are usually able to have a new bodyshop up and running in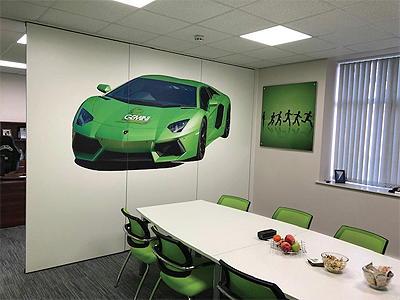 between four and six weeks. This includes having a new team of staff and technicians ready to go."
While the company, naturally, has the desire to grow – both in terms of turnover and footprint – David reveals the pragmatic and sensible approach it has towards this. "I think what is important to recognise is that we have made it our priority to build this business upon strong foundations and not sand. Today, we have a turnover of approximately £70 million, and we have a few more sites earmarked for this year which should see us end 2019 with 30 sites.
"We are always open to any bodyshop that wants to sell its business, and we are constantly on the lookout for areas to complete a start-up site. London aside, there are no areas in the UK where we wouldn't want to place a new site, and with our insurer partners being hungry to grow our relationships, and manage their capacity needs, we should have lots of areas to explore over the coming years. While said years will be interesting, what with Brexit looming and lots of insurer and bodyshop consolidations also taking place in the market, we are very excited to see what new opportunities come our way."
Gemini ARC's efforts were rightly recognised in the London Stock Exchange Group's 1000 Companies to Inspire Britain 2019 list, and when asked what it owes this to, David firmly believes that a large part of this is down to its approach to apprentices. "Since 2017, we have gone from having no apprentices within the business to the point where we now have 50 serving in our workshops, with plans to begin recruiting more into the admin side in the very near future," he says. "We thoroughly believe in looking after every single member of staff – which is reflected in our high retention levels – but we also understand the need to incorporate youth and fresh ideas in order to keep handing on the relay batten, so to speak.
"As a former apprentice myself, I must confess to being somewhat ashamed back in 2017 when we did not have a single one within our business. This prompted us to rethink the business needs, somewhat, and look to devise a long-term strategy for dealing with the challenge of an aging workforce. Working in partnership with AutoRaise – the vehicle repair industry charity of which David is the Chairman – all of our new apprentices are taught disciplines including MET, and panel and paint repairs, allowing them to work in any area of the workshop, and the results have been tremendous. A number of individuals, who are two years into their apprenticeships, have already passed accredited senior standards and their electric/hybrid certification. Initially, we took on two apprentices per site, and have a further person per site starting in October 2019, who will work towards becoming front-of-house estimators."
While 2019, in David's words, has been a challenging year to date due to various external pressures such as Brexit and fuel price increases slowing the number of vehicles leaving production lines, he is certain that Gemini ARC remains in a strong position within the marketplace. "With a unique business model that supports smaller bodyshops such as our own, I am hugely confident that we find ourselves in a very good place today. Meanwhile, when it comes to moving the business forward, we expect that in five years' time – for example – if you look at Gemini ARC then, you will see a company that is still thriving, continues to diversify into areas guided by new vehicle technologies, and that possesses the nationwide coverage to service its customers better than any of its competitors."
Gemini Accident Repair Centres
Services: Operator of automotive bodyshops