General Motors – Factory ZERO
The plant of the future
Legendary automaker General Motors (GM) has declared its dedication to electric vehicle production (EV) with its $2.2 billion Factory ZERO project
Representing the launch pad for its multi-brand EV strategy, and the single largest investment in a plant in GM history, Factory ZERO has been described as 'the next battleground in the EV race and GM's flagship assembly plant in its journey to an all-electric future'.
Entirely dedicated to building EVs, Factory ZERO is located at what was formerly known as Detroit Hamtramck Assembly and the name Factory ZERO reflects the significance of this facility in advancing GM's ambitions for a tomorrow that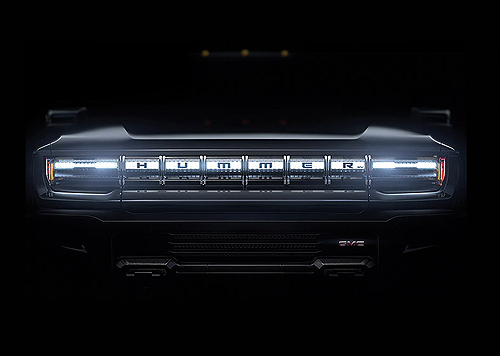 features 'zero-crashes, zero-emissions and zero-congestion'.
Factory ZERO will be one of GM's most technologically advanced, all-electric vehicle assembly plants with contiguous battery assembly. The fully dedicated electric vehicle assembly plant is located approximately three miles from GM's corporate headquarters in Detroit. This particular site has seen a lot of developments over the course of its history, with well recognized and successful GM marques being manufactured there in the past for Buick, Oldsmobile and Cadillac. The plant has built more than four million vehicles since opening in 1985, and the conversion into Factory ZERO represents a new era of evolution in a town already legendary for its automotive pedigree. When construction is completed, Factory ZERO will produce vehicles like the GMC HUMMER EV and the Cruise Origin, among others.
Transforming an existing facility designed and built in the 1980s into a state-of-the-art plant designed to build EVs at scale, required GM to initiate a multitude of updates to the site, including renovating and retooling the General Assembly area, creating a brand-new automated storage building addition for GM's Ultium battery assembly, expanding the Battery Assembly area with new, contemporary tooling, modernizing and adding enhanced tooling to the Paint Shop and renewing and refurbishing the Body Shop.
Project timeline
The size of the conversion underway at Factory ZERO is astonishing, and Manufacturing Today has been given an exciting insight into this ground-breaking project by Jim Quick, Plant Director. Thrilled that this site is at the center of how GM envisions its future, Jim began with some details of the project, and its impressive schedule for a scheme of this scale. "In the period since January 2020, we have witnessed some significant milestones, including plant demolition, construction and equipment installation in the new Paint Shop, and the demolition of the Body Shop and General Assembly area. Construction began, the Factory ZERO sign was unveiled, and equipment installation commenced in the Body Shop."
However, just as the project was really gaining momentum, GM was faced with the challenge of Covid-19 – fortunately Factory ZERO was able to continue to operate as a functioning construction project during the pandemic. "It was one of the leaders in the implementation of Covid-19 safety protocols such as masks, physical distancing, hand sanitization stations, and other efficiencies that helped the company work smarter and faster," said Jim. "Overall, the project remained on track and on target for completion."
This brings us to the first quarter of 2021. "The Body, Paint, and General Assembly construction and equipment installation is continuing, and in Q2-Q3 this year, team members will begin to return to Factory ZERO, as the Body, Paint and General Assembly equipment installation maintains its pace," said Jim. "Later this year, team members will come back to Factory ZERO and the first GMC HUMMER EVs will roll off the line."
As Jim noted, the first electric vehicle to be built at Factory ZERO will be the GMC HUMMER EV pickup. The GMC HUMMER EV is a first-of-its kind supertruck 'developed to forge new paths with zero emissions'. The fully electric addition to GMC's line-up will be driven by next-generation EV propulsion technology that enables both unprecedented off-road capability and extraordinary on-road performance. It is designed to be the ultimate off-road EV supertruck, with all-new features developed to challenge tough obstacles and terrain.
As well as other GM EVs in the future, the GMC HUMMER EV will be joined by the Cruise Origin, a purpose-built, all-electric and shared self-driving vehicle. This is a total evolution from simply being an EV to an entirely different way of moving people and goods.
GM and Cruise, the self-driving company backed by GM, wanted to reimagine transportation as if the car had never existed, and they removed the engine, the driver and a lot of traditional 'car' equipment, including steering wheel, pedals, rear-view mirrors, windshield wipers, and cramped seats. The resulting vehicle is a spacious, self-driven, all-electric transportation system.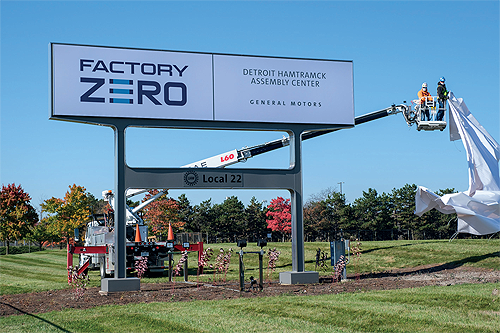 Both the upcoming GMC HUMMER EV and the Cruise Origin will be built at Factory ZERO on GM's proprietary Ultium battery platform. Ultium is flexible enough to build a wide range of EVs — cars, trucks and more — and is the heart of GM's future EV line-up.
The new Ultium batteries are unique in the industry because the large-format, pouch-style cells can be stacked vertically or horizontally inside the battery pack. This allows engineers to optimize battery energy storage and layout for each vehicle design.
The company's Ultium-powered EVs are designed for Level 2 and DC fast charging. Most will have 400-volt battery packs and up to 200 kW fast-charging capability while the truck platform will have 800-volt battery packs and 350 kW fast-charging capability. Furthermore, Ultium technology, supported by hundreds of granted patents and pending patent applications, is expected to bring EVs closer to price parity with gas-powered vehicles.
What also sets this remarkable battery technology apart is that GM formed a joint venture with LG Energy Solution (named Ultium Cells LLC) to mass-produce Ultium battery cells for electric vehicles, and this includes the construction of a three million- square-foot battery cell manufacturing facility in Lordstown, Ohio.
GMC HUMMER EV
Looking specifically at the GMC HUMMER EV, which will not only get its energy from Ultium batteries but also power from Ultium Drive, GM's proprietary EV drive unit, the stats speak for themselves. The 24-module Ultium battery pack and three-motor Ultium Drive system will provide this all-electric supertruck best-in-class power output. In addition to power and range, the Ultium battery pack will contribute to the GMC HUMMER EV's driving dynamics and structure. The pack's low mounting position in the chassis contributes to a low center of gravity, enhancing the vehicle's overall feeling of control and stability. The compact construction of the Ultium battery pack also contributes to HUMMER EV's ideal off-road proportions, including a short front overhang and short front breakover angle.
"We at Factory ZERO are looking forward to the rollout of the GMC HUMMER EV in Fall 2021," added Jim. GMC HUMMER EV will also be the first vehicle in GM's line-up to feature its wireless battery management system, which maintains balance within the truck's battery cell groups for optimal performance and battery longevity. As the first vehicle to be produced at Factory ZERO, the manufacture of the GMC HUMMMER EV will represent the culmination of all of the steps needed to reconfigure Detroit-Hamtramck into an all-electric vehicle assembly plant.
Technology and processes
The technology and market leading capabilities that will be hallmarks of this revolutionary vehicle would not be possible without the industry-leading investments that are being introduced at Factory ZERO, and Jim revealed another first that places Factory ZERO at the very pinnacle of automotive manufacturing sophistication. "We are the first U.S. auto plant to implement 5G technology, and our new 5G connection will transmit critical application data securely and quickly for the Factory ZERO manufacturing team," he said. 5G's massive bandwidth offers the possibility to manage thousands of devices across Factory ZERO's more than four million square feet of space, with ample capacity to support emerging technologies.
"The benefit of having 5G at Factory ZERO is its fast, reliable bandwidth will allow all connected devices in the plant to quickly transmit data to each other. Nearly some component of all the robots, tools, machines and computers are connected," Jim confirmed. The staff inside these facilities rely on fast and reliable communication and need to trust their tools, including digital tools.
Factory ZERO is an ideal place for this kind of innovation and as Jim went on to explain, alongside 5G, it will also feature an array of advanced manufacturing technologies. "Factory ZERO will be one of GM's first manufacturing facilities to use the stop-station assembly process in the general assembly area of the facility," he said.
"Since the team members will do more work on the vehicles than they would on a traditional assembly line, they need a process that allows for flexibility. In stop-station assembly, 'automated guided carts' move the vehicle body and chassis
to the next location where team members take the next actions in the assembly process."
The visionary team behind the repurposing and retooling of a nearly 40-year-old facility have also made sure that a focus on sustainable manufacturing was at the core of their plans. Jim explained how Factory ZERO is helping the organization move closer to its zero-emissions goal. "At GM, we are working hard to combat climate change and reduce our environmental impact, a large part of which is manufacturing EVs. Another way we are working to reduce our emissions is through alternative sources of energy which produce no greenhouse gas emissions.
"Our commitment to renewable energy use began more than two decades ago and is expected to culminate by 2040 when we plan to source 100 per cent renewable energy to meet GM's global electricity needs and 100 per cent of U.S. sites by 2030.
"Factory ZERO features a 30kw solar carport and 516kw of ground mount PV (solar array) from DTE. In addition, as a result of GM's investment in DTE's MIGreenPower program, all of GM's sites in Southeast Michigan, including Factory ZERO, will be powered by Michigan-made renewable energy by 2023."
Alongside energy, Factory ZERO is also focused on sustainably using other resources, so for example, during the plant's physical transition, concrete waste was repurposed to create temporary roadways, and treated storm water will be used in cooling towers and the fire suppression system. It also recycles storm water to reduce discharge costs and offset the cost of incoming portable water. "It features a 16.5-acre wildlife habitat that's been recognized by the Wildlife Habitat Council, and is home to species such as monarchs, foxes and turkeys, too" added Jim.
People and culture
With the history of the Detroit Hamtramck Assembly Center stretching back over many decades, the facility holds a major position within the community. Once fully operational, Factory ZERO will create more than 2200 good-paying U.S. manufacturing jobs (it is also worth noting here that the joint venture GM created with LG Energy Solution on the production of the Ultium batteries will create more than 1100 new jobs in Northeast Ohio.)
With Factory ZERO being a new evolution of the old Detroit Hamtramck site, the team on the shop floor, both old and new, needed to be brought up to speed on the technology they will be working on going forward. In order to facilitate this at the same time as the construction program progressed, GM utilized some very interesting IT solutions to help reskill existing workers at the plant, as Jim explained. "Factory ZERO started to apply virtual training at the Global Technical Center's pre-production facility in Warren, Michigan, to help train some employees before they return to the plant.
"Through the software, the team members learn the hands-on skills needed to assemble the vehicle and work with the machines and tools that will be in the new plant. In addition, the employees practice with the software that will be used on the plant floor and combine it with on-the-job training once production begins, which is a new feature."
Being a significant champion for the economy of Detroit (and indeed the U.S. as a whole) is a role that GM takes seriously. Given Factory ZERO's status as the flagship battery and electric vehicle plant in the company, Jim noted that there are high expectations upon the facility as an employer and community contributor as well. "None other will compare to it from company performance to company culture," he asserted. "Factory ZERO will remain a place where first jobs are started, careers are transformed and community partnerships are formed."
GM's plans for Factory ZERO are ambitious and the site is a big step forward in making its vision of an all-electric future a reality. Its joint-venture with LG Energy Solution (Ultium Cells LLC) that was mentioned previously is also a major part of this story and construction is progressing well at the Ultium battery cell manufacturing facility in Lordstown. 2021 promises to be a big year for Ultium Cells LLC as employees start to come aboard and make practice builds ahead of the scheduled early 2022 start of production target. The plant, which will be about the size of 30 football fields, will have annual capacity of more than 30 gigawatt hours and room for expansion.
Alongside this facility, GM has also committed to transition two more manufacturing sites to produce electric vehicles – Spring Hill, Tennessee and Orion Assembly in Orion Township, Michigan. The company is also confirming investments in five Michigan plants, including the Lansing Delta Township Assembly and Flint Assembly for future crossover and full-size pickup production.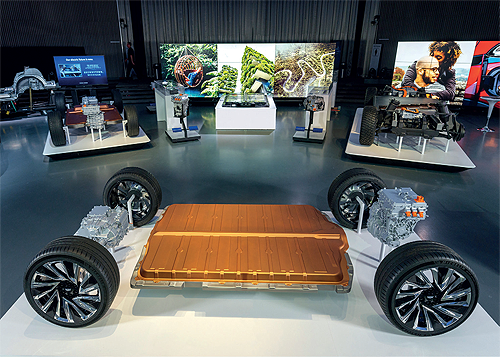 Factory ZERO is being built to exemplify GM's vision of an electric future – and it will play a huge role in achieving the company's aim of 'putting everyone in an electric vehicle' as part of the fight against climate change, that Chairman and CEO Mary Barra highlighted in November 2020. "We are transitioning to an all-electric portfolio from a position of strength and we're focused on growth. We can accelerate our EV plans because we are rapidly building a competitive advantage in batteries, software, vehicle integration, manufacturing and customer experience," she said.
Everybody In
As recently as January 2021, the company debuted a new marketing campaign as part of its comprehensive efforts to accelerate the mass adoption of electric vehicles. Called 'Everybody In', the campaign is a call to action that has been designed to be inclusive and accessible. It sets an optimistic tone for the company's EV future and focuses on three themes:
Exciting a new generation of buyers and accelerating EV adoption;
Demonstrating GM's EV leadership, which includes the investment of $27 billion in EV and AV products through 2025 and the launches of 30 new EVs globally by the end of 2025; and
Highlighting the range, performance and flexibility of the Ultium platform
"GM has the talent, technology and ambition to advance a safer world for all, help reduce emissions and accelerate toward our all-electric future," commented Deborah Wahl, GM Global Chief Marketing Officer, at the launch of the campaign. "'Everybody In' demonstrates our intent to lead, while inviting others – policymakers, partners, individuals – to play an active role in moving society forward, whether that's helping to expand infrastructure, advocating for progress in their communities, or simply taking an EV for a test drive to learn about the benefits of EV ownership."
New brand identity
In another very exciting development, 'Everybody In' has also ushered in a new brand identity for GM, as the business undergoes a transformation of its own. "There are moments in history when everything changes. Inflection points. We believe such a point is upon us for the mass adoption of electric vehicles," said Deborah. "Unlike ever before, we have the solutions, capability, technology and scale to put everyone in an EV. Our new brand identity and campaign are designed to reflect this."
A major part of the new identity is a new GM logo. Designed to build on a strong heritage while bringing a more modern and vibrant look to GM's familiar blue square, the new brand identity extends to technology brands including Ultium. The team of GM designers tasked with creating the new logo considered how to balance the history and trust inherent to the existing design with GM's vision for the future. According to Sharon Gauci, GM Executive Director of Global Industrial Design: "This was a project our team took so personally, not just for ourselves but for the 164,000 employees this logo represents. At every step, we wanted to be intentional and deliberate because this logo signifies creative and innovative thinking across the global General Motors family."
Automotive history
The electric trucks and SUVs that will be built at Factory ZERO will help transform not only GM, but the automotive industry as a whole, and through this lens Factory ZERO can be viewed as not just a facility but also as a physical representation of GM's ambitious plans to inspire more consumers to purchase EVs.
As the largest American automobile manufacturer and one of the world's largest automakers by vehicle unit sales, the name GM is steeped in automotive history, and its new evolution and clear path towards electric vehicles is a bold statement to the world about how the sector is changing. GM is no stranger to EV innovation and it was actually the first company (in the modern era) to release an all-electric automobile in 1990. While the EVs produced at Factory ZERO will be a long way from that early EV1, the spirit of research and development and the drive to be industry leaders and innovative inventors is still at the heart of all its operations. The company has come a long way since it was founded by William C. Durant on September 16, 1908, and with its new branding and new ambitious plans, General Motors is driving its customers towards a clearer, greener and safer future.
General Motors – Factory ZERO
Services: Legendary automotive manufacturer
www.gm.com