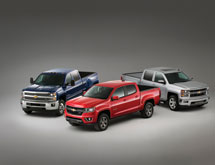 To say that General Motors has been through some changes over the last few years would be an understatement. After emerging from bankruptcy in 2009, the automotive giant has been restructured and streamlined to improve its focus on customer service, and that included acknowledging the importance of the fleet and commercial side of its business. As Vice President of GM's Fleet and Commercial Sales Ed Peper explains, GM's new leadership understood how vital its fleet and commercial customers were to ensuring the company's success for the future.
"One of the things that [Executive Vice President and President, North America] Alan Batey did when he came in is that he made Fleet and Commercial a specific channel at GM," Peper says. GM's Fleet and Commercial division now stands alongside Chevrolet, Buick, GMC and Cadillac as the automaker's primary channels, and that has meant a renewed dedication to being the best in the fleet and commercial vehicle segment. According to Peper, GM has devoted itself to improving every aspect of its fleet and commercial division, from manufacturing to supporting its network of dealers.
At the heart of GM's efforts in the fleet and commercial division and elsewhere is affirming the company's dedication to the customer, whether that client is the end-user or a member of its dealer network. "The biggest thing is, it doesn't matter if it's fleet and commercial, it doesn't matter if it's Chevrolet – the customer has to be at the center of everything that we do," Peper says. "We're fully aligned with everyone at sales and marketing, and I really credit [Batey] with making that move."
With the implementation of a unified manufacturing system across all GM's manufacturing facilities, a revitalized commercial dealer program and a number of exciting new vehicles to be introduced in 2014, GM's Fleet and Commercial division is a major part of the reason why GM has been able to post 16 consecutive quarters of profitability since 2009. Peper says the company's customer focus is a top-to-bottom philosophy that everyone at every level within GM understands and believes in, and that will be the engine that drives the company to even greater success in the near future. "This is all about relationships, it's all about selling," Peper says. "It's about taking care of customers."
Manufacturing Success
GM has made great strides in advancing its manufacturing processes within the last few years. The company has successfully implemented a Global Manufacturing System (GMS) that gives GM a level of flexibility and efficiency that supports GMs' vision of designing, building and selling the world's best vehicles. "GMS is a single common manufacturing system that engages all employees to use the best practices, processes and technologies to eliminate waste," the company says.
With the company's highly trained workforce, GM has utilized GMS to continue its run of third-party recognition of excellence. GM points to recent honors such as the Motor Trend 2014 Car of the Year award for the Cadillac CTS, the 2014 Car of the Year and Truck of the Year awards at the North American International Auto Show for the C7 Corvette and Silverado, respectively.
Backing up the company's manufacturing excellence is its warranty program, which Peper says is the only one of its kind among OEMs in the fleet and commercial arena. The company's limited powertrain warranty covers vehicles for five years/100,000 miles, compared to 60,000 miles from some other major automakers. Peper says GM also offers maintenance service on fleet and commercial vehicles, as well for 2 years/24,000 miles.