As climate patterns and trade policy become more unpredictable, cost volatility in raw materials remains a significant pain point for manufacturers. For managers, the only way to cope with these fluctuations is to seek new ways that lower risk by eliminating unnecessary costs and waste.
Although the concept of remote monitoring is a familiar topic to most, many view this capability as an application intended for industrial IoT. Las Vegas-based technology company GeoTraq Inc. is developing a simple approach for asset tracking and remote monitoring that reduces the complexity of implementing an IoT solution and delivers the right data at the right time.
GeoTraq's Tracker-Module and Sensor-Module products provide a wide variety of IoT solutions. When connected to external sensors, the modules can transmit instant alerts to managers with advanced warning of potential machinery failures on flow meters, conveyor belts and more. "It's essential when setting up preventive maintenance solutions to know what happened and where the incident occurred," says General Manager and CTO Pierre Parent. "The ability to provide equipment operators with essential information decreases the overall downtime for maintenance. GeoTraq modules increase visibility for invaluable data, including the location and type of problem detected, such as overheating, excess vibration or leaking."
The company's founder started the firm six years ago. At the time, "There was a lot of excitement around innovation, more bandwidth and higher data rates," Parent recalls. "But when the founder looked at the Internet of Things [IoT] issue, he saw people wanted to have information from sensors, but also have access to broader coverage area using simplified devices that could operate on lower data plans."
Today, GeoTraq is meeting the demand for sensor-integrated asset management with their new Mobile IoT modules, which can send scheduled reports and trigger-based event alerts to detect condition changes in the immediate environment.
Parent also notes that the ultra-small self-contained form factor of the modules is penny-sized, making them easy to place on or inside assets of all sizes. GeoTraq modules protect the whereabouts and performance of tools and equipment that often go missing or require maintenance on the job site or factory floor. "Inside most machinery, there's enough space to insert our module, as well as a battery and embedded antenna without having to modify any part of the equipment," Parent added.
"Applications for the modules are virtually limitless," says Vice President of Marketing Tiffani Neilson, "and they are particularly effective for supply chain solutions across many verticals." If a client has a shipment of perishable goods or raw materials coming from out of state, GeoTraq technology can ease the increasing pressure for manufacturers and transportation companies with the need of ensuring safe and timely delivery of condition sensitive items.
"Last-mile delivery is another great use of our technology," she says, adding that the modules can be used to monitor temperature, humidity and other relevant environmental conditions. This insight can be used for maintaining quality control and compliance with government regulations as shipments and materials travel from the point of origin to their final destination. Complex supply chains face ongoing issues and GeoTraq aims to solve these challenges with a simple and straightforward solution.
"Upgrading equipment and implementing system wide changes can be costly and many manufacturing solutions require additional infrastructure and resources to deploy at scale. GeoTraq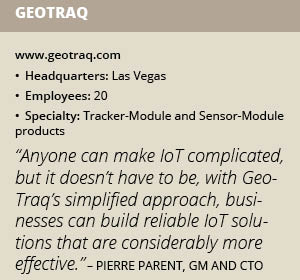 modules have connectors for easy attachment of antenna, battery and desired sensors opening the possibilities for retrofitting existing assets and equipment and transforming them into Mobile IoT enabled smart devices."
Data Overload
Fortunately for GeoTraq, awareness is growing, and people are starting to catch on. "Every week new use cases from around the world are expanding the scope of potential applications for our technology," Neilson reports. "Many are finally understanding how IoT can be used to bring the kind of accountability and operational efficiencies that minimize risk and increase ROI."
As the interest in digital transformation continues to rise, GeoTraq has carved its niche in the market by making its technology easy to adopt. "When technology companies initially began implementing IoT," Parent says, "all the early solutions were large, data heavy and very complex with thousands of node points collecting more information than anyone knew what to do with.
"We are taking a very different approach to the marketplace by only offering simple IoT types of solutions," he says. "Our challenge now is to explain things so people understand how IoT can be implemented fairly easily to reduce costs, optimize resources, and improve customer service."
GeoTraq is addressing the increasing challenge of data overload with the help of platform partners who use API integration to provide visualization layers to process the incoming data. "Our technology doesn't just move data around, it's intended to deliver clearly-defined data points that help businesses make decisions that drive results," Parent says. "Anyone can make IoT complicated, but it doesn't have to be, with GeoTraq's simplified approach, businesses can build reliable IoT solutions that are considerably more effective."
Bridging the Gap
Neilson is optimistic about GeoTraq's unique product offering; developing an ultra-compact, power efficient, global IoT technology that will arm clients with actionable data at frequencies that meet their needs. "We've done a fantastic job creating something that brings real value to the marketplace," she says, adding its technology brings down typical cost barriers by sending data with the help of cellular towers. "Because there's no additional infrastructure required, company's save thousands on network installation and maintenance."
She also highlights the effectiveness of GeoTraq's team, which includes dozens of associates working together from around the world. "We value communication and encourage out of the box thinking. The diversity of perspectives and approaches to creative problem solving is a huge benefit as we work through issues to innovate faster," Neilson says.
These attributes have earned GeoTraq recognition in the industry as one of the 30 Most Innovative Companies 2019 by CIO Bulletin and Top 10 Remote Monitoring Solutions 2019 by CIO Applications magazine.
Parent sees a solid future ahead for GeoTraq. "In an ocean of data and complex IoT solutions, we expect our simplified approach is going to be a winner," he continues. "We see many opportunities as we get out and talk to potential customers who are looking to retrofit their existing systems with our technology."
"GeoTraq helps close the gap between old systems and new technology," Neilson adds. "Eliminating blind spots is essential to gaining maximum efficiency. By leveling the playing field with simple, straightforward solutions, our product gives everyone an opportunity to decrease risk, increase visibility and maintain a competitive advantage in the marketplace.