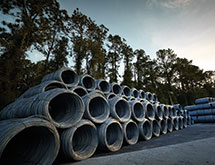 After more than 110 years, Gerdau stands as one of the world's leading suppliers of long steel. The company transforms millions of metric tons of scrap into steel every year.
Gerdau started operations as a nail factory in Port Alegre, Brazil, in 1901. Since then, the company has evolved and established a presence in 14 countries, including the United States, Canada, Mexico, Brazil and Argentina. Gerdau employs 45,000 people and has an installed capacity of more than 25 million metric tons of steel. It is the largest recycler in Latin America and one of the largest recyclers in North America.
Currently, fourth and fifth generation members of the Gerdau family lead the company, which has 337 industrial and commercial units. Gerdau has more than 120,000 shareholders and is traded on the stock exchanges of Sao Paolo, New York and Madrid.
Working Towards Partnership
With a staff of approximately 10,000 in North America, Gerdau is a leader in mini-mill steel production and recycling in North America. Through a vertically integrated network of mini-mills, scrap recycling and downstream operations, the company serves customers throughout the United States and Canada, offering a diverse and balanced product mix of merchant steel, rebar, structural shapes, fabricated steel and wire rod.
Generally, Gerdau's North American products are sold to steel service centers, steel fabricators and original equipment manufacturers for multiple industries, including non-residential, infrastructure, commercial, industrial and residential construction.
Gerdau operates with a business philosophy that is based on forming long-term relationships with customers, suppliers and others that it does business with.
"Our objective is to create an atmosphere where our employees apply their skills and energies to achieve partnership with our customers, shareholders, suppliers, the public and each other," says Carl Czarnik, Gerdau's vice president of human resources for the company's North American business divisions. "We believe that this protects our own future and creates opportunities for continued growth."
The Right Combination
Gerdau's long steel business division in North America, with a main office in Tampa, Fla., has recently completed several innovative initiatives recently. This includes the introduction of GGMULTI, a multi-grade merchant bar that satisfies 10 steel grades and standards and is designed for high-performance applications.
"Our customers will see a more consistent product with predictability and flexibility with GGMULTI," says John Coll, vice president of sale and marketing for Gerdau's long steel business division. "By combining several grades into one, we're able to reduce overall inventory, so it's a win-win."
The product has restrictive alloy ranges, which assure mechanical and ductility properties will be more consistent. GGMULTI also has tensile ranges of 70,000 to 80,000 pounds per square inch (PSI) for flats and 65,000 to 80,000 PSI for shapes.
These ranges result in consistent mechanical properties compared to the individual specifications. The carbon maximum of 0.22 percent assures better steel ductility. Achieving consistent mechanical properties with minimum carbon content will improve fabrication processes, such as shearing, punching and bending.
GGMULTI also has improved weldability, a result of lower carbon equivalent (CE). This lower CE is value-added in situations where steel bars are welded together such as pre-engineered buildings.
GGMULTI's tight process controls result in very consistent tensile and yield strengths, which makes formability and spring-back more predictable.
At Your Fingertips
Gerdau also launched eGerdau, an e-commerce platform that brings technology enhancements to its users. "With the eGerdau platform, customers have an abundance of customer-specific information at their fingertips," says Scott Meaney, Gerdau's director of marketing for its North American long steel business.
"They have the ability to search for product availability by size, type and mill location, as well as consult current and future rolling mill schedules, pace and review orders, check shipments and consult financial statements," he continues.
In addition to bringing multiple benefits to the customer, eGerdau also benefits the company by saving time throughout the sales process. "The tool saves both parties time, increases customer engagement, downloads and retrieves customer documents and facilitates an ease of doing business," Meaney explains. "The tool is easy to navigate, and customers are able to customize the views and searches based on their desired level of information."
Other eGerdau benefits include daily news, and updates about Gerdau products and services. The goal is to get the customers the information first.
The application gives the company's sales team more time to manage customer accounts because the tool supports the operational aspects of the sales process. "The Gerdau sales team is able to spend more time improving the process, increasing current customer experience and engaging new potential customers," Meaney says.
Phase two of eGerdau will launch later this year. It will include such features as a dashboard, which is a customizable homepage with customer-specific information, increased functionality to search capabilities, the ability to create orders from rolling schedules, historical shipment information, user preferences, notifications, market reports and more.
Reaching Higher Levels
Last year, Gerdau completed a $60 million project to replace the continuous caster at its steel mill in St. Paul, Minn. The project was part of an effort to raise productivity and significantly increase quality levels for the engineered steels that are manufactured in St. Paul.
Gerdau implemented a four-strand Danieli billet caster at the location, which features 100 percent submerged nozzle casting, hydraulic oscillators for better surface quality and three-point unbending to prevent cracking. The company also has a quality assessment in real time system, which tracks every five inches of the billet cast.
Before the new caster was commissioned, the mill manufactured hot rolled rounds for multiple industries, including construction, forging, mining, farm equipment and wind power. The new caster added aluminum grain refining capabilities and allows for the production of more specialty carbon, alloy and high-strength low-alloy steels used across many industries.
The project was well-received locally, as well. It received strong support from the Minnesota Chamber of Commerce and the company was offered state and local incentives from the state of Minnesota, the city of St. Paul and the St. Paul Port Authority. Gerdau also formed an agreement with Xcel Energy that will help the location stay competitive.
The caster represents the mill's first step in manufacturing higher-end products. "As the caster reaches full production, we will see increased quality of products," says Rogerio Turatti, Gerdau's vice president and general manager of the St. Paul mill. "As we expand and develop the operation, we will see our product offering increase, and the mill's focus turning more to specialty carbon steel."
Rebar Excellence
Gerdau's capabilities in North America include rebar fabrication, for which it pools together its physical and people assets; including sales, estimating, and CAD detailing capabilities as well as its fabrication and delivery resources for completing demanding projects while also keeping its coverage personalized in local markets.
"This flexibility enhances our ability to adapt to fast-paced changes in our industry and on the client's job site," says Pete Diggs, vice president of reinforcing steel for Gerdau's long steel business division.
Gerdau's vertically integrated model includes steel manufactured at its own mini-mills. "Manufacturing the steel we fabricate enables us to maintain extremely high levels of quality control, from the plant furnace, to the fabricating plant, to the jobsite," Diggs continues. "This start-to-finish accent on quality is the customer's assurance of the best fabricated steel products available."
The company can deliver fusion-bonded epoxy coating as a protective coating for reinforcing steel. "Epoxy-coated reinforcing steel typically protects structures subject to deterioration from salt-induced corrosion," Diggs says. "The bars are coated and fabricated in compliance with exacting specifications of all federal and state highway agencies and all other regulatory bodies."
Gerdau participates in the voluntary certification program for fusion-bonded epoxy coating plants. The CRSI Epoxy Coated Plant Certification Program sets high standards for quality and consistency in the epoxy coating and handling of reinforcing steel.
These high standards assure that the epoxy-coating reinforcing steel bought from Gerdau meets the most demanding specifications.