Workers in the underground mining industry need safe, reliable equipment they can trust to withstand the working environment. Since its inception in 1954, Getman Corp. has gained a worldwide reputation for producing specially made vehicles and machines that make the difficult job of mining easier.
Getman Corp. manufactures rubber-tired, diesel-powered underground mining trucks for the global hard and soft rock mining industries, specializing in supply and utility vehicles. A few of the company's vehicles are used in mining production, such as The ANFO (Ammonium Nitrate Fuel Oil) Charger explosives carrier, and the S300 scaler machine, which removes loose rock.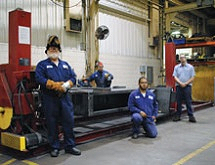 All of the equipment is designed specifically to operate in underground mines, as opposed to surface equipment modified for underground use. Getman's products are used in coal mines in Utah, Colorado, Illinois, Indiana and West Virginia, as well as in metal and nonmetal mines in the United States and 18 other countries. "You'll find our trucks in places as diverse as Northern Canada, Niger, Australia, Morocco, and Guatemala – all over the world," President Erik VanAllen says.
Standing Apart
The company distinguishes itself from competitors in a number of ways, the first of which is the quality of its products. "We focus solely on underground mining; that's all we do," VanAllen says. "Our equipment is built to survive harsh conditions and strenuous use, and frequently last 15 to 20 years or more."
"Getmans are known for their durability and quality workmanship, for being very well-made," he continues. "They are also known for reliability; if you talk to people who operate or service our equipment they'll tell you that 'a Getman truck can be counted on, it just works.'" This reliability leads to a low overall operating cost over the life of the vehicle, he explains. Getman also provides a five-year frame warranty on every vehicle, which is unique in its industry.
While Getman is among the top manufacturers of its kind worldwide, the company is accessible enough to accommodate customer-specific design requests. "We routinely work with our customers to meet mine-specific requirements be they driven by functional needs or maneuverability," says Greg Lockhart, director of product management. For example, Getman recently worked with a customer to design a scissor lift truck specifically intended to assist in hanging ventilation fans and installing water pipe and another to aide in the transporting and installation of electric cable. Much of the company's business involves custom manufacturing for individual customer requirements, Lockhart adds.
Growing with the Industry
The company was founded in 1954 as Getman Brothers Manufacturing Company Inc., initially producing the Scoot-Crete, a small three-wheeled motorized vehicle that hauled concrete, cement blocks and other materials. The vehicle – originally intended to assist on the company's construction jobs – quickly became a business of its own.
"All of the concrete used on the Mackinac Bridge deck was transported by Getman Scoot-Cretes," VanAllen says of the machine's early prevalence in the U.S. construction industry. In 1955, the Scoot-Crete was modified with a diesel engine and sold for use in a Colorado uranium mine. This was a major step for the company and served as the introduction of Getman equipment into underground mining.
At the time the mining industry relied on tracked or rail-based modes of transportation. Getman was among the first to introduce diesel-powered, rubber-tired mobile equipment. Early customers consisted of small companies and entrepreneurs who used the Scoot-Crete to transport minerals and other materials out of mines, VanAllen says. Over the next decade new Getman mining trucks were manufactured and sold to the developing mining industry.
"As the U.S. mining industry consolidated, output increased and the need for more sophisticated equipment grew, and we grew along with it," VanAllen says. In 1971, the concrete equipment business along with the Getman Brothers Manufacturing Company name were sold. At the same time Getman Corp. was created to focus solely on the needs of the underground mining industry.
VanAllen joined Getman in 2005 to lead the Operations effort, which includes the manufacturing, assembly, purchasing and warehouse departments, moving into the role of company president in early 2010.
Newest Developments
The company has adapted to the challenges of the recession in part through internal planning and new product development. "Our day-to-day approach has not changed," VanAllen says. "We still come to work every day to build the best truck we can at the lowest total cost, but we did make a specific change when the recession started. We made a conscious decision to launch manufacturing improvement initiatives along with new product development and marketing efforts, with the goal that the investments we made in productivity would help us be more competitive coming out of the recession."
Late last year, the company started marketing a diesel-powered battery transporter capable of carrying two batteries weighing between 20,000 and 25,000 pounds. The machine is used in continuous mining operations where coal is taken to conveyor belts by a battery-powered coal hauler machine.
Getman's other product development efforts include plans to launch its first light-duty vehicle platform, including a four-person transport vehicle and a two-person maintenance vehicle. Although the transport vehicles are considered light-duty equipment, they will be durable enough to handle underground terrain.
"They will be far more durable in the underground environment than an all-terrain vehicle (ATV), used widely above ground or designed for recreational use," Lockhart says.
The line is expected to launch by the end of the year. Further down the pipeline is a 12-person transport vehicle Lockhart says has recently en­tered a trial phase. Getman is also working on re­designing its flagship A64 product line, he notes. The line includes but is not limited to scissor lifts, ANFO loaders and carriers, Pallet Handlers as well as several fuel and lubrication service vehicles.
Manufacturing Process
All of the company's manufacturing operations take place in its Bangor, Mich., facility. A staff of 70 is involved in the manufacturing process and equipment assembly.
Getman's vertically integrated manufacturing process begins with its threshold operation, where sheet steel and tubing are processed through torch and saw equipment, respectively. From there, materials either go into a secondary manufacturing process such as bending or machining, or into the warehouse, VanAllen says.
Once in the warehouse, materials are kitted up, welded together and then moved through the painting process. In the paint department, all parts are treated with a zinc primer and top coat. Completed parts are then sent into the warehouse, kitted together and moved forward to go through final assembly.
Manufacturing operations need to be flexible, as the company makes several different versions of each of its models and customizes its machines. "Because of our attention to customer requirements virtually every truck we produce has something that makes it different from previous trucks," Lockhart says.
"We keep the base power unit as standard as possible however, to facilitate serviceability." Before a truck is assembled, Getman's director of engineering meets with the assembly manager and the team that will build the truck, as well as the team member who performs the final quality check. This group is responsible for reviewing the order and discussing parts that are unique or critical to the function of the truck being assembled.
Quality Improvements
Getman works to ensure quality in three main areas: manufacturing, assembly and corporate operations. "On the manufacturing side, critical parts receive quality checks throughout the process, including during welding and painting," says Manufacturing Quality Control Supervisor Gary Compton, who performs the checks. Compton gathers improvements identified on the floor during manufacturing and works with the engineering department to implement the improvements.
A quality technician also works in the assembly department. "The purpose for the assembly quality check is to ensure that every truck leaving our facility meets all Getman standards, as well as all regulatory standards for performance and safety," Assembly Quality Technician Brian Randall explains.
Getman vehicles meet all Mine Safety and Health Administration (MSHA) regulations including air quality and safety. The company's corporate quality committee includes VanAllen and Randall, along with Getman's director of engineering, assembly manager, and manager of customer support.
"One of the main purposes of this committee is to move toward a more standardized build process that increases productivity and quality," Randall says. Productivity in particular has improved in recent years thanks to the implementation of a number of manufacturing-oriented improvements including a kanban replenishment system.
The first attempt at implementing kanban was in the assembly department. Before kanban, assemblers needed to leave their bays to retrieve hardware and hydraulic fittings from a central location in the assembly department; now, these items can all be found within the bays and are regularly replenished. "With process improvements like kanban, we have been able to reduce parts shortages and reduce lead time both of which directly benefit our customers," VanAllen says.
Other company-wide improvements include changes to Getman's production planning and inventory processes. The company carries a large parts inventory for existing vehicles, but does not have an excess inventory of manufacturing parts, VanAllen says.
Although the company has not formally rolled out a lean manufacturing program, many of its recent changes are directly influenced by the philosophy, and lean ideas are integrated into the company's culture.
"To continue to be successful we all have to work together on changes," VanAllen explains. "We're very fortunate in that the employees we have are very good at what they do and they care about the future success of Getman. They also understand that their work will ultimately determine future sales opportunities.
"We provide opportunities for our employees to get involved," he continues. For example, several manufacturing and assembly employees participate in the prototype design process by reviewing prints before they are finalized, providing feedback on manufacturability during fabrication and suggesting improvements during assembly. The goal is to continually improve product quality and cost.
Close Relationships
Getman Corp. prides itself on close relationships with its suppliers. One of those suppliers, Depatie Fluid Power Co., has worked with Getman for more than 20 years. Depatie Fluid Power is a distributor of the Parker Hannifin brand of hydraulic components that includes hoses, fittings, valves and cylinders used in Getman's trucks.
"Depatie Fluid Power's technical support and skilled sales staff has assisted our engineering team with many proprietary designs," explains Deb Weber, Getman's director of purchasing. "Their willingness to help control inventory costs by holding inventory at their site and their immediate attention to our expedited requirements differentiates them from the competition."
Getman has recently started using Parker Compact Spiral Hose, a new product Depatie felt would be more flexible than older 6,000-psi hose and help the company save on costs, Director of Engineering Kris Kramer says. The hose will become standard for Getman's next new product development cycle.
"Our trucks are compact and we are always fighting space constraints," Kramer adds. "This hose will save space due to its tighter radius and will be a big benefit."
Extensive Training
The durability and reliability of Getman's products is due in large part to the skill and ability of its work force. Getman employees undergo an extensive training and orientation program, VanAllen says.
A safety committee made up of representatives from each of the company's departments regularly meets to discuss and implement safety recommendations. "The committee offers a way for employees to bring safety concerns to a group that can implement change," says Mark Smith, supply chain manager and leader of the safety committee. "We've had several recommendations come out of the committee and implemented on the manufacturing floor."
The company also holds itself up to high ethical standards. "We have a reputation as an ethical company," VanAllen says. "If a customer wants something on a truck that we believe is unsafe, we will work with them to find an alternative way to meet their needs. We will not agree to a customization that puts people at risk.
"Everyone here knows someone is going to climb into the cab of one of our trucks and go to work in a dangerous environment," he continues. "We take that seriously."