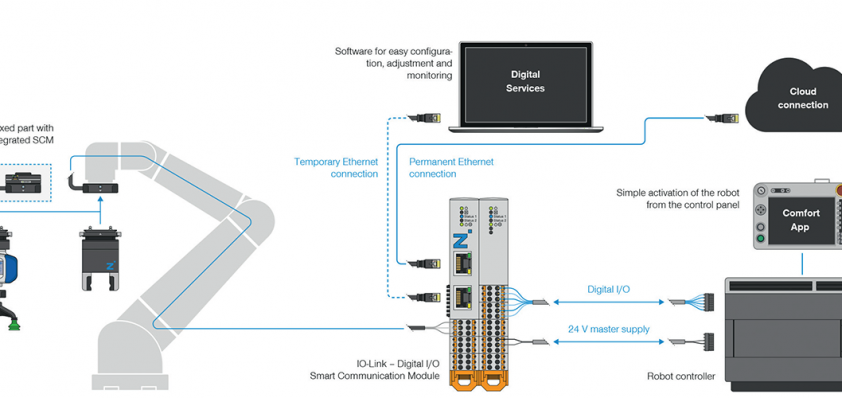 The new MATCH platform from Zimmer Group and Schmalz combines the best of two gripper worlds. This collaboration created something unique: a modular system that the customer can use to meet various requirements and handle diverse applications in robotics. Furthermore, in addition to their accumulated problem-solving expertise, both companies offer a global sales network for support and service.
Applications as varied as the system
Whether mobile and collaborative robotics or fully automated applications, just one flexible system gives the user access to a nearly unlimited range of uses from production and assembly to warehouse logistics, shipping and even laboratory automation. Typical tasks for the system include pick-and-place, order picking, packaging and palletizing, checking and testing. Various mechanical and vacuum grippers can be selected corresponding to the workpiece and handling task. If the requirements change, the system can be quickly and easily adapted.
Standardized connection and communication
Suitable for any common lightweight robot – a system ideal for cobots and conventional 6-axis robots.
Easy Installation
Mechanical connection via quick changer and configuration via setup wizard.
Flexible
Any robot, any gripper, any end effector. High flexibility through extensive portfolio.
Full process control
Collect, evaluate and visualize value-added data including cloud connection.
Compatibility and easy installation thanks to digital services
The installation of MATCH is incredibly easy. The system can be conveniently mounted and set up on the robot flange in just a few steps. Configuration is intuitive and easy to accomplish thanks to the support of the digital services and the common ecosystem (SCM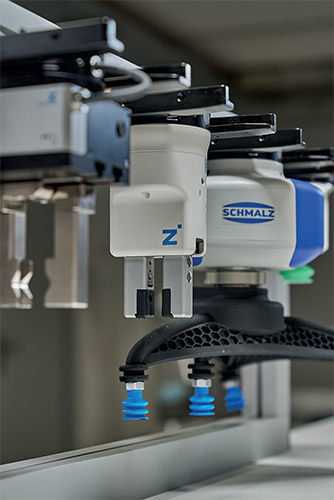 communication module with guideZ setup software, expertZ, monitorZ and Comfort App/Cloud connection). 'Any Robot, any Gripper, any end effector' is the credo of the MATCH platform and the components are compatible with all common lightweight robots (e.g. cobots) as well as conventional robots worldwide.
Technology openness through standardized interfaces
The quick-change system has various interfaces. In addition to a compatible mechanical interface, there is a pneumatic/ vacuum connection. Here, four internal and two lateral fluid channels supply connected gripping systems with compressed air or vacuum. The generous dimensioning enables the operation of powerful pneumatic vacuum generators, for example, to handle cartons that are sucked through. Electrical interfaces are also available. The quick-change system is hot-pluggable, and can be changed under voltage during operation. The integrated pin field transmits both load and signal current. This technological openness makes it possible to open up many different robot types with a wide variety of end effectors.
Manual and automated quick-change function with specials
The compact quick-change module provides two quick and easy ways to swap a component. In addition to an automated exchange in a storage station, known as the gripper station, exchanging by hand is also possible within seconds. Thanks to the ergonomic click system – integrated on the end effector being changed – it is possible to carry out a manual change with just one hand. At the same time, this prevents the exchange module from falling.
Rotation prevention ensures a clearly defined position of the end effector in the storage station. Furthermore, it is ensured that the end effector itself is connected to the robot in the same orientation, even during manual changeover. In set-up mode, pins and optical markings in the storage station enable simple and unambiguous positioning of the end effector. In continuous operation, the pin disappears in the storage station, allowing a greater degree of freedom in the changing process. The storage station can be attached in three different ways. In addition, the station has an optional sensor query and a supplementary optical LED display on the fixed part. Together with the standard Connect signal, a 100 percent secure system is guaranteed. The high quality of workmanship of the entire module guarantees a long service life of more than 100,000 cycles.
Smart ecosystem – Intuitive software
Zimmer Group and Schmalz have their own ecosystem that the user can use for countless digital services. In addition to the SCM communication module (master gateway), the user also has two other tools at their disposal: the intuitive guideZ setup software for further configuration of the gripper, and Schmalz Connect Suite for diagnostics of IO-Link devices in the cloud. MATCH guarantees full support and process control – from commissioning to ongoing operation and process monitoring.
Advantages of MATCH at a glance
• A system for lightweight robots, cobots and conventional robots
• Automated exchange in the device
• Manual exchange with easy-click function
• Large variety of end effectors
• Compatibility and flexibility – combining the primary handling technologies (vacuum and mechanical gripping)
• Innovative digital ecosystem
• Long service life, even in automated continuous operation
The Zimmer Group
The Zimmer Group was founded in Rheinau in 1980 by the brothers Günther and Martin Zimmer. The company, which now employs more than 1,200 people worldwide, has bundled its expertise, which has grown over decades, into six powerful technology areas: Handling Technology, Damping Technology, Linear Technology, Process Technology, Machine Technology and Systems Technology. In these technology areas, products with technological leadership are created and sold worldwide under the established brand names of the Zimmer Group.
www.zimmer-group.com
https://www.youtube.com/watch?v=D3Kia875BAw