What it takes to put an ambulance on the road, with Life Line Emergency Vehicles
Based in Sumner, Iowa, Life Line Emergency Vehicles (Life Line) puts quality, safety, and structural integrity first to help save lives and provide its customers with long-lasting value. Established in 1985 by father-and-son duo, Jim and Terry Leicher, Life Line was used to operating at a relatively small scale. By the end of that year, the company had delivered its first emergency Paraliner Ambulance to the Sartori Memorial Hospital in Cedar Falls.
Following that success, the Leichers began building Type I Ambulances for the City of Omaha, Nebraska. Business quickly began to pick up. In 1988, Life Line became one of the first in the industry to be a participant in Ford's 'Qualified Vehicle Modifier' scheme, and over time the company had to make multiple factory moves to keep up with manufacturing demands.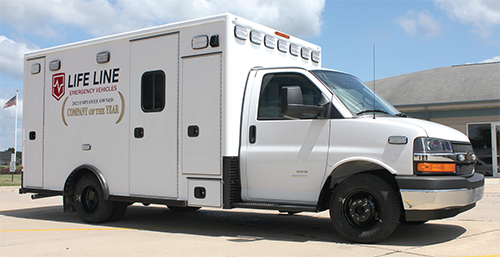 The Life Line story becomes more personal in 2007. In that year, it became a 30 percent employee-owned company. But it did not stop there. Life Line became part of Folience Holding Company ten years later and transformed the business into one completely owned by those that work for it.
This has not gone unnoticed. Earlier this year, Life Line was awarded the national Employee-Owned Company of the Year Award. Today, the company employs over 180 people and strives to manufacture at least 250 ambulances per year.
Customer care
Quality and performance are paramount in the world of emergency services. Vehicles and equipment must be reliable, robust, and designed to exceed customer expectations.
Recently, Life Line zeroed further in on innovative solutions that can be carried out by robotics and exciting new technologies to fulfill such expectations. As Randy Smith, President at Life Line, tells Manufacturing Today, the company is in the process of investing in and upgrading from traditional hydraulic bending equipment to more precise CNC folding tables.
It is clear that an ethos of continuous improvement has been instilled across the company since its inception. "Another key differentiator that has similarly been ingrained throughout our employee-owner base is that we always take care of the customer," explains Randy. "It is a cornerstone in terms of how we do business. We build a quality product and are at the service of our customers whenever a concern should arise.
"Our distributors, moreover, work closely with customers to find out their needs and then address them," he goes on. "This means we can create an open dialogue, going back and forth until we arrive at what the customer wants. Though we began life as more of a cookie cutter manufacturer, so to speak, we now pride ourselves on being a custom manufacturing company. Therefore, we are proud to work with organizations, including the University of Minnesota, on unique emergency vehicles such as neonate and ECMO (extracorporeal membrane oxygenation) models."
Other ambulance models include the standard Type I, the Type III (available as either a Paraliner or Victoryliner), the customizable Superliner, and the heavy duty Highliner. However, Life Line also completes various remounts and rebuilds, expanding its already comprehensive offering just that bit further. Special features offered include impact rails to mitigate collision force and minimize damage, 'overbuilt' ambulance walls to maximize impact resistance and passenger safety, and proprietary triple hollow wheel wells to add strength and rigidity to modules.
Meeting high demand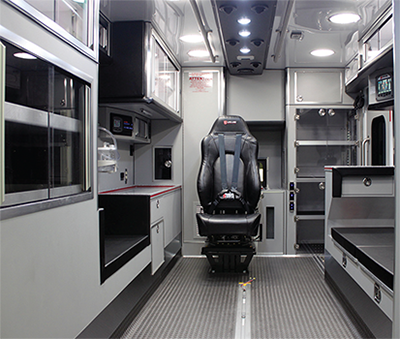 Doug Roethler, Director of Operations at Life Line, sheds some light on the manufacturing footprint that is required for such an extensive output. "In relation to the town we operate in, our footprint is fairly large," he reveals. "Across two buildings, our manufacturing facilities measure about 200,000 square feet in size. One is strictly dedicated to production; the other is our detail room, which includes some office and warehousing space, allowing us to store chassis that are waiting to be built on."
Within the manufacturing facility, Life Line utilizes five key areas to maximize the efficiency and output of its industry-leading vehicles. Doug explains further: "First, we have a metals and fabrication area. Here, each vehicle body begins to be built through a process of welding proprietary aluminum extrusions. Up next is the paint department, where we spray the module and repaint the chassis to the desired color. After that, our expert cabinet department will build units from scratch to go inside the ambulance module.
"Then, once the module has been built and painted, it will move into our finish department, where we will install cabinets, wiring, and make sure that everything functions as it should," he divulges. "Finally, the ambulance will then pass into our quality control department, enabling our team to carry out final checks and finish any detail work that needs attending to. The vehicle transforms into exactly what the client wants."
Technology is central to Life Line's manufacturing process. On the plant floor, for instance, the firm is utilizing Manufacturing Resource Planning (MRP) and Enterprise Resource Planning (ERP) software to more accurately track job hours and measure production efficiencies.
Moving forward, Doug tells us Life Line intends to invest in even more technology and high-end equipment. "Currently, we are using AutoCAD software and inventor 3D programming to design machines, and we are now in the process of exploring how to better integrate our electrical designs upfront as part of the AutoCAD process," he notes. "Technology such as this enables us to not only maintain an efficient and successful company, but also satisfy our customers."
Everything we have spoken about points towards a promising future. Though Randy admits there are certainly lingering supply chain issues following the pandemic, he believes the industry will continue to grow.
"Since there are limited production capacities across the industry, there is very high demand right now," he concludes. "Moreover, as our population continues to live longer, the need for ambulances and emergency vehicles will only continue to grow. This will inevitably lead to our expansion, and going forward we intend to fill any gaps in our distribution network to increase our presence in other areas of the country."
www.lifelineambulance.com