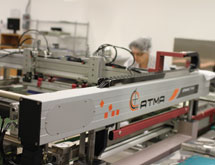 As one of the world's leading user interface assembly design, engineering and manufacturing companies, GGI International is well-known as a company that can provide clients with an array of user interface solutions tailored to their specific applications. Headquartered in a state-of-the-art facility in Montreal, it boasts an exceedingly skilled work force and modern equipment platform, and lean processes are well-established through­­out all of its operations.
The company's roots date back to the early 1900s, and since that time the company has built itself into a global leader in custom human machine interface (HMI) design and manufacturing.  Today, GGI is certified to AS9100C (defense and aerospace), ISO 9001:2008, ISO 13485:2003 (medical) and ISO 14001:2004 (environmental).
The company is also CTPAT and CGP certified. CTPAT is a certification given by Homeland Security allowing for products to cross the United States border efficiently. CGP designates that the company is part of the Canadian controlled goods program, which is required for its defense-related assembly activities.
Custom Choices
GGI's product offering includes membrane keypads, capacitive and resistive touchscreen assemblies, complex PCBA keypad assemblies, optically balanced backlit assemblies – including NVIS requirements, elastomeric rubber keypads, 94VO-compliant aerospace interface assemblies and graphic overlays ­– to name but a few. The main markets the company serves include the medical, defense, aerospace, electronic transaction terminals and specialized automotive markets.
"One of our biggest strengths is our design and engineering capabilities, coupled with our breadth of product offering," Co-President Peter Graham says. "We have a team of 30 engineers, including electrical, mechanical, industrial and chemical engineers. We also have industrial and graphic designers. Everything we build is custom. We tend to align ourselves with our customers early on in the design cycle, becoming an extension of the customers' design team. We are also very proud of our customer retention rate and count many of them being global Fortune 100 and 500 organizations."
It is through this effort of aligning itself early on with customers that GGI increases its understanding of the user interface requirements, as well as the environment where it will be used. Solution budgets and specifications are discussed early in the process ensuring program success. Once a project begins, the company assigns a project leader from its engineering group to work with the customer from beginning to end.
"We have a very focused approach, and we know what we're good at," Graham says. "We excel in the industries we serve and employ the best people possible."
Graham says those requirements can be similar, but the company understands all the nuances of its target industries intimately. "We have an industry-focused marketing ap­proach," Graham says. GGI op­­erates with a targeted marketing focus; the company knows the prospects it wants to pursue and puts the necessary resources behind that effort.
In the last few years, the company has invested substantially in its research and development efforts and these efforts have paid off handsomely. Some developments include: a PCI-compliant keypad platform for a point of purchase application in a very harsh environment; a large-format, uniform, thin film EL (electro luminescent lamp); 94VO flame retardant compliant user interface platforms for the aerospace industry; a reliable, cost-effective sensor platform for the medical industry; multiple hermetically-sealed, NVIS compliant panel assemblies for the defense industry. These efforts helped GGI win the prestigious General Dynamics supplier of the year award.
Lean and Mean
One of the most important decisions the company made in recent years was moving into its new facility in 2005. That allowed GGI to fully implement and strategically lay out this new facility for lean manufacturing. As part of that undertaking, most of its staff was involved in multiple kaizen and continuous improvement sessions.
Since then, the company has continued to push the envelope and has successfully implemented lean design and engineering practices.
"We also invested in a new ERP system prior to moving into the new building," Graham says. "That was a significant investment at the time, but with our growing product offering platforms and forecasted growth plans it turned out to be a wise decision."
Graham says its mature global supply chain coupled with its lean practices is key to being successful as a North American manufacturer. It is a competitive environment, but GGI has been successful by sticking to the niche markets it serves. The effort to implement lean design and engineering alongside lean manufacturing allowed the company to take out non-value-added processes.
"Training is important, as is the latest software required in our environment," Graham says.
Graham doesn't see any major pitfalls looming in the years ahead. Instead, he sees ample opportunity for growth. The company is continuously adding value to its product offering and the markets it serves are forecasted to grow.
Graham does not rule out a possible strategic acquisition to fuel its growth plans. Coupled with GGI's record of innovation, its ongoing internal improvement efforts and a targeted approach to marketing, it is no wonder that Graham sees GGI's future as extremely promising.