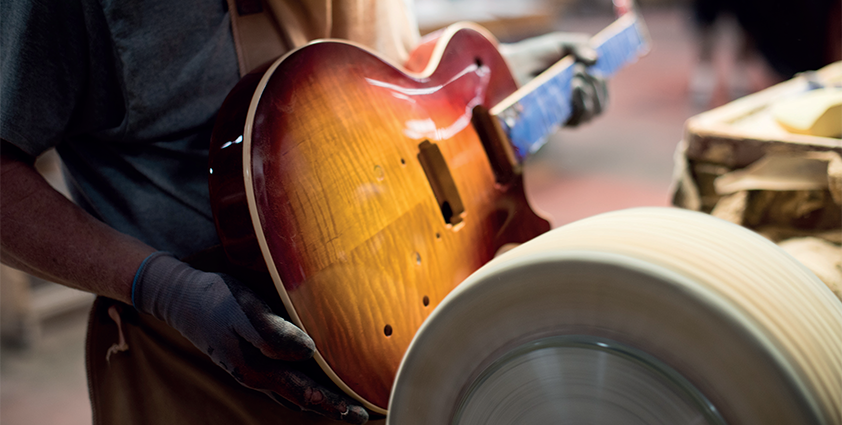 Manufacturing made musical
As one of the world's most iconic guitar brands, Gibson continues to shape and inspire the music industry with its iconic range of instruments
For over 100 years, Gibson Brands (Gibson) has been a well-known and beloved brand amongst music lovers. Founded in 1894, and now headquartered in Nashville, TN, the company enjoys a long legacy of world-class craftsmanship and numerous high-profile partnerships with musical legends. As it continues to produce a wide array of products, Gibson remains dedicated to quality, innovation, and inspiring musicians across all genres.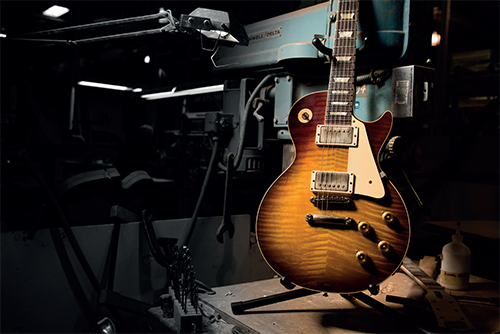 Today, Gibson owns and crafts some of the music industry's most influential and iconic brands. The company's accomplishments are built upon its storied history accompanied with a fresh perspective of its potential, as noted by Jeremy Freckleton, Gibson's Chief Production Officer: "Gibson's story goes back 128 years, which is phenomenal. The inspiration and motivation for what we do starts with insights into the history of Gibson, which was originally a mandolin company, and expanded from there. We still craft mandolins, but we've recently added amps and pedals with the acquisition of MESA/Boogie and honed our collections of guitars as one of the industry's oldest producers of fretted instruments.
"The current leadership team was formed after the company went through the obstacle course of bankruptcy in 2018. The company along with its many brands was acquired by KKR, a private equity company that understood Gibson's past and believed in its potential. With their help, Gibson has been reimagined in a way that respects its legacy yet allows for the freedom to challenge the future with new and innovative ways of working."
As product architecture took shape, artists were reengaged, and commercial relationships restored, demand accelerated. "We were already gaining momentum in early 2020; then Covid-19 added more guitar energy globally. Growth plans that were in process were accelerated and others quickly developed. Since then, we've finished expanding our Epiphone Electric and Gibson Acoustic footprint, the latter now the most modern acoustic production process in the world. We have projects underway to increase capacity and modernize every location," he elaborates.
"Even with these expansions, demand outpaced supply. It takes time to develop and train artisans to make our products. We've added training areas and developed a holistic onboarding program so that each person recognizes the importance of their work in the creation of sound and dedication to quality. This orientation to our employees and their craft is also why we call our production locations craftories, not factories. It seems silly until you remember that our legacy is built upon the men and women who make them," Jeremy explains.
As part of the new era, Gibson continues to innovate both in product and process. "Our vision is to create a modern American manufacturing success story. We've spent significant capital to upgrade common spaces, improve employee safety, revamp finishing technology, and find the right balance between craftsmanship and technology." Jeremy further explains: "Just this year we have commissioned three processes that are 'firsts' in the industry. These innovations strike the right chord of improving quality and increasing throughput while keeping the craft work at the center of the process.
"With respect to product, we are innovating both what and how we deliver a consumer-centric experience. For example, search for the Generation Collection – an affordable, made-in-the-USA Gibson acoustic with a player-port so that the guitarists can hear more of themselves. Or look up the Gibson Garage, located in Nashville, where our brands come to life and where musicians take center stage. Kramer is making a comeback after dominating the '80's, and there is a long list of signature collaborations waiting to be unveiled at the right time," Jeremy explains. "We have an amazing product development team that is creating a healthy pipeline of innovation to carry Gibson into the future but done in a way that respects our past."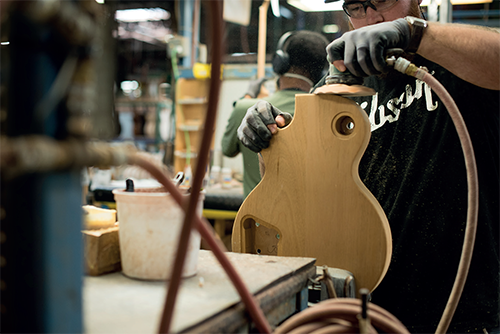 Striking perfect harmony between the old and new has clearly paid off for Gibson as it has outpaced the industry over the last few years. "It's been an exciting journey but not without its challenges. We sometimes forget that we are (hopefully) exiting a two-year pandemic or battled through a myriad of supply chain disruptions globally; add to that a shortage of qualified labor. We are susceptible to the same challenges as every other manufacturing company, but our team has persevered because they believe in our potential.
"As we look ahead, I am energized by that potential. Gibson has turned around, and our momentum is building." Jeremy adds that there are still many areas of the company and production processes that need further improvement. "We still see deficiencies every day and are far from perfect. However, we believe the foundational culture that has been created using our shared values and ways of working will help us create a better experience for every customer along their musical journey."
Gibson has continued to shape the music industry for over a century, and there is no doubt that it will continue to do so as it enjoys the successes of its most recent chapter. "Gibson will be 128 years-old soon and Epiphone even older. We take seriously our role as stewards and custodians so that they endure for another 128 years. We don't want to lose sight of why people love the brand even as we grow. We have a responsibility to create, support, inspire and shape all genres of music across all generations. In 20 years, we will be able to look back on this time and say we were a part of reestablishing Gibson as a leader in the music industry," Jeremy concludes.
Gibson Brands
www.gibson.com
Services: Fretted Instruments and Sound Solutions