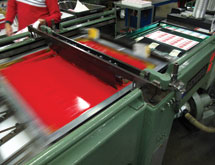 The U.S. presidential primary  season and campaign are well underway, and regardless of which candidates win their elections, Gill Studios Inc. can look forward to a landslide.
"Our biggest rush isn't around Christmas – it's really around the political elections, the primaries and then the general elections," Director of Marketing Carl Gerlach reveals. "In a political year – which would be an even-numbered year – the two or three months prior to the November general election are busy for us. Then the primary season – primaries vary across the country, but a lot of them are in April. So the month or two prior to that April may be our busiest."
Such business requires rapid turnaround. "We produce signs and decals in a matter of days," Gerlach says. "We don't do buttons – we do stickers, which are used for the same purpose. Many times, people don't use buttons because of the cost and convert to lapel stickers."
Another popular product not just at election time is Gill Studios' patented double-sided yard sign.
"The patent has to do with our plastic-coated poster board sign that is folded and glued over the top of a wire frame," Gerlach says. "The combination of those – a yard sign with a wire frame – is where we have the patent. Before we developed that patent, people were folding and pounding wooden stakes into the ground and stapling to wooden stakes. The creation of this product enabled it to be quickly inserted into the ground."
"Our signs are pre-sealed, which avoids the necessity to fold and staple," explains Jamie Fain, executive vice president of finance and administration. "Campaign volunteers love our signs because they are so easy to install."
Screen Printing Experts
Gill Studios Inc. manufactures decals, stickers and a variety of promotional products such as magnets, auto shades, mouse pads and posters using 10 different processes.
"We have screen printing, offset, we have emboss capabilities, we do dye sublimation, flexography and a variety of digital platforms in our organization," President and CEO Paul Lage declares. "Anything associated with signs, decals and labels – that's really our specialty – but by far, our largest is screen printing."
Gill Studios is doing more screen printing contract work for printers. "The reason why is they can outsource it to someone like us, so they can resell it to their customer," Lage explains. "If you're going to do it on a big scale, there's a lot of technology.
"If you're not really utilizing it on a day-in, day-out basis, it makes more sense to outsource it to someone like Gill Studios."
Not all of Gill Studios' competitors are automated, Lage emphasizes.
"You will see a lot of other screen printers who have a very manual process – ours is not," he explains. "All our processes are very automated of what we would consider is a small-order business.
"We efficiently manage an inefficient process through technology and automation. There's nobody who is actually by hand pushing a squeegee across the screen. Some of the bigger signage is semi-automated, but the majority is very automated."
An innovative product the company is producing is expanded foam, fire-rated tiles for commercial ceilings that feature full-color graphics. "It's more of a specialty item," Lage maintains. "We don't sell a lot – it's not a big driver or anything. It's in our market, which is primarily promotional products.
There's a lot of what we would call novelty products," he adds. "You're going to see them more in a retail environment – thrift-type places, quick marts, those sorts of things. They try to figure out ways to put advertising from floor to ceiling."
Equipment Secrets
The digital equipment used at Gill Studios is proprietary and one of the company's competitive advantages. "We wouldn't want to share the specific part of it, but the basic background is it uses an outdoor-type ink that is comparable to screen printing technology in a smaller format," Lage reveals. "In digital, it just gives us a whole lot more versatility. It involves ink technology as well as printing technology. So we have something in the industry that we can claim as being the best in terms of use for decals and outdoor use in a digital format."
Gill Studios Inc. – which has been family-owned for 77 years – has its own manufacturing and printing engineers on staff. "We have a long history of developing competitive advantages in how we use equipment and processes," Fain asserts. "We have a long history of innovation yielding favorable results."
The company's main facility includes 250,000 square feet of manufacturing space. Immediately adjacent to it and separated by approximately 50 yards is another 90,000-square-foot manufacturing building.
Gill Studios expects to be certified by the Quality Certification Alliance (QCA) by April. Fain considers the certification highly relevant to the company's industry, adding, "Safety and compliance issues abound in our industry, and QCA certification proves how good our people and processes really are." The company prides itself on its products' U.S. content. "Ninety-seven percent of what goes out of our door is U.S.A.-made, and not only that, is manufactured here," Lage declares.