Gincor Werx has united five companies under one flag and acquired the largest vocational upfitter portfolio in Canada.
Having secured a position as Canada's largest vocational upfitter with the largest portfolio of truck equipment and trailers in the country, Gincor Werx is enjoying unprecedented revenue growth and plans to further expand its portfolio.
Between 2013 and 2018, the North Bay, Ontario-based manufacturer of vocational severe-service vehicles has reported a revenue growth rate of 412 percent due to rebranding and acquisitions – and plans for further growth.
"In general terms, we have every intent to continue to expand our portfolio," says Peter Gould, Gincor's chief commercial officer. "That's the DNA of the company – to buy assets of other companies and integrate them into our business to create strong operational efficiencies and further expand the value proposition."
Through acquisition and strategic partnerships, Gincor Werx is a family of five companies that came together under one brand last year. Durabody Industries, DEL Equipment, JC Trailers,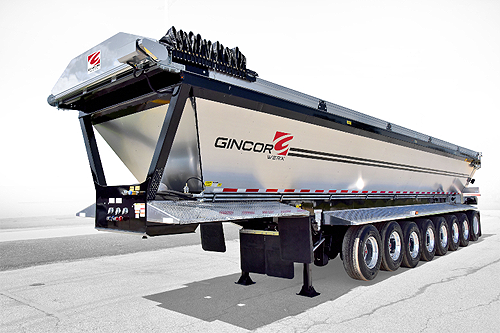 Gincor Industries and Gincor Trailer Werx have united to form Canada's leading vocational truck upfitter and solution provider.
"We were looking for an umbrella brand to bring all five companies together to create a nationwide footprint," Gould says. "Now we have the largest portfolio in the industry. We are the only one in Canada with a national footprint and that is unique in our business."
Coming Together
The company got its start in 1978 as Gincor Truck & Trailer Werx. A family business, it grew to become a leader in the vocational truck, trailer and service industry in Canada.
In 2015, the company acquired Durabody Industries, a Bond Head, Ontario-based company that designs, manufactures and services a complete line of quality truck bodies, trailers and specialized equipment.
In 2016, innovative installation practices and a focus on continuous improvement led Gincor to expand its product offering by acquiring JC Trailers. A year later, the company rounded out an extended national sales, parts and service network and cemented a national footprint with further growth by the acquisition of Del Equipment.
The opening of Gincor Trailer Werx (formerly owned by Cross Country) in Blenheim, Ontario in December 2017 secured Gincor's position as Canada's largest supplier of truck equipment and trailers.
Today, Gincor is Canada's largest vocational upfitter with manufacturing, installation, service and customization capabilities in 13 locations throughout Canada. Its combined facilities give Gincor's breadth of product offering a national footprint that includes a total of roughly 500,000 square feet of manufacturing space, 90 installation bays, 550 employees and 22 service bays.
"Our smallest facility is about 10,000 square feet and our largest is 120,000," Gould says. "And within those there is installation space, service space and the majority have paint and sandblasting facilities."
Workmanship And Innovation
With more than four decades of collaborative experience and expertise in the custom manufacturing of vocational vehicles, Gincor Werx has a solid reputation for quality workmanship and technical innovation.
Its products include dump bodies, cranes, flat decks, roll-off hook-lifts, van bodies, heavy haul float trailers and work-ready snow and ice equipment. "In total, we probably deal with 3,000 vehicles per year," Gould says. "That's a combination of upfitting the vehicles and the manufacture of trailers."
That largest chunk of the company's business falls under the upfitting category. Gincor manufactures and upfits equipment for many construction companies, municipalities and other government entities as well as private businesses.
In addition, Gincor has relationships with chassis OEMS, chassis dealerships and world-class truck body and equipment OEMs. With a factory upfit, the truck is modified by the OEM while still at the original plant. But some OEMs will ship their trucks directly to Gincor for upfitting.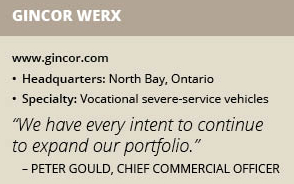 "We would be the largest in Canada from a partnership standpoint with the OEM dealers," Gould says. "We have a pool stock with many of them."
In May, Gincor launched a new website, www.gincor.com, that gives its customers a complete listing of its nationwide work-ready inventory. They can locate their work-ready solution by product, application or province.
With an extensive product portfolio, Gincor recognizes the importance of supporting its products after they leave its facilities. Gincor's newest facility – located in Newmarket, Ontario – is equipped to service a vast array of truck body and truck equipment that Gincor supplies.
Gincor offers equipment preventative maintenance services, hydraulic cylinders repair and testing, pump & PTO install & repair, tarps and specialized equipment installation.
Over the years, the company has received a number of awards. They include "Business of the Year" from North Bay & District chamber of commerce, "Luc Stang Entrepreneur of the year" from the Northern Ontario Business awards and was ranked No.276 on the 2016 PROFIT500 list for Canada's Fastest Growing Companies.
"We call ourselves Canada's upfitter solutions," Gould says. "Coast to coast, shoulder to shoulder, we've got you covered. A lot of companies only specialize in specific areas. But with our huge portfolio, if you need something, we probably have it somewhere."