Assembling perfection
Giuseppe Desirò designs and builds automatic assembly machines for the manufacture of aluminium caps and plastic composed closures
Over the course of its 100-year history, Giuseppe Desirò has overcome challenging conditions within the packaging industry – continually evolving and developing to ensure that it meets the needs of clients and provides only the best automatic assembly machines.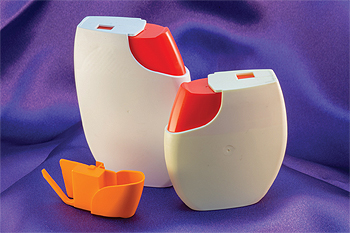 The history of company stretches all the way back to the 1860s, and the strategies formulated over these years have laid the foundations for how the company functions today. Discussing how the company has grown with the times, Administration Manager Manuela Desirò and Sales Manager Riccardo Desirò explained: "We are a family company and our history started well over a century ago. During this time we have changed our production focus in accordance with the latest developments in the market and within society. So for example, in the 19th century we were manufacturing tram wagons and since then our ability to adapt has time-and-time again been called into action. We began the production of machines for manufacturing stoppers, crown closures, and aluminium caps in the 1950s, and with the advent of a plastics revolution in the packaging industry we once again moved with the times, as it prompted us to diversify into the design and manufacture of automatic machines that would assemble several types of plastic caps and closures."
The significant difference between what the company was during its formative years and what it has grown into today is a testament to the attitude, values, and spirit of the business. Always prepared to embrace the latest in technology and innovative solutions, it is now able to design and manufacture assembly machines for plastic precuts serving the alimentary, cosmetic, chemical, pharmaceutical and domestic homeproductsectors.
The process of designing its automatic machines starts with the utilisation of stateof- the-art CAD technology, which helps to transform innovative ideas into a design. The investment in technology such as this helps the company to continually adapt its offering, as Manuela and Riccardo noted: "We have always offered a wide range of assembly machines but over the last few years we have added to production with a new generation of machines with single, double, and multiple heads for slitting, pleating, and wadding of closures."
As a result of its continual improvement process, today Giuseppe Desirò's rangeof machines addresses applications in four categories; pilfer-proof caps, composed closures, pharmaceutical closures, and special machines. Its automatic assembly machines for pilfer-proof caps involve a complete work-cycle process, starting from raw material in the form of reels or strips of aluminium. The product is then concluded with liner, and finished with personalised raised writing on the cap. Giuseppe Desirò is able to address all the requirements of its customers throughout the process, and its machines are able to reach a production capacity of between 18,000 and 50,000 caps per hour.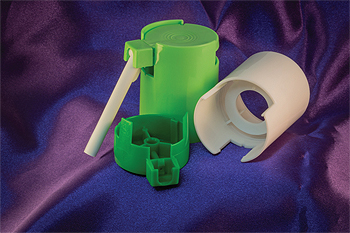 Composed closures are the second area of specialisation, and here the company's machines offer high levels of control and personalisation. They also offer a user-friendly interface that constantly keeps the operator up-to-date with production parameters and data. This section of the business has two main sub groups, which include continuous machines for composed closure that produce between 200 and 1000 pieces every minute, and indexing machines for composed closure that produce 30 to 400 pieces every minute.
Pharmaceutical closures are the third sector and this has various categories of closure machines that have been developed to comply with both hot and cold requirements. This is particularly the case for the assembly machine that works with aluminium or plastic injection containers that are always in the process of being improved to the most recent standards. As a result, this equipment has a production capacity of 1000 pieces every minute and a 100 per cent production-control factor.
The final area that Giuseppe Desirò provides its expertise and high quality machines for is special closure assembly. In this area it combines the experience it has gained through many years of activity in the traditional closure and cap assembly sectors to excel in the fabrication of specialist machines dedicated to diverse assembly requirements. This includes closure variations for inhalers and dispensers, for vaginal cannulae, for teaspoon binders, all individually designed for personalised control systems according to the specific needs of its clients.
It is clear that Giuseppe Desirò's machines are designed with foresight of what customers will require and a willingness to embrace the latest technology. Such has been the success of this approach that the company is experiencing high demand. Manuela and Riccardo added: "At the present moment in time there are 15 assembly machines produced per year, but there are several investments that we have planned that will increase this capacity in the very near future."
As the company grows its output, so too does it continue to expand its global market reach, and in order to support this ambition itwill be attending a major event in the industry, as Manuela and Riccardo highlighted: "Interpack 2017 is a really important worldwide event where we will show our capabilities off to the global market." The Exhibition is a key place to hold a stand for all those involved in the food, beverage, confectionery, bakery, pharmaceutical, cosmetics, non-food and industrial goods sectors. There is no other trade fair in the world that presents the entire supply chain, and for this reason and many more the event is an essential date in the calendar for all in the industry – Giuseppe Desirò is very much anticipating a successful event and looks forward to showing its machines to a whole new audience at the show.
While the market has been challenging for some over the past few years, thanks to its family run approach, its many decades of experience within the industry, and the sheer standard of its machines Giuseppe Desirò has weathered any adverse effects from the economic problems that have faced Europe. It has continued to prosper, and remained a modern and technologically advanced option for customers, understanding their needs and providing a tailored service. In addition to the expansion and improvement of its assembly machines, it has also sought to engagewith the leading figures within the industry at major events. Therefore, the company represents the most important values in the market – quality, reliability and flexibility. These standards will no doubt ensure that Giuseppe Desirò's history and achievements will continue to grow for another century or more.
Giuseppe Desirò
Products: Automatic assembly machines