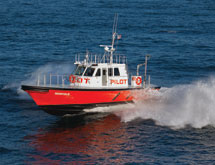 Gladding-Hearn Shipbuilding
Gladding-Hearn Shipbuilding's advanced shipbuilding techniques have helped the company develop the capabilities and reputation of a bigger shipyard while retaining the personal customer service of a smaller yard. The family owned and operated company is intimately involved with each of its projects, allowing it to establish strong relationships with customers that have brought the company positive reviews and repeat business.
"All of our vessels are commercial; we don't build pleasure craft," says Peter Duclos, president and director of business development.  "Everything we do is about solving problems. Our boats are built for a specific purpose. Everything is custom, so we need to understand how the boat will be used. We want to know what the customer wants to do, and we can take it from there and develop a design that meets their needs."
Strong Foundation
Founded in 1955 by George Duclos, Pret Gladding and Richard Hearn, Gladding-Hearn is part of the Duclos Corp., doing business as Gladding-Hearn Shipbuilding. The Duclos family has been solely responsible for the company since George Duclos bought out his partners in 1983.
The company is located on 6.5 acres on the deepwater Taunton River in Somerset, Mass. Its facilities include a 60,000-square-foot, heated indoor fabrication facility that includes plasma cutting and three press breaks and shears. It also has 10,000 square feet of secure storage buildings, a 4,200-square-foot office building, a 500-ton railway and a 200-foot pier.
Gladding-Hearn prides itself on incorporating customer input into design advancements to help it continuously improve its product offerings. Each day, a production meeting with all foremen and supervisors takes place to ensure that everyone knows the status of every project. This commitment to teamwork helps the company leverage its internal expertise.
The company has in-house naval architecture and engineering capabilities, as well as a cross-trained workforce. Its operation includes in-house advanced inventory control, cost controls and accounting systems, and advanced manufacturing and design processes including plasma cutting and 3-D modeling.
Gladding-Hearn also uses Zone Outfit Logic Technology (ZOLT). This allows teams of ship-fitters, welders and outfitters to build and complete modules of vessels from the inside out, helping the company to increase efficiency while yielding better control over production and costs.
"The business is always changing, and we're always buying new equipment," Duclos says. "In the last five to seven years, we've put up new fabrication and storage facilities. When we build new buildings, it is always in response to the needs of a project. We've also made environmental investments in equipment to make our operations safer, cleaner, cost-effective and efficient."
Diverse Portfolio
Gladding-Hearn is capable of producing everything from passenger vessels, pilot boats, tugboats and patrol boats to fire boats, research vessels and U.S. General Services Administration (GSA) products. Each Gladding-Hearn vessel is backed 100 percent and performance is guaranteed.
"We currently have 14 projects under contract at the moment," Duclos says. "We're building five patrol boats for the city of New York, six patrol boats for Colombia's navy, and we're also building pilot boats for other customers."
Its passenger vessels have included steel, mono-hulled passenger ferries; high-speed passenger catamarans; and all-aluminum fast ferries. In fact, the company is a licensee of designer Incat Crowther in Australia. This allowed the company to become the second U.S. shipyard to build high-speed catamarans, and it has since built most of the fast cats on the East Coast and the Great Lakes.
In its pilot boat category, Gladding-Hearn has built more than 70 vessels, and it developed the first of its rigid-bottom, soft-sided pilot boats in 2006. The pilot boat category is an area where Gladding-Hearn has distinguished itself, as it has more launches operating in the United States than any other shipyard. Its partnership with designer C. Raymond Hunt Associates helped the company build the first launch with a deep-V hull in 1978, which became the industry standard.
The company's history with tugboats includes building America's first Z-drive tractor tug, in 1977. As for patrol boats, the company has served police departments in New York City, Boston, Chicago and other municipalities, port authorities and federal agencies.
Gladding-Hearn's shoal-draft fireboats are built to the latest National Fire Protection Association standards and have pumping capacities of 1,000 to 7,500 gallons per minute. Gladding-Hearn's coastal research vessels have a shallow-V planing hull and can accommodate multiple laboratories and complex equipment.
Its "Multiple Award Schedule" contract with the United States GSA allows the company to list select standard vessels on a "Federal Supply Schedule" published by the GSA.
"We've been fortunate to get involved with some strong public sector work," Duclos says. "In 2006, we produced 12 U.S. Navy patrol boats, and we've since worked with the U.S. Army and New York City."
Gladding-Hearn knows that it must continue to keep customers happy for the company to thrive. Duclos thinks the public sector may slow down, but he predicts more opportunities will be coming from the private sector.
"We are looking at doing some privately funded ferries, and we have an agent working on turning up more opportunities in Central and South America," Duclos says.