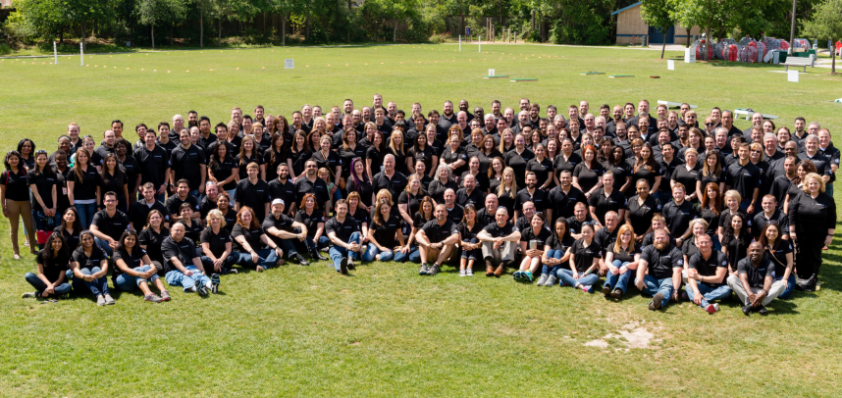 After more than four decades, Global Shop Solutions thrives with a culture focused on customer satisfaction. "Our customers love us," Vice President of Service Mike Melzer declares. "We bend over backwards for them."
Based in The Woodlands, Texas, Global Shop Solutions provides ERP software for multiple industries, including aerospace, automotive, concrete casting and defense manufacturing. Dick Alexander founded the company in 1976 after working as the controller for Case Tractor.
"He started it out with an idea to provide solutions for small- to medium-sized manufacturers," recalls Dusty Alexander, his son and the president and CEO of Global Shop Solutions. "A lot of his first business was in Houston for oilfield manufacturers."
Since then, Global Shop Solutions has grown to operate offices in seven different countries and serve more than 20 industries in over 25 countries. Its work is primarily for medium-sized companies that serve majors like Boeing, Caterpillar and John Deere. "[They're] the people that make products for those guys," Alexander says.
Melzer adds that Global Shop Solutions has a large niche in the store fixture market, which has led to their customers' products being used in Walmart, Target and Starbucks to name a few. When its employees visit those stores, "[They] get a kick out of it," he says.
Custom Quality
One element that sets Global Shop Solutions apart from its competitors is the fact that its ERP system is custom built for its clients. "No ERP system is going to fit you right out of the box," Alexander says.
Global Shop Solutions also employs a team with more industry knowledge than its competitors. "We're constantly training our customers on what the best practices are, and allow them the opportunity to customize our software to best fit their needs," Alexander says.
The company also makes sure to listen to its clients when it serves them. "We engage them to see what needs they have and how we should meet them," Melzer states.
Good Times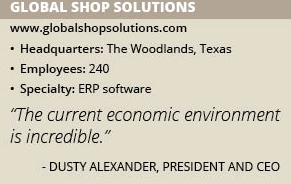 Now is a good time for Global Shop Solutions to be in business. Last year, the company enjoyed strong sales growth, and expects to grow that number by more than 10 percent next year. "The current economic environment is incredible," Alexander says.
Many of its clients want to make their work paperless. "That's a big, big trend," he says. "People want to connect everything they're doing. They'll say, 'I want to connect machinery, and I want to connect to the software that talks to the machine.'"
One example of an area where Global Shop Solutions ERP Software can reduce paperwork is in material certifications. Previously, when a client bought a sheet of steel, it would come with a certificate detailing its origins.
Now, with Global Shop Solutions' products, clients can retrieve this information electronically. "Before, they'd have to dig for it and it took 20 minutes a job to put it together," he says. "Now, it's all [accessible via] a clickable button."
Global Shop Solutions also is seeing a push among its clients to import tools to the cloud, which it also can accommodate. Meltzer notes that this eliminates the headaches that clients would experience taking care of servers and creating backups. "It's in good hands with somebody else," he says.
Its clients also want to make things closer to where they are consumed, Alexander says. Today, "The majority of our business is in North America," he says.
While the manufacturing industry is booming, there is a gap in skilled workers, making it hard to find quality employees. Because of this, many manufacturers turn to ERP software in order to automate and relieve the pressure of having fewer hands on deck. "Because customers need more people but don't have the resources, they want to automate things with Global Shop Solutions," he says. "They want to get automation implemented as quickly as possible."
Eliminating Worries
Alexander takes pride in how many customers Global Shop Solutions has helped succeed. When they buy the company's software, "That's the last system they have to buy," he asserts. "We take that worry right off the table."
He sees a strong future for Global Shop Solutions. "[We'll] keep growing at a long-term, sustainable rate," he asserts. "You've got to keep it focused, and love, serve and care about your customers."
Rewarding Work
Global Shop Solutions has won awards for its work, which include being named a market leader in FeaturedCustomers' 2017 Winter Manufacturing ERP Software Customer Success Report. Leaders, the company notes, are selected by having the highest average of customer, social and company scores.
"Global Shop Solutions was selected out of 27 ERP software vendors for this award," it says. "The Manufacturing ERP Software Report is based on over 1,900 pieces of verified customer reference content within a single category."
The company's clients also win awards regularly, including Mitchell Metal Products, which received the first National Reshoring Award from the Precision Metalforming Association and the Reshoring Initiative. The company was recognized for its success in bringing manufacturing back to the United States from overseas.
Alexander praised Mitchell Metal in a statement. "It's an honor to watch how their business has flourished over the last year, with the help of ERP software, and how dedicated they are to creating more jobs right here in the United States," he stated.