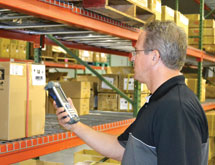 Global Technology Systems
Unlike many battery manufacturers that work strictly for OEMs, Global Technology Systems (GTS) has made its name by working directly with end-users of its batteries since its inception in 1999. This distinction, according to COO Mike Grosberg, is the difference between customers getting the best performance available today vs. having to purchase new devices to get the latest in battery technology from manufacturers.
"At GTS, we develop the next generation of mobile power technologies and help customers apply that technology to their existing radio, scanner, or rugged PDA," Grosberg explains. "With our commercialization expertise, we can provide our customers with tremendous run-time advantages."
GTS was founded in 1999 by Lawrence A. Murray, a U.S. military veteran, and is certified as a Massachusetts c-corporation. Murray's military experience showed him the limitations of battery power in mission-critical situations, and his goal for GTS was to address the growing demands of powering mobile devices in a variety of applications.
Today, GTS has a reputation as a trusted expert in mobile power technology through the design and manufacture of high-performance batteries, chargers and power management technologies. These are used in mobile devices including two-way radios, as well as mobile computers, barcode scanners and portable printers. The company's products are used by government agencies, public safety officials and Fortune 500 businesses worldwide.
GTS is headquartered in Framingham, Mass., and operates design, manufacturing and distribution centers throughout the United States, Asia and Europe. The company also has served as the exclusive worldwide manufacturer and designer of Honeywell Batteries since 2002.
Total Ownership
Unlike much of its competition, GTS's provides lower cost of ownership by working directly with end-users to provide specific products that address their needs.
GTS does this by focusing specifically on the mobile worker. Grosberg estimates as many as 1 billion people depend on a mobile device to perform their duties, all of which depend on batteries.
"We're set up very differently because a lot of battery technology companies today are deep in the supply chain, so they don't really understand how their products are being used," Grosberg says. "We're going directly to end-users to provide technology that improves the productivity and performance of their mobile operations."
This is particularly important for GTS customers, who typically keep their mobile equipment for as long as 10 to 15 years. Customers such as package delivery firms rely on mobile scanners with batteries that can run 24 hours to sort millions of packages. From the OEM perspective, however, manufacturers launch new products constantly with hopes that clients will replace their fleets every five to seven years.
"Our interest is the same as our customers," Grosberg says. "We keep their existing devices running at optimal performance with full-shift power for as long as possible to improve total cost of ownership."
Pure Genius
End-users of battery-powered mobile devices realize that batteries of all kinds are on borrowed time, but determining when it is time to replace a battery vs. simply recharging it has long been a vexing problem.
To solve this, GTS has developed Genius Batteries™, which show the true state-of-health of the battery and tell users when it is time to replace it. GTS has installed an LED light on Genius Batteries, so if it is healthy, the light remains off. When the light is yellow, the battery is approaching the end of its life. Once the light turns red, it is time to replace the battery.
"This is the biggest advancement in mobile power in the last 20 years," Chief Marketing Officer John Conti says. "Before this, there was no practical way of telling which battery was bought yesterday vs. five years ago.
"Our team recognized the challenge, worked with customers to better understand it, and developed a unique and innovative solution."
Conti says GTS engineers have been hard at work studying all the factors that impact the health of a battery and developed its proprietary Genius technology. The technology independently calculates the true state-of-health of the battery and communicates this information through the color-coded lighting. All information resides in the battery itself eliminating the needs for additional equipment or processes to determine the health of the battery.
So far, GTS has installed Genius on about five products it intends to highlight at the annual ProMat trade show for the material handling industry January 2013 in Chicago.
Along with promoting its own products, GTS wants to change the perception that batteries are a commodity product. Instead, they are a separate technology category that can impact the productivity and performance of mobile operations. Batteries are a valuable part of any supply chain that relies on mobile devices.
"We continue to provide productivity through better battery technology to federal agents, military personnel, industrial workers, commercial enterprises and public safety," Grosberg says.