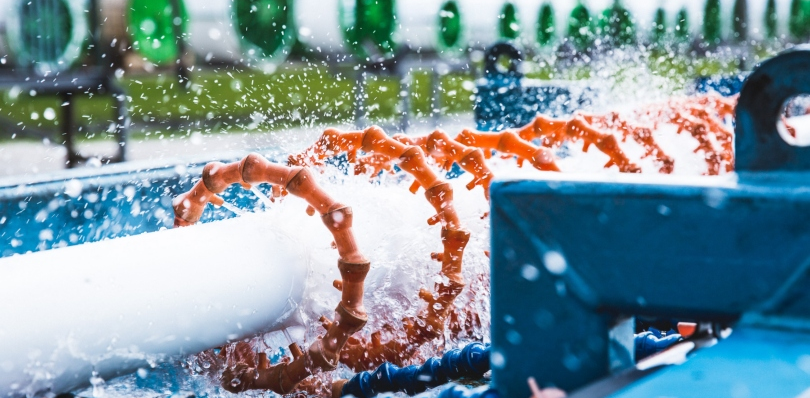 Coiled tubing is a unique form of carbon steel tubing used by oil and gas service companies and oil and gas well operators for service operations, well completion activities and for small diameter product pipelines. Global Tubing is one of the leading coiled tubing providers to the oil and gas industry, with stocking and service locations around the world.
"Our focus is to be the No. 1 provider of highest quality coiled tubing and related services," Vice President of Sales Operations Alex Sheehan says. "We look at ourselves as a service company that happens to manufacture coiled tubing."
Oil and gas operators are focused on producing more out of every well they drill. "How do they do that?" Sheehan asks. "The way they drill and complete them is far more intense. Greater depths with longer horizontal sections, tighter frac stage spacing, and higher fluid and sand loadings make these wells far more challenging than in years past.  In 2014, the average lateral length was 4,000 to 5,000 feet and today it's 8,000 to 9,000 feet. Many operators are beginning to drill lateral lengths in the 10,000 to 15,000-foot range, tripling the length in just four years."
What makes this product unique is the tubing length, OD and the custom engineered nature of the tubing and currently the greatest demand for downhole coiled tubing is for use in wells with long horizontal sections.
Global Tubing customers' biggest challenge is to utilize coiled tubing, which can reach out to the bottom or "toe" of the well. The horizontal "reach" capability of the tubing is critical to the well services companies that use it in their customer's wells, which is why the company is highly-focused on providing the engineering services to get its customers more reach. "Developing products that help with that is critical," Sheehan says.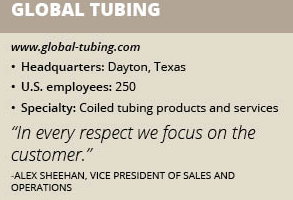 The Dayton, Texas-based company was founded in 2007 to meet the growing demand for coiled tubing products and related services. The founders of Global Tubing identified an opportunity to build the only purpose-built, state-of-the-art coiled tubing manufacturing facility in the Houston area.
"We recognized an opportunity to significantly increase manufacturing efficiency and employee safety by starting with a blank slate approach to our facility design," Sheehan adds. "By applying the knowledge of several industry veterans, we built a facility customized to coiled tubing manufacturing with heavy lifting capabilities and optimized safety and material flow through the facility. As we expand and add capacity, we have seen the efficiency gains continue while increasing manufacturing output."
The company began with private equity funding and in October 2017, Forum Energy Technologies acquired 100 percent ownership of Global Tubing. "Our products and services align well with Forum's upstream well completions product portfolio," he says.
Product Development
Global Tubing has developed a reputation in the oil and gas industry for its exceptional customer service and support. "In every respect we focus on the customer," Sheehan says. "That includes understanding the oil company requirements for operations in their wells and the service company market drivers, because that knowledge guides new product development."
In 2017, Global Tubing launched DURACOIL, a revolutionary coiled tubing product with improved tubing fatigue life, predictability and resistance to abrasion, which minimizes downtime due to pipe failures. Global Tubing meets with its customers regularly to understand what challenges they face today to develop new product lines and services.
"We are constantly working on new products to provide better value to our customers," Sheehan adds. "We have multiple projects in the pipeline in different stages of development.
"I can't underscore enough the logistical challenge in moving some of this pipe around the country," he continues. "We move 140,000-pound loads around the country daily and ship about 75 loads a month that range from 100,000 to 140,000 pounds. That's a significant challenge and finding freight vendors we can trust that have the equipment capable of handling the load is one key to superior customer satisfaction. The tubing has to be available when the customer needs it; there's no other industry out there that moves these weights this frequently."
In 2014, Global Tubing began producing its Coiled Line Pipe products at its manufacturing facility in Dayton, using a state-of-the-art continuous pipe mill with the industry's first in-line coating capability.
"A typical conventional one-mile section of pipeline will require 170 or more welds to join the conventional 40-foot joints of pipe together, in the field" Sheehan explains. "With our Coiled Line Pipe product, we can lay continuous 1,400-foot sections of 4" Schedule 40 pipe. In doing so, our customers reduce the field welds required to less than ten welds per mile. This significant reduction in welding labor improves safety by reducing field exposure hours and increases overall installation efficiencies.  It's the most cost-effective installed solution for small diameter steel pipelines."
Facility Expansion
To optimize production, Global Tubing manufactures multiple diameters from one to five inches and prides itself on lean, just-in-time operation. The company works closely with its suppliers so raw materials are brought in just before they are needed and manufactured. "We try to be very efficient in our supply chain," Sheehan notes.
Global Tubing is expanding its Midland, Texas, facility to meet the increasing demands of oil and gas companies in the Permian Basin. The company is adding an additional 20,000-square-feet for a total of 40,000-square-feet to its 10-acre facility.
"If that oil field stood on its own, it would be the seventh or eighth largest oil producing country in the world," Sheehan explains. "It produces just slightly less than Iran does currently. It's a major producer of oil and gas, which is a major consumer of our product, so we are expanding our facility there to provide on-time delivery, additional stocking opportunities and services to those customers."
For Global Tubing, that means an engineering challenge to design the tubing to reach further than ever as well as producing a string of tubing in record lengths of high strength steel. It also presents logistical challenges, transporting an oversized load to its customers.