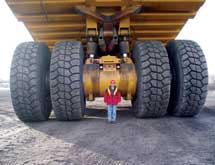 Some may think there is only so much use you can get out of a tire, but that is not the opinion of Global Tyres Ltd. Instead, the company specializes in helping companies in the mining industry get more life out of their used tires, President Chauncey Krahenbill says. Based in Edenton, N.C., the company supplies all sizes of off-the-road (OTR) new tires and provides repair and retread services for tires used in the mining industry. Krahenbill founded the company in 2005 after seeing the impact of the recent tire shortage on mining firms.
With partners Charlie Creighton, Scott Creighton and Andrew Bergeron, Krahenbill purchased 250 giant off-road tires from a manufacturing plant in the Ukraine and began marketing and selling them across the world. Global Tyres then opened dealerships in the United States and formed a partnership with Renova, a tire manufacturing plant in Lima, Peru, that specializes in retreads.
According to Krahenbill, Renova has the technical knowledge to re­construct the tires back to new tire quality. "They can perform the tire compound and tread design for each application to maximize the tread life," he says. "They do in-house compound testing and they use the best products – the same products to make new tires."
Today, Global Tyres serves coal, oil sands, gold mines, iron ore, ports and steel mills and is a direct Michelin, Yokohama and Titan tire dealer. Krahenbill notes that the company's work is divided equally between new tire sales and retread and repair work.
"It used to be all repair and re­tread," he recalls. "I have grown in the new tire [market] because I've been able to sign with manufacturers."
Global Tyres also operates an online, Web-based real time 24/7 tire and management system that allows its customers to track and receive reports about its OTR equipment and tire inventory. "We're tracking over 400 tires at one of our port customer," Krahenbill reports.
Minimizing Expense
Global Tyres has benefited from utilizing freight forwarder CV International Inc. CV International Sales Executive Ryan Eaves notes that transportation and logistics can account for a significant portion of the operating budget.
"Due to the large capital investment and expertise that international trade demands, most companies choose to outsource at least a portion of their logistical functions," he says. "As Global Tyres' freight forwarder, we are responsible for arranging shipments for export overseas."
He notes that CV International's experienced team assists with services ranging from freight forwarding and customs brokerage to international door-to-door delivery. "Our goal is to minimize our customers' efforts and expense through personalized customer service and a comprehensive approach to their individual needs," he says.
From the Scrap Heap
Although the poor economy has hurt many companies, it has kept Global Tyres' repair and retread business strong. "Since the recession hit, things got tightened up," Krahenbill says, noting that many customers have cut back on spending.
"They definitely have decided to try to salvage their tires more to make them last longer," he says. "A lot of steel mills have contacted us to have us go [and look] through their scrap tires."
Usually, Global Tyres finds that 25 percent of scrap tires can be salvaged. "If you have a tire that's got 75 percent of the rubber still on it, you can reconstruct and repair it," Krahenbill says. "It's definitely a savings."
Preparing For a Boost
Currently, Global Tyres is enjoying strong business from all of its markets. "The steel industry seems like it's pretty busy today," Krahenbill says. "There's a lot of product going to steel mills so they can produce the steel." The demand for new and retreads is up by 35 percent over the past year in some accounts.
Krahenbill adds that he is anticipating another shortfall of tires in the oil sands of Alberta, Canada, the copper mines in Chile and the Iron Ore mines in western Australia. "[It won't be] as bad this time," he says, but the 57- and 63- inch wheel tires will see a shortage due to the huge amount of new ultra-class haul trucks being ordered and shipped to the mines. More trucks demand more tires, but manufacturers are facing high crude oil and natural rubber prices. "The manufacturers allocated tires out and they can't produce all the tires needed to keep the trucks off the block piles. A lot of shortfalls are coming."
This should bring a boost to Global Tyres' repair and retreading business, Krahenbill says. He also anticipates that the company will add another location in North America, which would be developed with Renova.
He explains that Global Tyres will build a new repair and reconstruction facility, with a retreading plant. While the company now ships the used tires to Renova's location in Peru, "We would cut out the ocean freight and that would help us out a lot," he says.