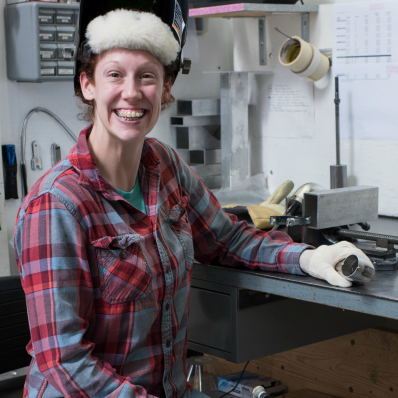 Globe Engineering Co. Inc.
Known for its ability to fabricate the sheet metal parts and assemblies its customers require, Globe Engineering has built a name for itself with companies both big and small in the aircraft and aerospace industries. Able to produce everything from tailpipes, aircraft spinners and headers to venturis and exhaust assemblies, Globe Engineering has the expertise and capabilities to produce a wide range of precision parts. Not too shabby for a company that started out bending tubes for children's furniture more than a half-century ago.
"Globe Engineering is an aerospace manufacturing company founded in 1946 by Albert Nelson Jr.," President Jeff Teague says. "Albert was an aerospace engineer who designed and built his own tube-bending machine. He began by building infant high chairs and car seats in his garage. He then won a Boeing contract for an aircraft drop-tank frame and the rest is history."
Focused Approach
After 70 years of operation, Globe Engineering has become highly specialized in the fabrication of precision parts for the aircraft and aerospace industry. Globe Engineering's work today is nearly 100 percent focused on aerospace parts for the general, commercial and military industries. For any given year, the company has approximately 200 customers from all over the world. They demand 100 percent quality and nearly the same percentage for delivery, which Globe strives to meet. The company says it has built its reputation by manufacturing what other job shops find too difficult to handle.
"Today, Globe has 213 employees and approximately 250,000 square feet of manufacturing space, with annual sales in excess of $50 million," Teague says. "We build tube, duct and sheet metal assemblies, as well as machined components and assemblies, from aluminum, stainless, inconel, titanium and other metals."
Among Globe's services are hydroforming, metal spinning and tube bending. The company has seven deep-draw hydroforms of various sizes, with blank size up to 33-inch diameter. These machines give Globe Engineering the ability to flow double contour shapes up to 12-inches deep from flat sheets.
As for its metal spinning capabilities, Globe Engineering's craftsmen can hydrospin, trace and hand spin aluminum, stainless, inconel and titanium up to 48-inches in diameter. The company can offer excellent control of wall thickness, and cost-effectiveness is something Teague says is a hallmark of Globe-fabricated parts.
Then there is tube bending, which has been a Globe Engineering staple for nearly seven decades. Globe is capable of bending thin-walled tubes, such as commercially pure titanium welded duct assemblies, as well as aluminum, stainless steel and inconel tubing. The company's bending expertise has grown to include 1-D bends, hot-bending to 6-inch diameter, quarter-inch to three-inch automatic CNC, and N/C bending of one to six inches. Globe also has computerized optical non-contact measuring capabilities.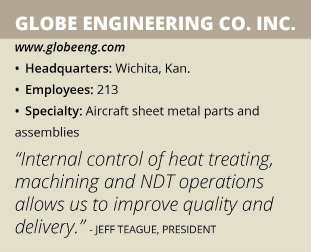 Globe Engineering processes include CNC machining of tooling, CAD/CAM electronic data transmittal, laser trimming, and general tooling and machine work. All of these in-house capabilities under one roof allow Globe to create inlets, exhaust systems, tube assemblies, fuel and hydraulic systems, domes, headers, bulkheads, pans and ribs, spinners and venturis for its customers.
"We perform multiple forming processes, including deep-draw hydroforming, spinning and tube-bending," Teague says. "We have in-house heat treating, GTAW and RSEW welding, and NDT capabilities, and we also have a complete production machine shop."
Quality control is a major priority for Globe Engineering. The company has achieved ISO 9002/AS9100 certification, as well as NADCAP accreditation for heat treat, penetrant inspection and welding processes. Additionally, Globe utilizes custom, in-house written software for control of production, work history and scheduling, while statistical process control is used to assure process capabilities and maintain process control. The criteria and software used is based on the requirements of the major aircraft companies and the government.
Continue to Learn
Thanks to Globe Engineering's combination of technological capacity and craftsmanship, the company has been able to build relationships with customers from around the world and earn a reputation as the place to go for challenging projects. At the same time, the company is not resting on its laurels.
One of the areas of constant focus is its human capital. Globe Engineering is an ESOP shop, and Teague feels that employee ownership has contributed to excellent employee retention and motivation.
"When all employees have vested interest in the success of the company, it is easy to get their buy-in on things like new programs and methodologies," Teague says.
The company has also been making improvements to its brick and mortar assets. Globe Engineering recently completed its 24,000-square-foot Sheridan facility, which is a small-diameter tube and duct assembly shop with a complete finishing line that includes elements such as paint and chem film.
"At Sheridan, we provide very quick turn times for any tube and duct assemblies under one and a half inches in diameter," Teague says. "This investment was more than $3 million dollars."
"The Sheridan facility was designed on lean principles, including cell manufacturing, with all employees cross-trained to ensure we minimize queue times," Teague says. "Internal control of heat treating, machining and NDT operations allow us to improve quality and delivery and to avoid outside processing issues."
Other improvement initiatives include the delivery of a new electronic tube-bender and an additional large age oven for its heat treat department. Beyond that, Globe periodically holds lean and Kaizen events to ensure it is as efficient as it can be.
Globe Engineering knows continuing to build on its successful history will require keeping up with industry changes. The company says customers continue to push as much administration onto suppliers as possible, which makes it difficult to keep costs down. Also, increased regulatory requirements add costs. Although staying competitive will always be a challenge, there is every reason to believe that Globe Engineering can continue to succeed by demonstrating the quality and innovation that have been part of its operations since the very beginning.