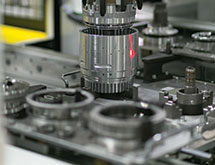 GM Toledo Transmission has built a long-standing reputation for quality, productivity and performance over the past century and maintains it today through a disciplined manufacturing system. "We are recognized through an internal assessment by GM as being one of four plants to receive its Built-In Quality Level Four Award because of our discipline and the involvement of our people," Plant manager Joe Choate says. "The Toledo facility is one of the highest assessed plants in the corporation."
The Toledo, Ohio-based plant was founded in 1916 to produce truck transfer cases and transmissions for four- and six-wheel-drive military trucks throughout World War I. Today, the team manufactures and assembles GM's front- and rear-wheel-drive transmissions in its two-million-square-foot facility that sits on 151 acres. "We are the largest transmission manufacturer for GM, making twice the products other plants make," Choate says.
Over the past nine years, GM has invested more than $1.2 billion to enhance Toledo Transmission's operations. In February 2006, $540 million was invested in its six-speed, real-wheel-drive transmission capabilities and another $323 million was invested in May 2007 for six-speed, front-wheel-drive transmissions. GM invested $240 million for new eight-speed transmissions in May 2011 and $82 million one month later for enhancements to those transmissions.
Most recently, GM invested $30.6 million for six-speed transmission capacity increases at Toledo Transmission. "This investment signifies a commitment to the men and women of Toledo Transmission and their dedication to build the world's best transmissions," Choate notes. "The entire workforce exhibits a sense of ownership and pride in the transmissions they build. This continued dedication will lead Toledo Transmission with our shared vision of continuous improvement and commitment to quality, and ensure the success of our efforts."
Disciplined Operations
"Nothing is allowed to leave the workstation if it's not right," Choate says. "We adopted a policy that if the product is not right we take it out of the station, tear it down, get rid of the bad components and rebuild a brand new unit from the ground up."
When Choate came to Toledo Transmissions 10 years ago, he helped integrate a change of philosophy by enhancing discipline within the manufacturing system, the plant does not allow anything manufactured to be repaired on the line. GM's investments in new products, design and equipment allowed Toledo Transmission to build transmissions right the first time. "Everything has a formula that must be followed in a disciplined format to ensure proper quality levels," Choate says.
Toledo Transmission error-proofs its process so parts can only be put together one way. If a piece fails error-proofing tests, the line will shut down and alert a team member in the area to resolve the problem. "We have the lowest overall warranty cost associated with products coming out of here," Choate notes. "Our ability is running 99.8 percent first-time quality through processes. It's that discipline that nothing leaves the station if it's not right and our employees taking ownership in the product that makes all the difference."
The company does not have excess inventory for any part of its manufacturing processes. Components are delivered by a supplier and within two hours they are in a transmission and leaving the plant. "We don't have buffered stock lying around," Choate says. "We have short lead times."
GM strives to work closely with and support its suppliers, Choate notes. "Suppliers can make or break you; we need to truly be their partner," he adds. "For example, one of our suppliers overbilled and overbooked a bid on a product that was integral to our production. To assist this supplier, we sent a task force to address the issues and aided the supplier in getting out of the contract. Simultaneously, we were able to establish a new qualified supplier to continue providing these key products without impacting our production. This is a great example of teamwork across the board."
Clear Metrics
Toledo Transmission implemented a business plan deployment process to continuously improve and measure its success. GM provides the company with annual targets that the Toledo team interprets and uses to develop metrics for safety, people, quality, responsiveness to customers, cost performance and the operation's environmental performance.
A performance board on the shop floor indicates what needs to be done to accomplish the goals and the things that are blocking the company's ability to meet the goals. "The things we are charting on the shop floor are not easy things to achieve," Choate says. "Working towards these goals will drive continuous improvement. Every single member in the plant is associated with a set of goals on the team boards. When we add all the incremental things together, it moves the plant needle towards improvement."
To further improve its operations, the company implemented a throughput improvement process that focuses on problem solving through real-time data. Toledo Transmission's database monitors faults in the plant that often go undetected by the team. "If a problem occurs frequently enough, the database flags it as a main issue that needs to be reviewed and resolved," Choate says. "The database tells us what's really going on."
When Toledo Transmission began manufacturing eight-speed transmissions it could produce about 30 in an hour. The company has since been able to increase production to 60 transmissions per hour because of its continuous improvement processes. "Fixing a lot of small things made a difference to realize throughput and efficiency gains," Choate explains.
Five Grades
Toledo Transmission's production employees are referred to as quality operators and within that position are five levels – with the fifth level being the highest and a team lead position. New quality operators are required to attend Toledo Transmission's training that it provides alongside UAW Local 14, the employee union. "We go through how the teams operate, responsibilities and expectations," Choate says. "Training is one week and led by the union leader, personnel director and myself."
To achieve a level three status, quality operators are required to have a working knowledge of all the positions within the team's area. Level four quality operators are capable of performing diagnostic work and the only eligible level to apply to be a level five team lead. Once a quality operator reaches level five, the employee is required to attend leadership training. "I am most proud of the people here," Choate says. "I have worked at 13 different GM plants and started out as a UAW employee. I have never seen a workforce meld together like the one I have here."
Toledo Transmission prides itself on the relationship it has with the UAW team. The company believes it is important for its quality operators to see one leadership and direction to work towards. "We are all in this thing together and I think we are probably demonstrating that more now than ever," Choate says. "The leadership coming out of that solidarity is making us work together and build that bond to make us stronger. We work arm-in-arm with each other."
Moving forward, Toledo Transmission believes its hard work and processes have poised it to take on an "explosion of product evolution" that Choate says will be coming soon from GM. "I think that evolution will lead to product changes and allow us to start taking advantage of the flexibility we have built into our manufacturing process," he adds. "We built a lot of capabilities in our manufacturing system that we haven't yet been able to take total advantage of, and that will present itself soon."