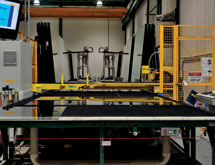 In a market with thousands of window manufacturers and a few behemoths, family owned Golden Windows stands out for its speed and ability to meet customers' needs. "We're a relationship-driven company," President Paul Kreutner emphasizes. "We try to be innovative and come up with things that work best but make sure we're not jumping on a bandwagon that's not in our customers' best interests. We try to do things right."
Golden Windows has not prospered in a crowded industry for 52 years without closely evaluating new production technologies or materials, such as glazing, before incorporating them in its production or product line. "We try to do a lot of investigation," Kreutner emphasizes. "We sit back and watch and see how this is going to work out. We try to ensure that it's going to be a benefit to our customers before we get in. It can be a sizable investment when technology changes. It's more about whether it's worth the investment."
The company tests its windows and doors for both structural and energy performance. "We do that through very reputable third-party testing agencies," Kreutner says. "We tend to test a lot more products than some of our competitors. We try to do a full test of all glazing options on all of our products, as opposed to just testing a couple products and saying that's good enough. Some people may have product listings of 100 or 50 different products they've tested for Energy Star. We have over 2,000 combinations of products that have been tested or simulated for Energy Star. So we try to be comprehensive."
The company says it is one of only a few window and door companies that have the ISO 9001 designation.
"We standardize procedures to really ensure that all our training is documented," Kreutner emphasizes. "We have detailed work instructions that we train from to make sure every product is built consistently – the same screw is used in the same place every time, as opposed to grabbing the closest screw to you. We work hard to make sure things are done properly and consistently."
Custom Manufacture
Golden Windows has manufactured more than 2 million residential windows and doors since 1961 during three generations of family ownership and management, and its certified installers have installed thousands of windows and doors in the last decade. The company sells its products directly to residential builders, renovators and homeowners. It also offers homeowners monthly payments or a deferred payment, no-interest option for installed products.
Approximately 95 percent of the company's products are sold in Canada and the rest in the United States. It has showrooms in Kitchener, London and Ottawa, Ontario. It only manufactures its windows and doors to order.
"When a customer is replacing existing windows, that's typically not going to be our standard size," Kreutner points out. "When a homebuilder is building a home, the design he's looking for is not typically pulled off a shelf." Golden Windows can deliver custom windows and doors in less than two weeks. "That's pretty good delivery for a made-to-order, custom product," Kreutner declares.
Levels of Automation
Golden Windows designs its own wood and extruded aluminum profiles for its windows. "We mill our own wood and buy our profiles," Kreutner notes. "We cut out glass and make the insulated glass units, and then we cut, manufacture and assemble all the windows.
"Different processes have different levels of automation," he explains. "The milling is semi-automated. There are people feeding materials into the CNC equipment and then off-loading them, whereas some of the decorative products are still very handmade. The installed glass line is semi-automated. There is a lot of human interface with CNC equipment."
An optimizer determines the best way to cut the glass based on the products being assembled. "As it cuts, it tells the operator what bin slot to put that glass into," Kreutner says. Argon gas is inserted between the panes of glass that require it and the panes sealed. Optimizers also determine the best way to cut extruded vinyl for greatest usage and the correct order of bins of components for assembly.
The vinyl for windows is extruded by suppliers through dies with profiles designed by Golden Windows. It can be produced with color already in the resin or painted after forming and before cutting and assembly.
Although the materials and processes used to manufacture components for doors are similar to those for windows, door assembly is totally different. Golden Windows recently added a CNC machine to cut out door panels for handles, locks and inserts.
Computer System
Golden Windows is continuously examining the way its computer system delivers information to the shop floor. "There's always room for improvement there, to make things more efficient and effective," Kreutner says. The company's scheduling software sorts in batches for runs, which has led to increased optimization and flow in the plant.
Balancing its manpower needs among different production lines is tricky. The company is always looking for ways to shift manpower among the different lines to where it is really needed. Golden Windows makes major changes in its products and production lines approximately every 10 years but small changes to its products annually and to its production more frequently.
"We're constantly making little adjustments," Kreutner says. "They could be daily or monthly. It really comes down to being able to see those continuous improvement opportunities. So we'll change and tweak little things as often as we see an opportunity. It's a continuous improvement cycle."
The last major layout change to the facility that the company has occupied since its founding was approximately 15 years ago. "Since then, we've moved items within a department but haven't really moved departments around," Kreutner recalls. "Some departments are very specialized, and their buildings were erected with special design criteria for that specific department, like a glass line. The mill has a dust collection system that is very specific to that operation. Certain assembly departments you can move around, but we feel we have it in pretty good shape right now."
Kreutner estimates a handful of window and door manufacturers in Canada are the size of his company or larger, but thousands of smaller window and door manufacturers have revenues up to $4 million. What does he consider to be his company's competitive advantage?
"We're very focused on our customer and on our delivery and lead times," he says. "Delivering on-time correct and complete is a big focus for us. Quality is important, and proximity to our customer is a big advantage for us."