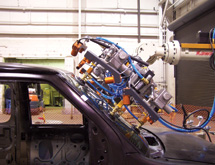 Gonzalez Production Systems
For more than four decades, Gonzalez Group has been fully focused on innovative manufacturing solutions. Its Gonzalez Production Systems division (GPS) focuses on automotive, aerospace and defense tooling, design and manufacturing. GPS says it is committed to supporting U.S. manufacturing by finding ways to simplify the manufacturing process and provide cost-savings to clients.
"A lot of what we do is focused on finding creative ways to build tools for complex systems, for products that are always changing," President and CEO Gary Gonzalez says. "We try to add value by being creative, finding ways to get costs out for customers by reducing the content they have to buy and reusing their existing capital. We feel we do a good job of processing tools so the customer's ongoing costs are lower than [what] the competition offers, and we do a good job of reusing tooling from systems they are decommissioning."
Established Expertise
A certified small and minority business, Gonzalez Group is family owned and operated and led by its second-generation management team. The company has created a niche for itself thanks to the expertise it brings to every aspect of the project cycle. It uses highly integrated processes to control projects as they move from one step to the next. This complete project cycle expertise is something Gonzalez refers to as "all-around precision."
"We look at projects with a cradle-to-grave approach, looking for different ways we can accomplish tasks without building more than the customer needs to get a quality product out the door," Gonzales says. "Working through the process, we look at engineering and design and conduct simulations. We do offline work to program robots, integrate the complete system on our floor and prove it out before we disassemble it, [then] send it to the customer site and put it back together."
In the aerospace sector, the company's services include the designing, engineering and manufacturing of assembly tooling, fixtures and jigs. In the automotive space, its specialties include processing, designing and building manual and automated robotic welding systems. GPS's services in the defense sector include engineering, process analysis and development, and throughput optimization.
"Customers in the Detroit area, like General Motors, Ford and Chrysler, have been doing business with us since 1975," Gonzalez says. "We also have a salesforce that works non-traditional opportunities and is out in the aerospace and defense markets. We currently do a lot of work for the regional jet market, and we are getting into consulting in defense since cost pressures are hitting that market."
Gonzalez Production Systems is capable of operating worldwide not only based on its own resources, but also because of a network of strategic alliances. Because the company has established strategic alliances and partnerships in major global markets, it can tap into an international stable of engineering and design talent before leveraging partnerships to utilize local manufacturing, service and support.
Leveraging Assets
GPS believes that its people and their skills are not just its own internal assets. Rather, they are assets of its clients, as well. That is why the company has dedicated itself to building the best possible team of process, mechanical and electrical engineers, as well as skilled tradespeople and project management experts.
"We continually work to develop our team, using outside resources and internal training to keep our personnel at the leading-edge of the ever-developing technology," Gonzalez says. "We stay up to speed on the latest changes in software, robotics, programming, design and engineering. We must ensure that our people are up to speed on different systems so they can work for any customer."
Preparing to handle challenges is always on the forefront at GPS. Human capital is one area of concern, as Gonzalez says the talent pool for engineering and technical personnel has thinned during the past 10 years. Gonzalez also notes that the financial markets are still tight.
Despite those conditions, Gonzalez says that most of the company's customer base is optimistic about the future, and the company is accelerating the development of new products. As GPS looks at the future and how it expects its customer base to accelerate product launches in light of global competition, a lot of attention will be paid to the automotive and aerospace businesses.
"Those industries are very competitive, and bringing out the newest and greatest is key to gaining marketshare," Gonzalez says.