At its fluid best
For almost 50 years, Goodridge Ltd has been the global leader in performance fluid transfer systems. As it approaches its landmark 50th birthday the company continues to target the perfect blend of growth and self-improvement
When Jon Hourihan, CEO of Goodridge Ltd, last spoke to Manufacturing Today Europe in March of 2017, the world's leading manufacturer of high performance fluid transfer systems for
clients in the OEM, automotive, motorsport and specialist industrial sectors had recently celebrated the opening of its Japanese subsidiary. Intended to be a means of expanding the group's successful relationships within the Asia Pacific region, Goodridge Japan would go on to exceed all expectations in its first 12 months of operations.
"By the end of 2017, Goodridge Japan had successfully delivered profit figures that were seven times higher than I had initially predicted in my previous years' budget," Jon states. "Whichever way you look at it, this is a clear sign of the excellent job the team did in 2017, and is evidence that this incorporation and investment in the business worked out very well indeed. We now expect that Goodridge Japan will continue to grow at a steady, sensible rate in 2018 and beyond."
Fast forward to the end of 2017, and Goodridge found itself announcing the latest exciting development in its growth plans, in this instance the acquisition of the Italian motorsport product and service supplier Gieffe Racing. No stranger to one another, the two companies have been partners for some four decades and the addition of Gieffe Racing marks the tenth addition to Goodridge's list of subsidiary businesses, and gives it direct access to the Italian market.
"The decision to move forward with the acquisition of Gieffe Racing came about following a strategic review of our OEM business, particularly in light of the continued increase in competition out there for braking performance products," Jon explains."In response to this, we have chosen to further expand our links to the motorsport and supercar sectors, building on the success we have had working with various manufacturers at the design and concept stage such as Ford, AMG and McLaren. We have definitely seen the motorsport side of things going from strengthto- strength in recent times, and the purchase of Gieffe Racing underlines this.
"At the same time, one of the other reasons behind the purchase is that we are seeing an increasing desire from clients within the motorsport sector to be serviced by something of a 'one-stop-shop' provider. This trend for having a trusted, reliable partner delivering multiple services is one that has grown in value recognition in recent years, and it is through targeted acquisitions of the likes of Gieffe Racing that we are able to access a broader portfolio of products and house them in efficient, customerfriendly locations."
Somewhat modestly, Jon and his team still consider Goodridge to be a relatively small organisation in the grand scheme of things, and as such he is aware of the need to achieve continuous improvement throughout the business. "We have taken some big decisions in the last 12 months in terms of forward investment, one the most significant being the upgrade of our companywide, back office, enterprise resource planning (ERP) systems," Jon adds. "By moving forward with the upgrade of our System 21 architecture programme we are looking to maximise the opportunities we see in terms of inventory, efficiency improvements and cash returns, particularly in Europe, by having a system that operates similarly anywhere in the world."
One of the other key improvements being made is the building of a new front-end portal, designed to better support the increasing number of customers wanting to interact through online and digital platforms. "There is a distinct move towards millennials and other customer groups wanting to communicate through their mobiles or tablets in a fast, efficient way," Jon says. "We are very much aware that if one is not prepared for such a level of interaction then big opportunities can be lost, which is why we are putting a great deal of time and effort into evolving the front-end of the business."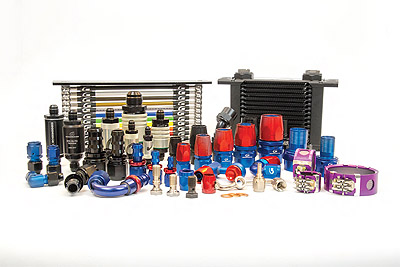 In 2019, Goodridge will reach its 50th birthday and as it does so the company will be aiming to achieve one of Jon's personal goals, which is to achieve a yearly turnover of £50 million, a feat which he foresees as being very achievable. "In Europe, we have great potential for continuing to grow our business, especially within the motorsport sector in Italy and Germany. In the latter, we will facilitate this through the expansion of our German facilities and investment in equipment and human resources.
"In our OEM business, it is about shoring up our most efficient processes in order to meet the demands of both new and existing customers. Our order book is healthy and we want to find new ways of converting this on a monthly and quarterly basis. What is just as important, however, is that we have not become a victim of our own success. We recognise that we have a lot of growth opportunities, and we are being very selective of the partners that we choose to go forward with in achieving our aims."
When asked about what the long-term future for Goodridge may look like, Jon refers back to the success the company has had in Japan. "Things don't move particularly quickly in Japan, so what we made sure to do was work very hard to secure our business in the region, growing our presence there for the better part of 20 years before reaching the point where incorporating a subsidiary became a very sensible and necessary action. It is a similar path that we could see ourselves taking in other markets, for instance India, where the opportunities for us are phenomenal with a real demand for our products."
Returning to what the rest of 2018 holds, Jon restates the need to fine tune the development of its global ERP system, as well as the launch of its new front-end offering in the form of its multilingual website with optimised e-commerce platform that will allow it to interact with its customers in all corners of the world. "There is a great deal of investment being made to ensure that the business becomes ever-more efficient," Jon concludes. "We have long understood the strength of the brand that we are entrusted with, and what I want to see in the months ahead is that brand being stretched and sweated to expose and generate more opportunities. It is my belief that this will ultimately help to further solidify an industry leading reputation that it has taken almost 50 years to build."
Goodridge Ltd
Products: Fluid transfer systems