Foremost foundry facilities
Proactive investment in state-of-the-art equipment has strengthened Goodwin Steel Castings capabilities, in anticipation of increased demand from the key industrial sectors which the foundry serves
Goodwin Steel Castings is a highly skilled and versatile steel and nickel alloy foundry with an in-group machining and fabrication capability located in the United Kingdom. The company offers build to print engineering within the petrochemical, power generation, infrastructure, defence and nuclear sectors.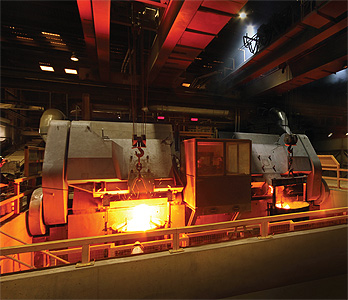 The business was established in 1883 by Ralph Goodwin and his sons reaching multiple milestones since. In 1984, it became the first steel foundry worldwide to be accredited by the British Standards Institution to BS5750 (now known as ISO 9001). Since the 2010, Goodwin has produced the world's largest super nickel alloy casting using a patented casting technique and patent registered three alloy grades (LCC-G/ 6A-G and G130) which offer end users greater operational safety margin or enhanced material performance.
In the last three years, the company has undergone marked infrastructure enhancements that have significantly increased its casting, refining and heat treatment capabilities.
"Following the capital expenditure, we increased our melting capacity to approximately 70 tonnes, which allows us to manufacture cast products in the region of 35 tonnes in material grades from spheroidal graphite iron to super nickel alloys. There are very few foundries in the world who offer small 200Kg castings alongside 35 tonne castings in such a diverse range of material grades," establishes Goodwin's Sales Director, Brian Quinn.
"As a result of in-house material research we developed a proprietary carbon manganese steel to serve the cryogenic valve industry, as well as a super duplex stainless steel, which offers a greater safety margin to end users through enhanced corrosion resistance and exceptional low-temperature ductility properties. We also are at the forefront of high temperature power generation having developed a precipitation strengthened nickel alloy."
Given the impressive casting and third party refining capabilities Goodwin is well known in a number of critical duty industrial sectors. Brian outlines the company's strongest markets:
"We supply non-return valves, flow control valves, pumps and casings to the petrochemical industry as well as castings for steam and gas turbines for the power generation sector. We also supply security controlled components for submarine and frigate programmes within the defence sector. The foundry also retains nuclear sector approvals, in which we provide primary circuit castings as well as castings for the safe storage and transportation of nuclear waste. Our skillset is similarly employed with large civil infrastructure projects where castings are viable alternative to complex fabrications, especially when good aesthetics are required.
"What might be interesting to know is that we also offer third party material refining services as a recycler. We accept raw material for primary melting and secondary refining using the argon oxygen decarburisation (AOD) process, in pursuit oxygen decarburisation (AOD) process, in pursuit of a known analysis charge material for industrial melt shops such as industrial investment casters.
"We are pleased to observe that all these sectors are showing signs of growth and as a result, we are confident that our continued investments in our facility and workforce through our apprentice school will enable us to deliver on our discerning customer commitments in the future."
The expansion of Goodwin's primary melting capacity involved the purchase and commissioning of a number of pieces of equipment. "We have introduced two new 20-tonne medium frequency induction melting furnaces, capable of melting 40 tonnes of steel in approximately eight hours," Brian points out. "In terms of the casting bay expansion, we have established a large-scale casting facility and flask moulding system that enables us to produce multiple castings throughout the production week. This facility retains the flexibility needed to manufacture multiple large scale castings that require several days to cool after pouring which is the key to unlocking the dynamic deliveries sought by our customers."
Goodwin specialises in obtaining exceptional through section mechanical properties in heavy castings sections. Industry specifications often mandate that mechanical testing is conducted at ½ thickness or ¼ thickness within representative casting section. "In order to offer our customers enhanced mechanical properties in heavy sections, we have installed a fully automated water quench furnace measuring with a working volume of 5x5x5m and weight capacity of 50 tonnes. The 'depth of quench' obtained is largely down to the speed of the quench cycle from when the furnace load can be removed from 12500C and fully submerged within the quench media within 45 seconds. The water quench media is artificially chilled with a refrigerative chiller to 50C and circulated at flow rate of 1m/second to ensure the greatest heat transfer is obtained in process. We can in effect produce the most technically advanced steels worldwide utilising this facility" Brian enthuses.
Goodwin's early engagement, project management and delivered quality has been recognised worldwide with 80 per cent of the company's castings sold overseas. "As a UK manufacturer, we export to the pacific basin, inclusive of countries like China and India. We have built a strong reputation in that region, given that we supply technically advanced products that cannot be procured domestically," Brian notes. "America is also a key export market for us as are we looking to opportunities in Australia, South America and Africa in the future. Although we do not predominantly supply into Europe today, we are certainly looking to demonstrate our skillset on the continent in the years to come."
Encouraged by the gradual market recovery that the foundry industry is making after a challenging five years, in which the decline of the oil and gas markets has had its effect on the industry, Brian expects that Goodwin will continue investing in its future development.
"The outlook today is far more positive than it was this time last year," he admits. "We have spent a significant amount of money on our capital facilities and apprentice programme in which continuous investment positively remains high on the agenda.
"Having established a four-year apprenticeship programme five years ago, taking on 25 apprentices every year to support the foundry and other businesses in our group we are looking to the long-term future. By prolonging this initiative and employing lean management techniques, and working incredibly hard, we will be able to achieve our long-term goals, which entail us providing technically advanced castings for critical duty applications in the market sectors mentioned earlier," Brian sums up.
Goodwin Steel Castings
Services: Technically advanced steel and nickel alloy castings