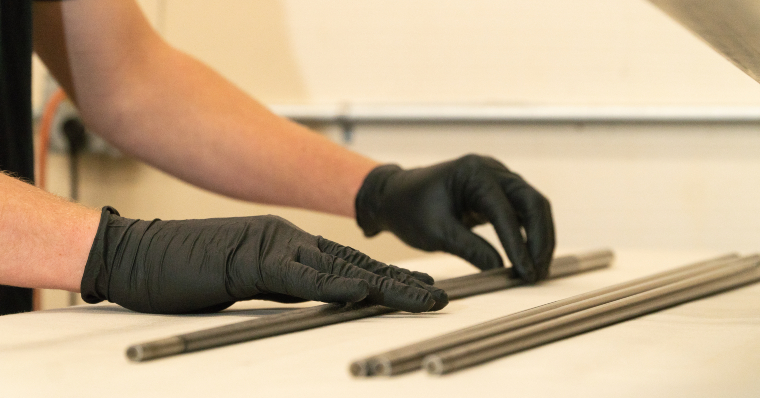 Amelia Cook admits that talking about carbon and fiberglass rods or tubes may not sound sexy to the average person. But when she explains where her company's products end up, people perk up.
Not every company can claim that its products are heading to Mars – or that they were used to construct props for pop star Katy Perry's Super Bowl halftime show.
"Carbon and fiberglass rods and tubes are integral components of everything from electric guitars and balloon arches to drones and farming equipment," says Cook, who co-founded Goodwinds Composites with her brother Leland Holeman in 2008.
Based in Mount Vernon, Wash., Goodwinds is a small but steadily-growing composites manufacturer that is gaining national attention in a variety of industries. Its customers produce
anything from musical instruments and sporting goods to robotics, medical equipment, pool cues, adult toys, airplanes and Mars rovers.
"Composite rods and tubes can be used anywhere a metal or plastic rod or tube can be used – but with some incredible gains in specific properties such as strength, weight and deflection," Cook says.
Heading To Mars
Cook doesn't know the details of how NASA's engineers found her company, but she's sure glad they did. What did the space agency want from a company that makes composite rods and tubes?
NASA was searching for a company that could manufacture wrapped carbon tubes for the landing gear of its Mars helicopter – a type of drone that will travel to Mars with one of NASA's rovers.
"We did several batches of prototypes until we got exactly what they wanted," Cook explains. "Our customers' products are the most important things in the world to them. So, we work really hard to make everything exactly to their specifications."
The four-pound, unmanned helicopter is an experimental aircraft designed to test the viability of flight on another planet. It is scheduled to launch from Cape Canaveral Air Force Station in Florida in July 2020 and land on the red planet in February 2021.
A Plethora of Applications
Although NASA is probably its most famous client, Goodwinds' largest customer base comes from the sporting goods industry as well as manufacturers of musical instruments.
The company supplies carbon rods for guitar and bass neck reinforcement (as well as in pipe organs) and items such as hiking poles and backpacks, tennis rackets, kayak and canoe paddle handles, tuna poles on fishing boats and spear-throwers.
"In sporting goods, everyone is looking for the lightest and strongest materials," Cook says.
Composite carbon tubes and rods – which consist of long carbon fiber strands and a binding agent such as vinylester or epoxy – are an ideal material for structural components because they are strong, durable and lightweight.
Fiberglass, which is a relatively inexpensive material, is best used for structural components in hobby and industrial applications. Because it is electrically and thermally insulating, fiberglass rods and tubes work well in applications where signal interference is undesirable.
Overall, the uses for both carbon and fiberglass rods and tubes stretch into a variety of industries. Goodwinds has customers that use them inside cargo and surveillance blimps, aircraft wing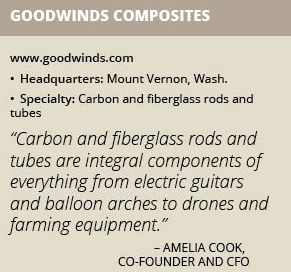 spars and for structure support in airplane seats.
They've also appeared in ATV flag whips, dental posts and structural components for robotics-like 3-D printing arms, as well as antennas, rollers, kite spars, push rods and tail booms in model airplanes and helicopters.
"A new development has been pool cues," Cook adds. "We are shipping out about 1,000 pieces of wrapped carbon tube per month to a manufacturer."
Goodwinds even has a customer that uses them to manufacture riding crops and another for decorative balloon arches.
"Due to the scarcity of helium in the market, many companies that did helium balloon decorations for parties and corporate events are looking for alternatives," Cook says. "Our fiber-glass tubes are used for the arch assembly that holds the balloons in place."
Did she mention artwork? Well-known sculptor Brower Hatcher used Goodwinds' fiberglass rods in his masterpiece "Sky," which is on display at Dallas Love Field Airport. It features more than 3,000 flying objects – including airplanes, bees, birds and clouds – populating a web of intertwined fiberglass rods suspended from the ceiling.
"From consumer goods to government vehicles, the applications for our products are growing," Cook says.
A Lean Machine
What started as a small company that manufactured kite spars has blossomed into a well-oiled operation offering thousands of different applications and manufacturing capabilities that include roll-wrapping, micro-pultrusion and custom composites machining.
Goodwinds can design, engineer and manufacture custom roll-wrapped composite tubes to exacting specifications and produce any number from a single tube to a large production run. "We can combine the roll wrapping and machining, sand, finish and grind to specifications," Cook says. "You can get exactly the type of tube that fits your product design."
A year ago, the company built its own micro-pultrusion machine. It can produce up to 5,000 feet a day of tiny carbon rod in a continuous process – which means it can be rolled in a coil for easy shipping or cut to length directly from the machine during production. The smallest diameter Goodwinds produces is 0.020 inches and is often used as z-axis reinforcement in fabric or other structures.
"But what we really offer is excellent customer service and perfectly executed secondary processes such as grinding, machining and cutting composite materials to five-thousandths of an inch," Cook says.
That's 0.005 of an inch in accuracy – which isn't an easy task. In addition, Goodwinds prides itself on its ability to repeat such tasks with every order. "Repeatability and reliability is very important," Cook says. "We have customers for whom we have shipped out millions of pieces of carbon tube over the past eight years and we cut them exactly the same every time."
The company also differentiates itself in the market by its ability to handle composite materials. "We have custom-made all of our machines and spent years researching the best way to do machine composites," Cook says. "Most machine shops don't like to handle composites because they can gum up the machines and make it difficult to switch back to working with metals."
What's next for Goodwinds? Only time will tell. After conquering Mars, maybe its products will end up on the moon. Now, that's sexy.