Goss International Americas LLC
Brothers Fred and Sam Goss knew what their customers' printing needs were when they founded Goss Printing Press Co. in Chicago in 1885. Armed with this knowledge and several ideas for how to improve the printing process, the brothers developed and manufactured presses that helped its customers be successful.
In the more than 130 years since its founding, Goss International – as the company is now known – remains dedicated to its customers. "We work with printers and publishers to enhance the value, impact and competitive position of print," says the company, today headquartered in Durham, N.H.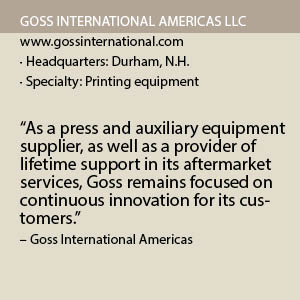 The company supplies presses and finishing systems for magazine, newspaper, catalog, packaging, direct mail and other printing applications. Goss' systems include the most automated and productive web offset presses in the world, it adds.
Industry Innovations
The Goss brothers' founding vision of the company as an industry innovator remains in place, as Goss International is known for introducing a number of new technologies to the printing industry. These include:
* The first web offset and newspaper press;
* The first microprocessor on a press;
* The first ink key presetting;
* The first remote ink key control; and
* The first commercial gapless blanket, the company says.
"Companies have had to reinvent themselves to stay competitive in a changing market," the company says. "As a press and auxiliary equipment supplier, as well as a provider of lifetime support in its aftermarket services, Goss remains focused on continuous innovation for its customers.
"The foundation from decades of process knowledge has been the basis for the industry's most significant breakthroughs – Goss technologies that have continuously provided new opportunities to deliver higher-impact printed products and to do it faster and at lower costs," Goss adds.
Customer Support
In addition to its headquarters in Durham, Goss operates manufacturing facilities in South America, Asia and Europe.
The company uses a number of lean manufacturing methods including value stream mapping and a cell-based manufacturing system.
Goss' expertise does not end at new equipment manufacturing, as it also provides parts, aftermarket services and support through a global service network.
"With one of the largest installed bases in the industry, Goss remains committed to its customers, large and small, by providing the services and equipment enhancements to reduce waste, improve performance and extend machine life," the company says.
Goss' customer commitment begins with a full understanding of project requirements before a sale is even finalized. Customer service continues during the project management stage and extends to after-sale. "We offer a broad range of options for maintaining equipment to peak production levels," the company says.
The company carries an extensive parts inventory for all product ranges and offers 24/7 support services. "Goss understands that when new equipment is not the optimal solution for its customers' production requirements, used or refurbished equipment may be the best solution," it says. "We have a large selection of used presses, auxiliary equipment, finishing and post-press equipment and an extensive list of upgrade options to fit customers' needs."
Goss offers training programs to press and finishing equipment operators. These programs cover four disciplines:
press operations, mechanical maintenance, electrical maintenance and supervision. Programs include hands-on, one-on-one training in press operation and electrical systems as well as refresher courses, remote and web-based training, and manuals.
"With a focus on ease-of-use, the Goss portfolio caters to every production requirement, from fully manual to push-button automation," the company says. "Goss professionals can provide training to encourage and facilitate best practices, better customer service, safe work practices and improved productivity."
The company's training programs are designed around three philosophies:
* Achieving faster equipment start-ups and higher profitability;
* Promoting substantial savings over the lifetime of its press systems; and
* Motivating employees to perform at higher levels, the company says.
Committed to Growth
Goss regularly acquires companies that share its level of innovation and commitment to customer success. "These technology leaders have grown us into the industry leader in providing innovative systems and equipment enhancements," the company says. "The Goss brand remains as strong as the dreams of its founders, and remains committed to its customers' success."
In May, the company acquired Loudon Machine Inc., a provider of post-press and finishing services based in Effingham, Ill.
Loudon Machine specializes in new and refurbished binding equipment as well as parts and service. The company's product line includes saddle stitchers, feeders, bases, shuttle hoppers, test stands and trimmers.
"This is our second acquisition in 2017 to help grow our aftermarket business and enhance our product offerings," COO Stan Blakney said in a press release. "This purchase focuses on the post-press segment of the market, and enables us to enhance our bindery products and service parts capabilities."
Earlier this year, Goss acquired Graphic Automation Controls (GAC) Inc., a Carbondale, Penn.-based provider of automation and control systems. The company also provides on-site service support, plant maintenance and press audit services.
The GAC acquisition will enhance Goss' capabilities in drives and controls, as well as its ability to provide service and parts to equipment manufactured by other OEMs.
In addition to giving Goss new capabilities, both acquisitions help the company further improve its overall operations. "We will continue to look for additional opportunities for both organic and inorganic growth," Blakney added.
SIDEBAR
Updating 'The Gray Lady'
One of Goss International's highest profile customers recently upgraded the controls on their presses. The New York Times operates five Goss Colorliner and two Colorliner 85 presses in its College Point, N.Y., printing facility.
The upgrade included adding the latest control platforms available to the presses. "This will remove the obsolescence issues faced by the Colorliners, increase press functionality, and allow the presses to continue to run for years to come," Goss International says.
The five Colorliners were given a complete control upgrade, a drive upgrade and reel stand upgrades. The two Colorliner 85 presses received new desk upgrades.
"Components on the Colorliner presses have become obsolete over the years, and harder to find," the company adds. "This upgrade ensures they are viable assets for the future."