Riding high
Utilising a powerful formula of technical expertise, innovative design, and limitless passion, in the space of just ten years, GOVECS has risen from ambitious start-up to the leading manufacturer of electric scooters and light electric vehicles in Europe
Compiled by Focus-Business magazine, the Growth Championships are an annual list of Germany's 500 fastest-growing companies. In October 2019, the magazine named GOVECS as a Growth Champion for 2020, ranking the company number one for the entire automotive industry. It was a fitting way to cap off an extraordinary ten years in business for Europe's foremost electric mobility specialist.
Founded in Munich by Thomas Grübel and Nicholas Holdcraft, GOVECS' first production facility was established in Wroclaw, Poland, in 2009. Through a dedicated programme of research
and development, the company has been able to continuously design, create, and improve its products, enabling it to stay at the forefront of technological innovation and solidifying its position as industry pioneers.
In response to the growing demand for clean and efficient transport solutions, over the years, GOVECS has produced a line of emission-free, silent electric vehicles, designed to help consumers exploit the city and its surroundings. In 2019, the E-Schwalbe, GOVECS' flagship product, was tested by the German General Automobile Club (ADAC) alongside seven other electric scooter models. The E-Schwalbe was announced winner of the test, with ADAC noting its unrivalled performance in a number of categories, including drive system and driving characteristics.
"We are thrilled that our Schwalbe made it to first place!" CEO Thomas Grübel declared upon hearing the results. "Using our experience in e-mobility, we now produce a product that impresses not only with its high-quality components, but also with its strong performance. The ADAC sees it the same way and we continue to write history with the E-Schwalbe. The more fans the Schwalbe has, the closer we come to our vision of clean mobility in urban areas. It is a vehicle that demonstrates how noiseless and emission-free mobility can actually be a lot of fun."
Released in November 2019, GOVECS' latest creation is the ELMOTO KICK, an electric kick scooter with a top speed of 20km/h. Designed in collaboration with Einhell, a German manufacturer of power tools and electrical craft and garden equipment, the scooter is compatible with the company's Power X-Change batteries, which can also be used in over 100 Einhell devices. The high-performance, rechargeable batteries are designed to sustainably reduce electrical waste, meaning that the ELMOTO KICK is the latest in GOVECS' long line of intelligent, emission-free, climate-neutral urban mobility solutions.
After highlighting the rapidly growing delivery sector as a fertile market for growth, in the last year GOVECS has systematically expanded its electric delivery fleet, adding customisable versions of the ELMOTO LOOP and GOVECS FLEX to its already popular PRO CARGO series. With solutions to suit a wide variety of delivery services, from postal and courier to food delivery, GOVECS is already working in partnership with some of industry's biggest names, including Domino's Pizza. The improved cost-efficiency and environmental benefits of electric scooters over classic gasoline fleets means that more and more delivery companies are turning to GOVECS.
"Our vision of clean mobility in major European cities can only be realised with the involvement of traffic-intensive industries," Thomas said, explaining the need for electric-powered delivery fleets. "We want to make it as easy as possible for suppliers to switch to electric fleets and offer them a product that not only perfectly meets their needs but is also future-orientated."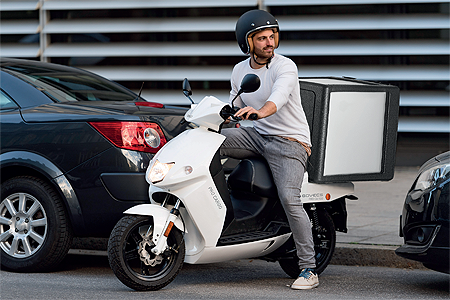 Building on the success of the company's anniversary year, GOVECS is in no mood to slow down in 2020. At the beginning of April, the business announced the acquisition of LiveCycle, a professional two-wheel service provider with six locations across Germany. In purchasing the company, GOVECS has been able to triple its network of sales and service points. Customers will now be able to purchase GOVECS products, book test drives, and receive professional advice and service work at physical locations nationwide, including in Hamburg, Frankfurt and Cologne – brand-new cities for GOVECS. Additionally, a mobile service with specially equipped vans will enable vehicle repairs to be made directly at a customer's location.
"We are delighted with the successful conclusion of the deal. In the medium-term, we want to build the best service network in Germany for electric scooters and bicycles, both stationary and mobile," Thomas stated, as the deal was announced. "It is also a positive signal in the economically challenging times we are currently experiencing. We continue to work consistently on solutions for urban mobility since it is our particular strength. The teams at GOVECS and LiveCycle are highly motivated to share their skills to continue our success story."
GOVECS
Services: Manufacturer of electric scooters and light electric vehicles