Graham Engineering Company, LLC
Extrusion made easy
Industry-leading precision engineer, Graham Engineering Company LLC, delivers quality polymer extruders and extrusion systems in blow molding, sheet, pipe, profile, wire and cable, and medical tubing solutions to customers globally, including integrated downstream solutions engineered to maximize manufacturing capabilities
Using over 100 years' worth of combined extrusion experience, Graham Engineering Company LLC. (GEC), designs and manufactures innovative engineering solutions for customers across a range of industries. With consistent investment in the latest plant, and a team of industry experts, the company innovates at the cutting edge of extrusion technology. As it continues to adapt its diverse, multi-product portfolio to meet the changing needs of manufacturers everywhere, GEC sees ongoing success and incredible growth.
Decades of engineering excellence have helped make GEC what it is today. As the company's President and Chief Executive Officer, David Schroeder, discusses: "The company started in 1960. It was founded by Don Graham, an entrepreneurial engineer who introduced the rotary extrusion blow molding wheel, which revolutionized how customers make bottles and containers for detergents, motor oil, and food products."
From what started from a modest farmhouse basement in central Pennsylvania, evolved into several global manufacturing businesses which were later divested. In 2012 Graham Engineering returned to its roots of focusing on technology and equipment solutions that help customer create a bridge between manufacturing and technology by leveraging Graham's extrusion, engineering, and integration capabilities." With a strategy to diversify into other extrusion end markets, we acquired American Kuhne, a Rhode Island-based extrusion equipment company, broadening our capabilities in wire & cable, pipe, profile, and most notably precision medical extrusion markets. We then went on to acquire Welex in 2013, adding sheet extrusion equipment.
"Today, our mission is to use our 100+ years' of combined extrusion experience to offer unparalleled extrusion solutions and service. We have effectively sewn together what used to be three separate companies, distilled the technologies and capabilities of each, and in doing so we have driven and vetted a range of leading extrusion solutions. It's worth remembering that Welex and American Kuhne also started in extrusion, so we really do have a wealth of expertise and application experience. Whether you are making a bottle, sheet, precision tubing, polymer extrusion is a vital part of that process."
Nearly ten years following the acquisitions, Graham Engineering has fully streamlined operations and business processes with project management and service at the heart of everything it does. "Our task was to leverage infrastructure of the York, Pennsylvania facility and consolidate the polymer processes knowledge into a single brand, Graham Engineering. The integration process took nearly five years, between 2013 and 2018, and, in that time, we did a lot of cross-pollination in terms of the technologies and systems that we used, which meant every aspect of the company benefitted from consolidation.
"In addition, we formalized our engineering process. This meant standardizing our engineering design systems, and standardizing how our engineers and operations teams execute projects. We rolled out Graham's NavigatorTM control system and intuitive operator interface which enables the 'Internet of Things' and facilitates customer service. Today, NavigatorTM is the control system installed across all of our machines, irrespective of the end product," David reveals.
Now organized as one entity, GEC effectively provides a range of services in four key areas. "We have integrated extrusion systems with a mix of end markets and products, including precision medical extrusion solutions, packaging, wire and cable, profile, and sheet extrusion. We also sell stand-alone extruders, some of which are standardized and configurable for quick delivery, and others that are fully customizable to unique customer applications.
"The third leg is blow molding, which is typically for bottles and containers. We accomplish this with the use of a rotary extrusion blow molding wheels. For larger articles, such as barrels and tanks, we offer our industrial accumulator head blow molding systems.
"Our fourth, is our true differentiator, our after-market services, such as spare parts, field service, upgrades and maintenance contracts which are critical in supporting over 8000 of our machines installed in more than 70 countries, some of which are over 30 years old. We are here to support customers in maintaining the expected performance of a Graham system to the standard we set. Lifelong service support is foundational to our brand, and we will continue to invest and add to our service offering in support of our customers.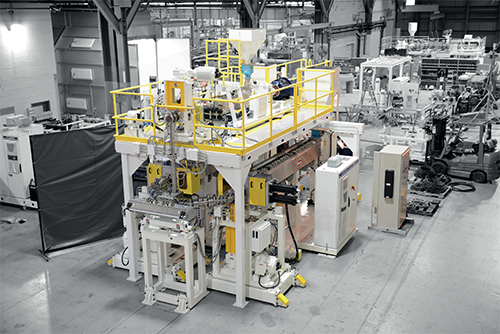 "A very important part of our after-market strategy is our customer intimacy model. We don't acquire materials from low-cost countries, so our products are quality, and built to last. We dedicate ourselves to looking after our products throughout their lifecycle, by upgrading ageing systems, offering modifications, in-field repairs, relocating equipment and refurbishment services," David details.
Going the extra mile to provide its customers with total integration, GEC routinely works with third-party experts. "Many of our integrated solutions include third party equipment. We work with a handful of trusted up-stream and down-stream suppliers who offer third party insight depending on the client's application.
"Some customers have preferred suppliers for up-stream and down-stream equipment. From our side it's all about offering that flexibility, so that customers can enjoy the integrated solutions of their choice engineered, tested, and proven by us and the third parties they trust. Some suppliers have prior experience integrating machinery for our customers, which means they can be a real asset when combining their equipment with our technology to provide a truly comprehensive solution," David asserts.
The company's ability to work effectively with third parties and customers across a range of industries and applications has helped it stand out of the crowd. Flexibility and adaptability are key assets for GEC, as David confirms: "There are three things that set us apart within our industry: innovation, operational excellence, and customer intimacy. We have a strong focus on both innovation and operational optimization, and these assets are vital to our overall strategy of building long-term customer relationships.
"We work closely with customers to ensure that we understand their applications 100 percent. Our mission is to always provide what we call a 'best total solution'. This often requires the inclusion of downstream equipment and flexibility, but always requires taking the time to be truly listening and understanding the customer's needs!
"We are not going to try and make a catalog product fit our customers' application, that's not what we do. We are an engineering business, meaning we build solutions. We consistently manufacture products that allow our customers to differentiate themselves from others in their market, which in turn sets us apart from our own competition.
"We have a really deep and widespread knowledge of engineering within our team – starting with our sales team who are consultative, capable of understanding what is important in addressing customer applications. We also keep the door open for lab testing and process development. We have a range of machinery in-house that is readily available for customers to use in developing products, vetting designs, and testing new materials."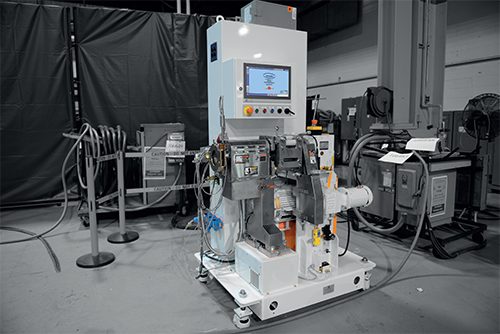 With a strong ability to adapt, and keen insight into industry trends, Graham Engineering keeps its portfolio relevant, diverse and of exceptional quality. As Michael Duff, Vice President of Sales and Service at GEC, affirms: "We are always focused on product diversity. To maintain this, we are continuing to develop new features using our control platform and moving forward with new applications in all our diversified markets. This is an ongoing effort that keeps us up-to-date and able to easily integrate our services with customers' production lines."
This effective and ever-growing portfolio of products has been vital to GEC's success over the last few years, as David explains: "We keep our portfolio very diverse, offering multiple products across a range of industries, all with a common core, EXTRUSION. This helps us remain focused on our specialist capabilities, which are in and around the extrusion process, whilst working in a variety of different markets.
"Our multi-product portfolio model helped the company pivot with the market during the pandemic. When elective surgeries were prohibited in hospitals, and medical extrusion negatively impacted, we were able to serve the increased demand in blow molding for wipes, containers and patio furniture as few examples.
"Now that we are post-pandemic, we see the market changing yet again where we have enjoyed the return of building products and industry resulting in increased demand in wire and cable. Because of the diversity of our portfolio, and how we work we have built a business capable of quickly adapting to the market which has resulted in incredible growth.
"The key is being able to adapt. We continue to reinvent ourselves to stay relevant and provide what the market needs. On top of that, we build strong customer relationships, we care and want to help customers solve problems and capitalize on opportunities."
As a nimble, malleable, and reliable company, GEC sees ongoing success. A strong focus on operational excellence, innovation and customer service will continue to be its focus, as David concludes: "The last few years have been difficult for all of us, but with the support of our amazing team, suppliers, and customers, we have continued to grow, develop our technologies, and extend our capabilities. Graham Engineering combines an incredible depth and breadth of knowledge, which means we can support our customers who in turn support us."
Graham Engineering Company, LLC
Grahamengineering.com
Services: Polymer Extrusion Machinery & Process Solutions