Driving change
Existing at the forefront of castings development and innovation, Grainger & Worrall possesses the resources, experience and desire to deliver ground-breaking innovation to its rapidly evolving customer base
It was in 1946 that brothers-in-law Vernon Grainger and Charles Worrall went into business together, establishing what was at the time their first Master Pattern Shop in Upper Gornal, in the West Midlands of the UK. Fast forward over 70 years, and Grainger & Worrall remains a privately-owned family company, run by Vernon Grainger's three grandsons – James, Matthew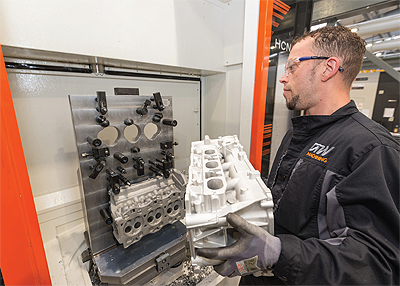 and Edward – employs over 700 people, operates from no less than six foundries, and is now recognised as the market leader in the field of prototype and small series complex high integrity structural castings. Today, the company's high quality structural casting, machining, engineering and rapid prototyping capabilities are relied upon globally across the automotive, motorsport, energy and wider transport sectors.
"Our primary activities encompass four business units, namely our motorsport, series, prototyping and our machining businesses," begins Phil Ward, Grainger & Worrall's Sales and Marketing Director. "In the case of motorsport, we have a dedicated facility that concentrates on serving the higher echelons of the sector globally. Here, our focus is on pushing the envelope and achieving that last degree of dimensional accuracy in terms of materials performance, and that unit has very much become a trailblazer when it comes to alloy development and process optimisation. Then we have our series business – which predominately revolves around sandcasting – which typically serves blue chip supercar manufacturers such as McLaren, Aston Martin, Porsche, Bentley and Bugatti, and again, this unit delivers high value, high complexity and high integrity parts."
Next comes the prototyping side of the business. "Here, we are dealing with concept work for vehicles that will be coming onto the market in the next five-to-ten years, partnering with an extensive client list made up of major OEMs, Tier 1 players and design houses around the world," Phil continues, before going on to detail how the rush to electrification has shaped the unit's recent activities. "Instead of exclusively making things like heads and blocks, we are increasingly being asked to develop components such as electric drive unit housings, battery trays, structural solutions and other related items.
"Each of these items are technically challenging in their own way, and customers are showing an ever-increasing desire for us to be able to replicate the condition of their own supply through what is called 'make-like production'. This means that the more similar our prototypes are to the production supply as it relates to things like geometry and materials characteristics, the more valuable they become to the customer as it allows them to carry out more advanced testing, faster, which aids with the speed to market of their end product."
The fourth area of the business is its machining unit, which operates through a wholly-owned, separate yet complementary, limited company called GW Machining. "For the past 12 years now, we have been building up this particular component of Grainger & Worrall, to the point where today it makes up approximately ten per cent of the entire group," explains Plant Director of GW Machining, Mark Davis. "Aimed mostly at the pre-production and prototypes sides of the business, we take a customers' component concept through the various stages of data analysis, design the process, physically manufacturing the casting, post-processing, validation, finishing and, if necessary, the phases of subassembly and surface coating. In some cases, we can actually carry out all of the above without certain product data ever leaving our facilities. This can be very beneficial, and we are one of only a select few companies that has the breadth of capability in one location to achieve this.
"In the last five years or so, we have also found ourselves becoming increasingly involved in the machining of third party castings on behalf of different OEM's. We consider this to be a good display of the recognition we have within the marketplace for being a business that possesses the necessary knowledge, equipment, scale and machine casting experience to meet, and exceed, the demands placed upon us by our customers. It means that they have the confidence that they can come to GW Machining and source representative parts much quicker than if they were to have to install their own dedicated line or facility themselves."
Grainger & Worrall clearly possesses an attitude that is open to innovation and devising new solutions, and that has no doubt helped it to remain at the forefront of its field. To facilitate its customers desire for next generation solutions, the company has invested heavily in itself. In fact, when it comes to its machining base alone, its purpose-built, 3000 square metre, temperature controlled facility enjoyed some £5 million worth of investment when it was first opened almost three years ago.
"To support our manufacturing and machining capabilities, we have extensive design and tool manufacturing, and simulation capabilities up front," Mark reveals. "Group wide, we boast three state-of-the-art CT scanners, the most recent of which is a matter of weeks old, and three optical validation systems, giving us some of the most extensive validation kit of any private company active today in the UK. Further to this, we possess world class x-ray facilities and we are currently in the midst of some really exciting developments in the field of sand printing."
The investment made by Grainger & Worrall did not end once its move to its machining facility was complete, however, with a further £2 million having been spent on hardware in the time since. "Since said move, we have added lots of additional equipment, including several new multi-axis units to increase our machined parts capacity, a number of super high accuracy CMM's, additional optical scanning capabilities and a high-end wash facility for 'make-like' production cleanliness," Mark adds.
The last three-to-four years have been a particularly buoyant period for Grainger & Worrall, and, as Phil goes on to tell us, the investment it has made in that time has placed it in good stead for the changes in the market that are currently occurring. "With the shift away from the internal combustion engine to alternative propulsion systems, our experience with complex castings has allowed us to transition relatively seamlessly into the supply of their associated parts," he points out. "There is definitely a race towards electrification technology taking place, and we find ourselves in a good position of being able to deliver new components and products to our OEM and Tier 1 supplier customers.
"That is not to say, of course, that we are not still supporting our traditional markets with the same enthusiasm as before. We have by no means forgotten how to produce the very highest level of cylinder heads and blocks for racing or niche series production, for example, but we have to acknowledge that there is a big shift ongoing in our industry, and we are embracing this fully. Needless to say, there are exciting times ahead for Grainger & Worrall!"
Grainger & Worrall
Products: Total casting solutions