Super cool
Gram Equipment ensures customers' success in the ice cream industry by providing know-how, innovative solutions and global services
Today Gram Equipment is the number one global supplier of advanced iced cream manufacturing equipment, with one third of the worldwide network share of the relevant market and a sales and service footprint that extends around the globe.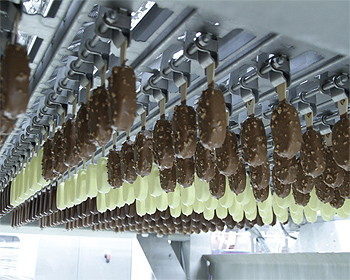 Lasse Viegand Hansen, CEO, began by explaining that the company has a 100-year heritage upon which its success is founded. "Over this period of time Gram Equipment has established a blue-chip customer base that includes such names as Unilever and Nestle, and we now provide mission critical engineered solutions, complemented by repeatable upgrades, standard products and aftermarket sales," he stated. "In fact 40 per cent of our total revenues are related to service spare parts and upgrades, and in the aftermarket segment, we provide 24/7 field services and spare parts deliveries. Gram also provides extended line inspections and upgrades ensuring 100 per cent capacity at the customer's peak production periods."
The history of Gram goes far back to the beginning of 1900 when Hans Gram started a smithy business in the countryside, which developed into a huge industrial success. Gram soon became known for its excellent quality within freezing and cooling techniques. In 1930 ice cream was introduced into Denmark and Gram supplied the first automatic machine for the manufacturing of ice creams and ice bar sticks.
The years that followed saw various milestones, including the establishment of a separate company for sales and service in the US, and the acquisition of SIDAM Srl in Italy in 1991 and Stromax and Norwood in 2005 (this rendered Gram Equipment the biggest manufacturer of stick inserters in the market). In 2010 Procuritas purchased Gram Equipment, four years later another significant acquisition combined the resources and talents of Waukesha/Cherry Burrel (WCB) with Gram Equipment and this allowed for the continued supply of advanced equipment and process installations for industrial ice production.
Gram Equipment is entering 2017 with an extensive global network of subsidiaries, agents, sales and service offices and more than 330 employees worldwide. The company operates from its headquarters in Denmark, and has production facilities in Denmark, Italy and Turkey, and service entities in Denmark and the US. The business also has a Service & Repair Centre due to open in the first quarter of 2017 in Shanghai, China. As Lasse explained, geographic expansion is a major part of the company's growth strategy going forward: "We want to deepen our presence in existing markets in Europe and North America, and also increase market share in South America, the Middle East and Asia," he said. "We think there are large opportunities in underserviced markets, especially in China, as a consequence of further demand for higher quality products, for which only Gram Equipment can provide the equipment."
The equipment that Lasse referred to is in fact a highly complicated and comprehensive product range, with solutions ranging from individual processing lines to complete production facilities and from mixing equipment to final packaging facilities. "We serve the highest end of the market in terms of complexity and quality with the ability to develop, manufacture and deliver machines that can service the whole production line for Tier 1 and Tier 2," added Lasse. The portfolio includes mixplant, freezers, ingredient feeders, filling machines, extrusion lines, rotary mold machines, in line mold machines, freezing tunnel, wrapping machines, end of line and molds.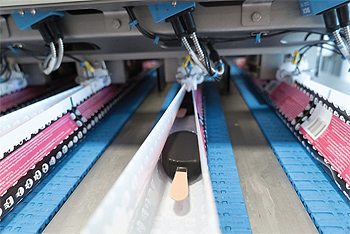 "We are able to deliver complete turnkey lines with integrated automation solutions that provide strong lifetime cost advantages to customers," explained Lasse, as he gave more information about Gram's systems. "What sets us apart from the competition is our engineering experience and process and technology know-how. Our machines are well known in the market for superior quality, versatility, lifespan and ease of cleaning, as well as our very strong aftermarket offering, which includes high value services, spare parts, seminars, training, development and consulting."
Gram Equipment's customers also benefit from the fact that the sales team are highly specialised, with significant engineering and technical knowhow. "This is a key strategic advantage," agreed Lasse. "The sales and marketing organisation combines geographic, key account, product and aftermarket sales specialists, and we have sales capabilities in all corners of the world, with an increasing presence in China. Within Europe and key accounts, the focus is on providing the top level of service and reliability with high quality and innovative technological solutions. Within MENA and APAC it is competitive pricing and supporting consulting services that help build institutional knowledge at a customer's site – this is a top priority. We build long-term relationships and our established brand name ensures that we are well placed with new opportunities come to market."
Gram Equipment also ensures that its product range offers optimal performance and fulfils customer requirements – this requires continual investment in research and development and the release of innovative new solutions that reflect the most state-of-the-art technology available. A prime example is a new freezer design, which includes features such as a hygienic design according to EHEDG and 3A, a new level control with an analogue liquid injection valve (this is designed to maintain a constant viscosity with minimum fluctuations of ice cream weight, which will improve the standard deviation). The freezer also includes a new air regulating system with pressure booster – this will counteract fluctuations in the air supply to the ice cream. "The new Gram freezer has the lowest cost of ownership on the market and it will outperform current available products," highlighted Lasse.
"We have an outstanding track record of innovation and new product development, and new products will challenge incumbent providers in adjacent segments and will further strengthen our position in Tier 2 market," he continued. "We have a proven ability to keep up with customer/ market demands with solutions that satisfy ever increasing efficiency and automation requirements. We can also work with customer's own R&D and operational functions to develop customised solutions for existing or new ice cream products – Magnum, Twister or Ben & Jerry's for example."
Since it was established over a century ago Gram Equipment has embraced change and evolution and over the course of the next few years the company has another plan for global transformation, where sourcing efficiency and manufacturing optimisation will delivery material margin increases. "Cost improvements have been implemented or are in the process of being implemented, and these will lead to annualised cost reduction," explained Lasse. "A strong start to 2017 has already been set up through a solid order backlog and recurring revenues, but we are constantly striving to extend the portfolio of innovative solutions. We have an attractive financial model with high margin potential and our wellfounded business plan will provide solid growth. We are ideally positioned to win over customers based on quality and line efficiency, and we fulfil customers' expectations for on-time deliveries and commissioning. We are also expanding our full line approach and moving upstream into the ice cream mixing market. We want to be best in class – driven by excellence in all we do. We want to ensure our customers' success providing knowhow, innovative solutions and global services. This vision and mission is the foundation for all our efforts."
Gram Equipment
Products: Ice cream equipment manufacturer