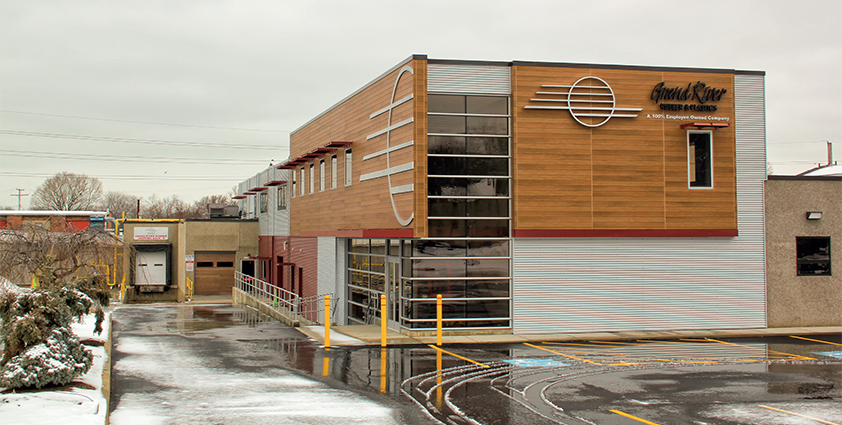 Grand River Rubber & Plastics
Employee-owned excellence
With a reputation for unmatched quality, Grand River Rubber & Plastics sees enduring success and ongoing expansion into new markets
Since being established in 1976, Grand River Rubber & Plastics (GRRP) has grown into a market-leading specialized manufacturer of lathe cut gaskets, vacuum sweeper belts and pail gaskets. Having operated in the rubber extrusion sector for over five decades, the company has earned a strong reputation for quality, reliability and customer satisfaction. As it continues to see success in its established niches, the company looks to diversify and expand, in order to take on new markets.
Today, Grand River Rubber & Plastics is a renowned and well-established name in the manufacturing world. The company's long history of expertise and innovation laid the foundation for its current success, as President, Donny Chaplin, details: "GRRP was formed as an entity in 1976 with the acquisition of our current facility, the Ashtabula Division of Geneva Rubber.
"Three partners, Richard Selip, Robert Jessup, and Stephen Knowles were the first to acquire the company. Mr. Selip, with a background in the rubber industry, began working day to day at the company in 1977. In 1978, Joseph Misinec, known in the industry for his engineering skills, joined GRRP. Shortly thereafter he became a part of the executive team, and in 1983 he started acquiring shares in the company.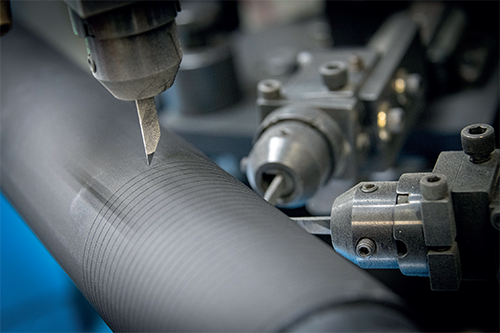 "In 2011, GRRP set-up an Employee Stock Ownership trust (ESOP) and purchased the company. With the help of over 210 employees, GRRP now produces lathe cut washers, pail gaskets and flat drive sweeper belts for a diverse customer base. The employee ownership scheme has been so successful that the company now brings in a revenue of nearly $53 million a year."
Throughout its long history, GRRP has grown and developed its portfolio to include an array of industry-leading components. "GRRP initially focused on lathe cut washers in a wide range of polymer materials. As the company started to grow, it began to focus its resources on new areas of expertise, and automation.
"Our goal has been to serve niche markets, and become number one or number two in the world in those categories. In all three main product lines, we have accomplished this goal. Exceeding customer expectations has helped separate us from our competition in terms of quality, customer service and price," Donny reveals.
Continuing its long history of innovation, the company has recently expanded its capabilities through automation, as Donny discusses: "We continue to launch propriety automation throughout our process. Specifically, in our lathe cut gasket product line, which is a job shop environment with sizes ranging from .250" to 7.0" diameter, we are focusing on further automation in specific size ranges where volume dictates a leaner process.
"We recently installed a continuous cure microwave and hot air oven extrusion line for one customer. As the employment market continues to open further, we will be strategically adding new customers for this product line."
It is no secret that automation is becoming more and more important to the world of manufacturing. GRRP has responded to this industry trend with major investments in plant and automation development. "In the past year we have added a state-of-the-art lathe cut machine. We also have our own engineers who have and continue to develop advanced automation equipment that meets the specific needs of our customers and product lines," Donny confirms.
This is just one way in which GRRP strives for continuous improvement. The company is always looking to make strategic partnerships, and expand its in-house abilities, as Donny asserts: "Between our in-house personnel and our partners we have full material development capabilities. We rely on important suppliers such as HEXPOL, who provide excellent technical support when needed and continue to be a key supplier in the markets that Grand River Rubber & Plastics serves – in fact, HEXPOL is a crucial provider of various materials outside our joint venture."
The joint venture to which Donny refers was recently formed with a rubber mixing facility named Elite Elastomers of Ohio. "This allows us to more fully understand the materials markets from a supply and pricing standpoint, and further control material development and testing, while working with our other suppliers as needed," he added.
These innovations have ensured GRRP's position as an industry leader. Taking on exciting new challenges in 2022, the company has recently been able to break into a whole new market segment. "Material development and continued advances in technology for lathe cut gaskets have helped us make significant inroads into the oil filter marketplace as of late. In a very price sensitive environment, we have continued to show value through our commitment to meeting customer's needs," Donny asserts.
Strong culture
As it takes on new challenges, GRRP stays in-tune with the latest manufacturing industry trends. "We have always focussed on a handful of niche markets, however within those there are 21 different market segments that we monitor. Keeping a close eye on market trends has helped us stay informed and reactive, but it's also fostered a level of diversity in our offering, so it's been a real asset to the company.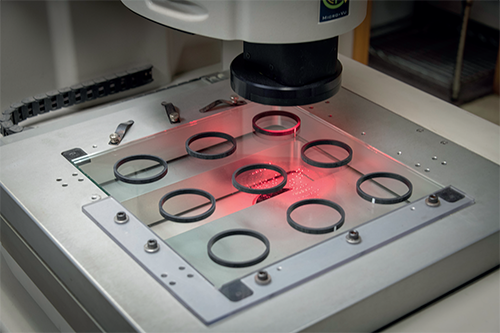 "The packaging market, for one, is really booming right now. We have a lot of demand for gaskets supplied for plastic packaging from businesses in that sector, and also in the general industrial market. We are also seeing our infrastructure related components gain a lot of strength at the moment, which is exciting," Donny explains.
The company's strength as a manufacturer has only been consolidated since becoming 100 percent employee owned in 2011. "We have a very committed and dedicated work force. Our employees understand that, after safety, our customers have to be our number one priority," says Donny.
"Having now been employee owned for ten years, we have more employees that were not here during the original ESOP formation than were. In an employment environment that focuses on strict dollar per hour wages, we continue to promote our second-to-none retirement benefits, free primary health care for employees and spouses as well as competitive wages," he goes on.
The strong community that exists between Grand River's employees and management was invaluable to the company's success throughout 2020 and 2021, as Donny reports: "Shortly before Covid-19 started we had begun the process of installing a new production line with technology and processes that were new to Grand River. The travel restrictions that resulted from the pandemic prevented those who had expertise with the technology from being onsite.
"We have a talented team of process engineers who embraced the challenge, learned quickly and thoroughly, and brought this new line into service. The line has been running and producing high quality product for almost two years now.
"Cross training of the work force has helped us remain flexible in meeting customer demands across product lines. Although our lead times are not back to pre-pandemic levels, we have been able to meet demand without customers running out of products they desperately need."
GRRP's Chief Operational Officer, Keith Wyatt, also adds: "I think it's impressive that our workforce was so loyal when the pandemic hit. A lot of other companies saw people dropping out, and Grand River didn't suffer in the same way. Our folks continued to come into work every day, putting in a really strong effort and working overtime when it was scheduled.
"We are proud to have maintained our pre-pandemic staffing level throughout the lockdowns. The workforce had even grown by three percent by the end of 2021. We are still looking to get to where we need to be, but staff loyalty means that there isn't far to go."
Facility expansion
Having emerged successfully from the pandemic crisis, GRRP now looks forward to establishing the new normal for itself and its customers in 2022. "We have a strong focus on hiring and retention at the moment, as we are looking to obtain our pre-Covid lead times of three to four weeks.
"We need to be able to service the customer in a reasonable period and get back to exceeding those expectations. Employment growth will be key to accomplishing these efforts. We now have more resources focused on employment than any period in the history of the company," says Donny.
The company will also be making major investments in expansion over the coming months. "We recently bought a building across the street from our current facility, which we are planning on expanding the production facility into. There is some additional space there, with room for extensions and even new properties on the site, so we are definitely looking forward to starting work there. It's really important that we expand, so that we can continue meeting demand for some of our more popular product lines," Donny enthuses.
"We are also always looking for new equipment that can replace existing equipment. We are looking for technologies that are more productive, and ideally takes up less square footage, because space is an expense as well. If we can put out more product in the same physical space, then that is always a positive," adds Keith.
With these exciting developments under way, Donny and his team make plans for the company's long-term trajectory. "Continued implementation of automation and resources will be key for us in the long term, not only for productivity but for the safety of our workforce. Although hiring new employees is important in the short term, to remain competitive in a global environment we have to produce more quality product with fewer resources. This not only becomes a value to our customers, but also for our employee owners through higher share value and benefits.
"Continuing to focus on employee ownership will be critical to making the company's future ambitions a reality. We will also need to focus on automation, and making sure that the workload is manageable for people of all ages. We need to support our employees as much as possible, so that they can continue doing their amazing work with us until retirement.
"Underlying all of that is the fact that we have a great reputation for quality, and we have shown that we can grow the business and improve the quality level of the products that we are shipping. That will act as a solid foundation for the company as it looks at further improvements and enhancements," he concludes.
Grand River Rubber & Plastics
www.grandriverrubber.com
Services: Rubber extruders of custom gaskets and flat drive belts