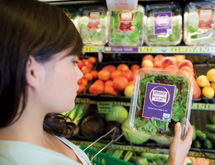 People don't so much want themselves to be labeled, but it's another story once they create a product. For example, a  farmer most likely doesn't want his container of tomatoes at a farmer's market to have a label similar to that of the newest high-tech phone. Additionally, a maker of organic soap wants the label on her wares to not only represent her product in a quality manner but also distinguish her goods from that of competitors. As one of America's leading label suppliers, Graphic Packaging understands these needs and works to ensure the right label promotes its customers' brands and makes a lasting impression with customers.
"A label represents [a product] at the exact moment of the buying decision," the company says. "Graphic Packaging can help our clients make the impact they need to create the final, solid, impression that wins consumers over. As one of North America's leading label suppliers, we deliver solutions that fit any need in any market. State-of-the-art technology assures maximize efficiency with virtually any customized order."
Graphic Packaging offers the DI-NA-CAL decorative heat-transfer labels and label systems, which are the "most durable in the industry and touch enough for hot-fill applications up to 200 degrees F," the company says. It notes that reverse gravure-printed DI-NA-CAL labels give products a premium appearance with rich aesthetics and a seamless, no-label look. Additionally, for extra security in export markets, DI-NA-CAL labels with DI-NA-SECURE ink virtually eliminate counterfeiting.
The company explains that the DI-NA-CAL label system offers:
Customized solutions
Produce-on-demand capability
Late-stage differentiation
Smaller machine footprints
More container flexibility
Faster speeds and quick changeovers
Precision placement with less than 1/32 variation
"The DI-NA-CAL label system is a complete identity package, enhanced by expert design, artwork, fulfillment, training and technical support for unsurpassed value," the company says.
Extensive Selection
Graphic Packaging notes that it provides a wide selection of label solutions for its customers:
Cut &Stack litho labels feature perforated coupons – The company has developed an innovative in-line perforation feature for cut-and-stack labels to offer more options for promotional coupons. This solution is printed on either film or paper and includes a pull tab for easy use. It runs on standard label equipment.
2.Cut & Stack recycled paper labels – Graphic Packaging says these improve sustainability by up to 30 percent. "The right choice for a more environmentally friendly label solution, using papers with up to 30 percent post-consumer waste in combination with vegetable- and soy-based inks," it says. These labels require no change in a current process.
100 percent recyclable in-mold labels – These offer a glossy finish and in-line application. An offset alternative to gravure and flexo printing, the company's surface-printed, in-mold labels can include UV coatings and high-gloss finishes while providing a seamless, no-label look. They can be applied in-line with bottle production, the company notes.
Roll-fed labels – These labels achieve superior visual impact on the shelf, the company says, with a range of printing options, including clear, opaque and metallized paper and film substrates, high-gloss coatings and inks. Graphic Packaging offers green options like recycled paper or biodegradable films, such as PLA for compostable packages. These labels are applied using standard industry equipment.
"Graphic Packaging offers a number of label choices for food, beverage, automotive, medical nutritional, household and pet care products," the company says. "All are supported by creative services application equipment and contract packaging services."
Leadership in Innovation
Graphic Packaging describes packaging as not only its business, but as its means of reaching a higher goal: to deliver powerful, integrated, measurable results to its customer-partners. With this as its objective, Graphic Packaging says it attracts the world's leading consumer and commercial brands and serves them with seven paperboard mills, 44 converting plants, three machinery facilities and 15,000 employees worldwide.
"Our innovative designs and broad capabilities create packaging that forms a strong consumer connection for our customers," the company says. "Our expertise in systems turns their supply chains into value chains.
"The success of our customer focus has made us one of the world's largest producers of folding cartons and a global leader in coated, recycled boxboard and specialty bag packaging," the company continues. "Our history of leadership in innovation has resulted in more than 2,000 U.S. and foreign patents."