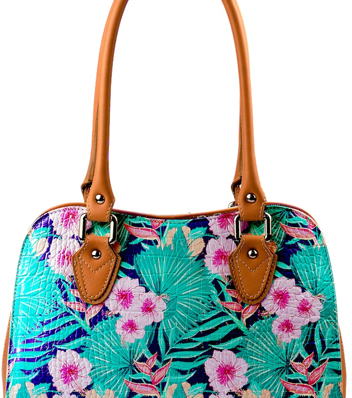 Abbas A. Sadriwalla had what was sure to be a hit product: a water-based liquid shoe polish that would keep footwear and other leather articles polished and protected for up to a year or longer. The chemist believed the long-lasting protective coating would revolutionize the market and encourage more customers to use his shoe and leather and vinyl polish products. But when he tried to sell it to shoe and leather polish companies he was turned away. They weren't interested because their business relied on repeat and frequent sales. If a single shine could last a year, what good was it to their bottom line?
The corporate mentality didn't mesh with Sadriwalla's philosophy of giving consumers more value of their money. So when he created his next revolutionary product, he knew he needed to take a new marketing approach.
But the company's internal business structure came apart. It was a setback for LiquiGuard as well, which was on the verge of becoming a coating supplier for a promising graphics printing technique. Sadriwalla realized he could pick up where the previous company left off. As a R&D guy, it took him about a year to develop his own version of the printing and image transfer process using LiquiGuard's extensive knowledge of coatings.
Innovation in the printing industry has been confined to equipment and ink technologies, according to Sadriwalla. Few new technologies have emerged that allow for high-quality durable printing directly onto difficult materials such as leather, polyester fabrics, aluminum, wood, etc. Methods that do exist, are often cost, labor and time intensive, require expensive specialized machines and use environmentally unfriendly materials. The printing and application coating printed process Sadriwalla developed promised a better, faster and cost effective alternative. He incorporated a new company, Graphixon Finishes, to develop and market the graphics application technique and provide the jolt the printing and graphics application industry needs.
"What makes this technology interesting is the scope of it," Sadriwalla says. "So many different materials and so many different marketplaces."
While printing on canvas is relatively common, the printing potential of other materials, such as leather, remain largely untapped. Existing printing or image transfer techniques can compromise the natural feel of the leather and also lead to the image getting marred through use. As a result, high-end bags and accessories makers are unwilling to print graphics onto their products. After all, who would buy a $5,000 handbag with a graphic of questionable durability? "The issue is that surface enhancement of a durable nature has been the industry's holy grail, especially when you speak about luxury leather," Sadriwalla says.
The Graphixon technology results in an image that feels natural to the material and will not lose its original appearance over time. "The importance of our innovation is not only that we're imprinting, but the imprinted image is automatically protected," Sadriwalla explains. The process incorporates a clear top coat on the graphic rendering it abrasion, soil, water, fading, mold and wear resistant. Graphixon's coated images have been field-tested and demonstrated tolerance of more than 150,000 double rubs during abrasion testing. The other tests the Graphixon image has successfully undergone include, flex, fire, UV and indigo ink (resistance to dyes from blue jean fabric).  Further, the printing technique does not change the physical nature of the material it has been applied to: a soft leather purse will never lose its buttery touch and a vinyl couch will retain its softness.
The patent-approved technology can be used to apply graphics to leather, vinyl, canvas objects, including apparel, bags, briefcases, shows, upholstery and other materials. It can even be used on inexpensive wood veneer to replicate marquetry patterns normally only found on high-end cabinetry, allowing furniture manufacturers to create bar tops, tables and cabinets with a beautiful design using an inexpensive process. Sadriwalla says the Graphixon process could also be used for commercial upholstery permitting corporate logos and graphics on sports, restaurants, aircraft seating and other areas, without concern that the graphic will rub off over time. "The customization will now give furniture originality," he explains. "You can order a sofa for your home and put whatever pattern or graphic on it to match the rest of your décor or express a personal taste."
When design is no longer limited by capability the possibilities become infinite. Customers could even sketch their own drawings and have manufacturers replicate it for a product's design. "We are getting national and international interest in our product because it is unique, has many practical applications and  implications, and it is something that has never been done before with this level of reliability," Sadriwalla says.
Perfecting the Method
While the overall process appears rather conventional, there was a large amount of behind the scenes technical innovation. Conventional release papers attribute their release capability to a layer of silicon polymer. Since Graphixon's coatings are totally water based and incompatible with the silicon, a new and customized release coating had to be developed, to be paired with readily available paper. In keeping with the overarching "green products" philosophy, a special aqueous ink compatible polymer coating had to be developed to enable printing with water based inks, as opposed to the industry standard of solvent based inks. Another upside of this latter innovation is the ability to print using basic desktop inkjet printers and produce extremely high quality images. This brings the Graphixon technology within reach of the smaller businesses that cannot afford the exorbitant costs of solvent ink based wide format printers. "With that said it is important to emphasize that the Graphixon paper can be printed on with any ink and any printing equipment, as its technology is agnostic in this regard," Sadriwalla says.
Instead of printing directly on the target material, the printing occurs on Graphixon's specially treated paper which is available in various roll widths and lengths and in pre-cut sheets, just like common printing paper. "The benefit of our process is instead of printing on leather or any other material you print on what appears to be conventional printing paper," Sadriwalla says.
Once the graphic is printed, the user applies a clear sealer called INKLOC to the surface to protect and enhance the durability of the image. A primer is then applied over the dried sealer. Once dry to the touch the paper is placed on the material and bonded to it using a conventional heat press or heated laminator. When the assembly has cooled to room temperature, the release paper is removed and the graphic remains bonded to the target substrate. The photo-quality graphic is fully in place and able to withstand most any kind of wear.
Sadriwalla considers Graphixon a R&D company that envisions finding partners in the marketplace and licensing the technology to them. The company has agreements with third party coaters to apply its primary coatings and to convert the paper into appropriate market standard rolls and cut sheets. The specialized coatings that make the process possible will for now stay in-house. "We intend to keep control of the actual coating manufacturing," Sadriwalla says.
The coatings are produced at LiquiGuard's facility in Fort Lauderdale, Fla.
Ease of Use
Sadriwalla has been in the water-based polymer chemistry industry for over a decade. In that time, his philosophy has been to develop products focused on problem solving. LiquiGuard Technologies produces numerous protective and anti-slip coatings and primers, each of which is designed for easy application and durability. "These are not luxury casual solutions," he says. "These are solutions for real world problems."
The same philosophy holds true for Graphixon. Sadriwalla's experience trying to sell the long-lasting shoe polish to corporate companies taught him the outside world was not going to assist Graphixon in launching its graphics application process. To succeed, Sadriwalla needed to initially focus on the little guys trying to make ends meet and how he could provide those customers with a product or technique that will elevate their business' ability to compete. "This is the path of least resistance for a small, unknown company," Sadriwalla says of Graphixon's strategy.
Small customers tend to have few employees and little available funding to make large purchases. Accessibility and ease of use are critical to selling them on the Graphixon technology. Because of the inherent technology, customers don't need specialized printing machines. All the so-called "brain surgery" happens on Graphixon's side – virtually anyone can be trained to execute the process without the need for special equipment or training. "One of our goals as a small company was to make the process not only simple, but easy to implement so small custom shops could benefit from this process without a big capital investment," Sadriwalla explains, continuing, "This does not necessarily preclude the bigger players from benefitting from our technology. After all they have their own abiding markets and customers."
Sadriwalla says the company is now ready to sell the specially treated paper and secondary coatings to commercial customers.
With the technology and process in place, Graphixon is working to market itself and build relationships with potential customers. "Right now basically we have been exposing the technology to the market," Sadriwalla says. "All types of product manufacturers, including major brands, are sending their requests for samples, which we have been providing."