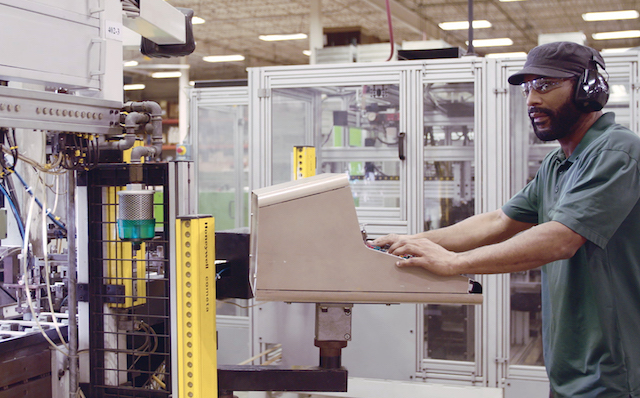 With its roots in Austria and its headquarters in Kernersville, N.C., Grass America sets itself apart by offering both U.S.- and European-style products. "Having access to a full product range is something that not many of our competitors have," President Tom Kipp says.
The company develops, manufactures and supplies functional movement systems for the kitchen and bath cabinet and case goods industries. Grass America's roots go back to 1947, when Alfred Grass founded the company with his namesake in Hoechst, Austria.
In 1977, the company established Grass America, which now has a staff of 225 employees. "Grass America is the only Grass manufacturing site outside of Europe," Kipp says, noting the company also has its engineering and logistics capabilities in Kernersville.
Since 2004, Grass has been part of the Würth Group, a $14 billion world market leader in the assembly and fastening material trade industry. The Würth Group consists of over 400 companies in more than 80 countries.
Grass America, which celebrates its 40th anniversary this year, sells directly to large OEMs as well as through distribution partners. "This way, our products are sold to both the large mass producers of cabinets, as well as to the local medium- and small-sized cabinet shops throughout the country," he says.
Its primary products include cabinet drawer slides, concealed door hinges and lifters, which are often made to the clients' requirements. "We have recently expanded into the appliance industry, as well, and are currently supplying drawer slides for a unique refrigerator," Kipp says.
Seamless Supply
Grass America's market is moving toward soft-close motion and frameless cabinet construction. "Grass has prepared well for the move toward soft-close motion and has developed slides, hinges and lifters with integrated soft close to meet customer expectations," Kipp says.
Although the company's manufacturing focuses primarily on products for face-frame cabinet construction, it has easily adapted to the rise in frameless. "Our sister companies in Europe provide top-quality, functional hardware specifically for frameless construction of cabinets," he says.
"With our manufacturing and logistics expertise, we are able to seamlessly provide our customers with a full range of products to meet all their requirements," he says. "In addition, our product development departments, both in Europe as well as in the United States, are continually working on the development of new products to meet upcoming changes to the market."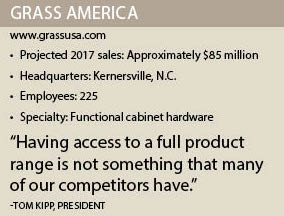 Investments in Development
Grass America experienced double-digit growth this year, which drove the company to invest in its operations in Kernersville. "We've purchased a number of pieces of equipment this year, and new machines are in the planning for the coming year," Kipp says.
The company added new stamping presses and automated assembly equipment. "That will help increase production output," he says. "In the case of the automated equipment, it will also help improve product quality."
The company also invested in its R&D department. "We've increased our capabilities in testing in both the weights as well as the temperatures," Kipp says. "We've also invested in additional personnel in that area."
Making Improvements
Continuous improvement is a core value for Grass America. "Through the internal audits required by the ISO quality management system, we are continually identifying new opportunities for improvement," Kipp says.
The company also has its Ideas Program, where employees submit suggestions on how it can do things better. "One idea led to a 20 percent increase in the output in the machine that one person was working on," he recalls. "Listening to our employees can be a very good way of improving our quality and productivity."
Employees are rewarded for their suggestions as well. "Those that submit ideas are included in a drawing in our plant-wide meetings three times per year, and are able to win both recognition and awards," he says.
Grass America also has a comprehensive key performance indicator program, which represents "critical items to track in all areas of our business," Kipp says. "Monitoring the results lets us know what is working well and what areas need improvement the most."
Staying Positive
Kipp joined Grass America in February 2013. "I've been in the manufacturing industries for over 30 years and manufacturing management for over 20 years," he says.
Previously, he spent more than 16 years working in various European countries and in Mexico. "This has been helpful while working for a European company," he says.
Although Kipp is still new to the cabinet functional hardware industry, "I've been blessed with a number of knowledgeable colleagues here at Grass," he says. "Many of our employees have well over 20 years' experience in the industry."
Kipp predicts that 2018 also will be a strong year for Grass America. However, "There's some question as to whether things will slow down in 2019," he admits.
"I don't believe it will be significant," Kipp asserts. "I look forward [to] Grass America continuing to grow, to acquire additional equipment and continue to provide greater sales and greater quality to our customers."