From strength to strength
An early order from McDonald's got Great Central Plastics off to a flying start shortly after the designer and manufacturer of high-quality plastic injection-moulded products was established in 1998. "Our Technical Director, Darryl Brown, and myself formed the business, because we wanted to create a one-stop shop where we could offer in-house tooling, moulding, subassembly, and decoration, all under one roof," recalls Managing Director, Tony Phillips.
Upon receiving and successfully satisfying the substantial order for three million parts for toys to be included in Happy Meals for McDonald's, Great Central Plastics managed to achieve an annual turnover of over £1 million in just three years. "It was precisely in our third year that we started producing car badges and more technical mouldings, with Honda being our first client. Today, we produce badging for most of the automotive brands, including many caravan, mobile home, and yacht manufacturers," Tony says.
"Our core strength certainly lies in us having full control over the manufacturing process, which, in turn, gives our customers complete peace of mind that their requirements are being dealt with efficiently, professionally, and competitively, in what can only be described as an unbelievably fast turnaround," he points out. "Our toolroom is equipped with the latest 3D CNC machining centres and CAD/CAM software to ensure the tooling is produced quickly and accurately, incorporating various feed systems to reach optimal efficiency and cost. We run a modular tooling system, which can often save clients a lot of money on the initial capital outlay for custom tools."
Great Central Plastics also operates 12 moulding machines, ranging from 22 tonnes for smaller components, to 160 tonnes for larger items. "Older machines are gradually being replaced with energy efficient equipment, as we have adopted a new policy of buying only environmentally-friendly moulding machines, such as our latest acquisition – Boy 90 E. Moreover, all machines run with hopper loaders, colour dosing units, conveyor belts, and paddle sorters to help maximise efficiency and keep costs down," Tony explains.
Recent times have seen Great Central Plastics develop a strong ethos on sustainability, with the company introducing a set of 'green' measures to reduce its environmental impact. "For example, we have installed solar panels to generate electricity, which then helps us power our moulding machines. In addition, we try to utilise as much of our scrap and waste material in other products, also recycling most of our waste card, paper, and metal from the tooling process. By the end of 2018, we will also have all of our lighting switched over to LED.
"Despite the bad publicity plastic products are getting at the moment, we are actively looking to design and make products from recycled plastic, while explaining and educating the public that it is single-use disposable plastic items that are causing the problems," Tony maintains. "If you look around, you will see plastic is used everywhere in the modern world and the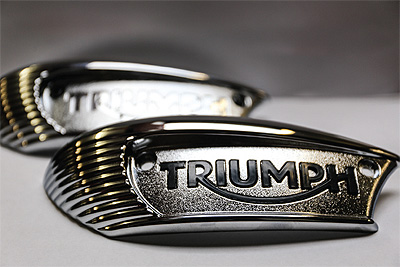 products we manufacture are for continuous, repetitive use. It is important to understand that plastic is an amazing material, which brings a lot of benefits to modern living, so we have to stop demonising it."
In a clear demonstration of its capabilities, Great Central Plastics completed two significant projects not long ago, which showcased the variety and complexity of the work the business undertakes. "One of the programmes involved the supply of two-shot feeding spoons to Petits Filous. The two-shot mould production is a very intricate process, which few UK companies have the capabilities of executing. The project also underlines our qualification to cater for food standard products, having undergone an extensive audit from General Mills," Tony discusses.
For the other project, the company again had to use two colours to achieve the result required by Triumph Motorcycles. "This is a job that falls within our automotive portfolio, which is one of the industries with the highest quality requirements and standards, so it is a real testament to our skills that we successfully delivered the Triumph badge, accurately addressing the client's needs," he adds.
Great Central Plastics is a company that proudly holds on to its British roots and Tony expresses a sentiment that the coming years will be a time of revival for UK manufacturing. "There are multiple positives to being a British producer operating in the UK. With Brexit looming, we have already seen a substantial upturn in enquiries from companies looking to bring their business back to the UK after we leave the EU, so we are definitely anticipating an increase in demand for our services."
Eager to bring together other like-minded companies, Great Central Plastics became a founding member of a new trade organisation called Briman, whose goal is to help publicise the benefits and virtues of buying British. "We are 21 organisations who work together, sharing knowledge and best practices among ourselves to get across the message of what buying from a Briman member can offer you, emphasising aspects such as quick turnaround times, flexibility, security of the supply chain, simple communication channels, reduced environmental impact, and, of course, the chance to support the UK economy and job market," Tony enthuses.
2018 marks the 20th anniversary of Great Central Plastics, giving the Managing Director the opportunity to reflect on the past 20 years and share his vision for the future. "Personally, I have an immense pride that the company is going from strength to strength. Overall, we have a modern, well-run business that is environmentally-conscious, sustainable, and privately-owned. Going into 2019, we have to stay as customer-focused as possible, ensuring that we are as inventive and cost efficient as we can be, in order to handle the increased workload we are expecting to see.
"Looking a bit further ahead in time, our aims are to continue along a steady road of growth and development, whilst ensuring that we stick to our core principles of providing our customers with quality products by using our expertise to devise viable solutions to their needs. Supported by a knowledgeable and energetic workforce, and the latest state-of-the-art equipment, we are planning to cement our position as a leading British moulding company. Here's to the next 20 years!"
Great Central Plastics
Products: Plastic injection-moulded products