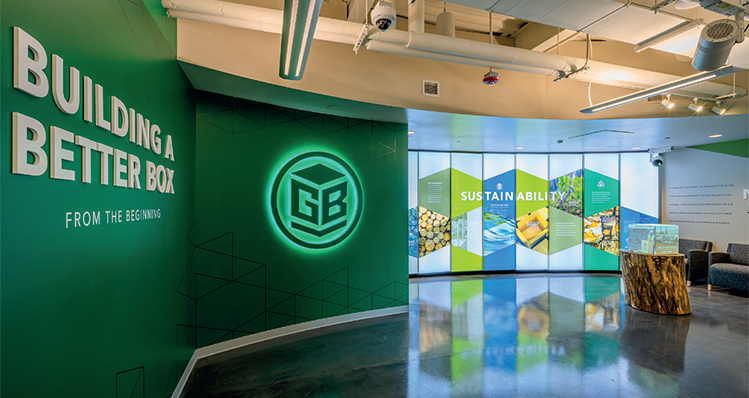 Go Pack Go!
A full-service packaging firm built on a culture of innovation, Green Bay Packaging is much more than just a box company
Family-owned, vertically integrated and diversified, Green Bay Packaging (GBP) has been delivering innovative packaging solutions for customers across the United States since 1933. Established in Green Bay, Wisconsin, and guided by the vision of its Founder, George Kress, the company grew quickly, driven by a focus on customers and a steadfast desire for continuous improvement.
Today, in 2021, GBP is led by third generation President and CEO, Will Kress. Under Will's leadership, the company offers a variety of products, including corrugated packaging, in-store displays, folding cartons, coating label stock and containerboard. No matter how much it has grown, the company has always remained dedicated to the development of its products and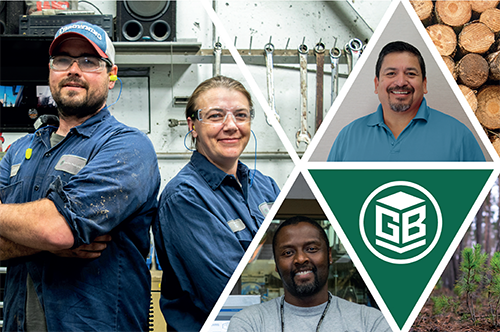 forestry resources, with a focus on quality and sustainability.
"There are many things that set GBP apart from the competition, and it varies a bit in each product category, but the common thread is our quality process and our commitment to product development and continuous improvement," Vice President of National Sales & Marketing Rick Luftman says. "This strategy has helped us provide our customers with innovative solutions at the lowest total cost for nearly a century. Within the corrugated packaging space, we are currently pioneering and advancing Retail Ready Packaging, E-Commerce Packaging, POP, and Digital Printing. GBP is now considered a leader in many of these areas."
Operating from 37 strategic locations across 15 states, GBP's infrastructural portfolio consists of corrugated container plants, folding carton operations, recycled and virgin linerboard mills, pressure-sensitive label manufacturing, specialty converting operations, and timberlands. After breaking ground on a brand-new recycled containerboard mill in Green Bay, Wisconsin in August 2018, the company opened the doors to the facility in March 2021, completing the project on time despite the challenges of the Covid-19 pandemic.
"The new 100 percent recycled containerboard facility replaces an older, smaller, existing mill in Green Bay," Rick states. "The new machinery will run several grades of both linerboard and medium and includes one of the widest machines in North America. The mill itself boasts an industry-first, 100 percent circular reclaimed water system that will not draw from, nor discharge water into, the adjacent Fox River and is considered one of the most sustainable paper mills in the world.
"Many of our customers are currently experiencing high demand and require shorter lead times, so we are in the process of building greenfield sites, expanding several of our facilities and adding more converting equipment to help service our clients more effectively. From an e-commerce perspective, we are adding two-sided print capabilities, which not only offers more options for product identification, but also provides marketing with additional space to print messaging, utilize high graphic printing, and provide an improved box opening experience for consumers."
As Rick points out, GBP is resolute in its determination to take care of the environment – a key feature of the business instilled early on by its Founder. Consequently, the launch of the company's new eco-friendly paper mill will not be the last of its sustainability-related activities in 2021.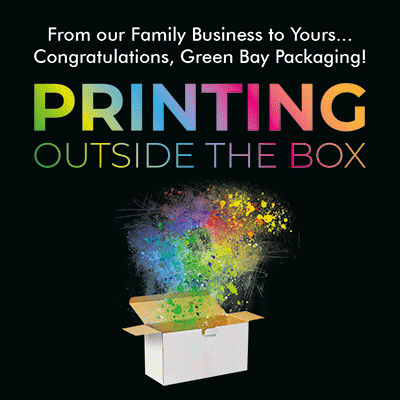 "Thanks to the work of George Kress, we like to think that GBP was environmentally friendly before it became fashionable," remarks Executive Vice President Bryan Hollenbach. "We have always designed our facilities to be that way in spite of the increased cost of equipment.
"In the longer-term, we have a goal of getting to Zero Landfill at all our converting locations by 2025. Corrugated is the most recycled substrate in the world, which puts us at a great advantage in this area."
The strength of GBP's convictions, and the bravery to put these beliefs into action, is born out of the company's culture. Working in conjunction with a skilled and motivated workforce, the company's leadership team aims to maintain the organization's founding spirit, while endowing employees with the space to grow as individuals.
"We are extremely proud of our company culture," Bryan declares. "We believe in providing a vision for our employees, while giving them the resources to do a great job. We get out of their way and let them make decisions, make a difference, and show pride in their work. We do not micromanage; we work hard to reduce layers and let our people take ownership of what they do. This is a vital part of forming a motivated workforce and a key to our success. We work on this together every day."
Having kept its workforce safe and the business healthy throughout the Covid-19 pandemic, GBP retains a strong presence in a competitive industry. With a superior product and an enthusiasm for delivering the best service to its customers, the company is confident that its culture and approach are a perfect fit for getting through challenging periods, as well as the good times.
"We are privately held and think long-term," Bryan explains. "We invest in our company at a healthy rate and look for the right opportunities to grow.
"Our approach to business and our culture will not change. We will continue to be the right provider of superior packaging and service to many customers, and we will take advantage of openings as they arise."
Green Bay Packaging
www.gbp.com
Services: Full-service packaging company