Out with the old
Despite its age, Greene Tweed is keeping up with the times. By remaining loyal to new ideas and supporting the growing potential of its staff, the company is proud to develop, manufacture, sell and support innovative elastomeric, thermoplastic component solutions
Greene Tweed, which started out in the compounding market, has refreshed itself to become a significant leader in several industries. The business now has prime technologies streams that have come together to ensure it continues to provide system level solutions for the industries it supports. Brent Regan, Greene Tweed's Vice President Business Operations and Technology Development, guides us through the journey that has led his business to become the award-winning manufacturer it is today; from the family-owned start-up that produced buggy whips in New York 152 years ago, to the manufacturer addressing some of the toughest applications for semiconductors, aerospace, defense, energy and industrial markets across the globe.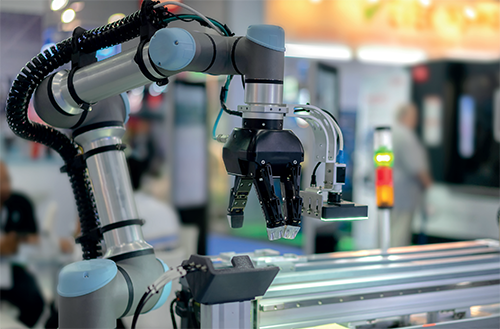 "We are key with our sealing technologies in providing environmental protection, we keep environments from each other to ensure things like health & safety, productivity, reliability, uptime, yield is not comprised. We also protect equipment, and power and extract data from these harsh environments with our wear, abrasion, structural and electrical and fiber optic connectivity solutions," Brent says, "Whether it be in s miconductor to keep prospective contaminants out of the chambers, and ensure that the contents, particularly the more dangerous chemicals, are not leaked, or in our energy, aerospace and defense or industrial markets high end, sealed, rugged, material and product solutions is what we do." In order to produce such offerings, Greene Tweed practices in three main technology streams, Sealing, Wear/Abrasion/Structural Components, and Electrical and Data connectors.
In 'Sealing', Greene Tweed is one of the industry leaders in perfluoroelastomers, which are also known as FFKMs. "We supply all our industries with high-end Chemraz™ elastomer products with tremendous material properties and strong capabilities to withstand different medias, pressures, temperatures or other process or environmental conditions that impact performance. We use our expertise in materials, various designs and geometries as well as unique manufacturing process to solve problems for our customers," Brent continues. "With both Chemraz™, our industry leading FFKM, as well as other elastomer and plastic solutions like Fusion™ and Arlon™ that we put into assemblies, we can create incremental, innovative fast solutions that require small changes to solve a problem with existing designs or provide complete product family development efforts creating entirely new product solutions."
Its second stream of 'Wear/Abrasion and Structural Component replacement' concerns thermoplastic and thermoplastic composites. These technologies are considered disruptive technologies and can serve as the replacement of metal with materials that are stronger, lighter, and more environment friendly. "You can imagine these would be incredibly useful for sectors like the airline industry that requires weight reductions in engines or other components for overall system and environmental performance," Brent adds. "Lighter means less fuel, taking complex multi piece shapes and molding them into stronger, lighter single piece solutions saves overall maintenance, assembly and improves performance. Whether it be replacing heavier more complex shapes or providing innovative composite bearing, bushing or other wear and abrasion products our composite solutions provide not only strength and weight differences but overall performance in pump and compressor efficiency and energy usage by employing these innovative solutions.
"Finally, we have our third technology stream, which is fiber optic and electrical connectors. In this aspect, we will take the high-end plastic materials as well as our sealing experience that we have and produce a line of electrical and fiber optic connectors called Seal-Connect™ for the extreme conditions of oil and gas drilling and completions systems. These products need to be highly specialized to tolerate abusive scenarios, vibrations, pressures, and extreme temperatures when you are thousands of feet underground. So, we make connectors that provide the electric power and what we do is to take specialty materials, compound and adjust them, add further components to strengthen them, and then mold the parts according to what our clients require to solve their particular problem. In one instance, for example, what would traditionally be a glass-to-metal connector, we remade that out of a very high-end thermoplastic for greater reinforcing capabilities, utilizing a proprietary cross-linked material to create Arlon 3000XT™ that expands the limits of standard PEEK plastics into extreme pressure and temperature capability," Brent explains, adding that understanding compound material science with the various ways in which they can be molded into shape is a skill that ultimately sets Greene Tweed apart from its competitors. Whether it be elastomer or thermoplastics, the combination of the materials, design capabilities and manufacturing processes is what enables these unique components to be shaped according to the necessary requirements for effective and long-lasting solutions.
Upgrades and improvements
Producing unparalleled elastomer and thermoplastic products is owed to the 150-year-old infrastructure that serves as the heart of the business. "It makes for quite an interesting story because we've acquired our assets and equipment over time, but of course this older infrastructure needs a touch up every now and then, so it's currently undergoing a massive rejuvenation. Over the past three years, as part of our RIGHT-FITT initiative we are significantly complete in the full automation of our infrastructure. Through the use of transformative robots, cobots, machine automation, AI and MES we have been able to significantly upgrade and automate our facilities. A great example of the full automation was our composite R&D facility of a full robotic
cell where we do most of our initial prototyping, robot, and automation work. We are in the midst of our five-year strategic plan, which will finalize the automation of all our facilities including looking at the supply and demand curves, our integrated business planning processes and the potential need for a new facility heading into the later stage of our plan," he shares with Manufacturing Today.
"Most of the infrastructure dates back 50-to-60 years, we do have more modern facilities that have been built in the past five years, but even in the older areas almost all of the equipment has been upgraded, brought in new, and we've built additional supporting facilities during this transition," he says. From a product standpoint, Brent explains that one of the lines which demonstrates the full extent of the automation and digitization capabilities of the company's enhancements is called ONX. "Traditionally, most of our solutions in the semiconductor industry, which is extensive and includes a lot of harsh operations, medias, pressures, temperatures, involve serious amounts of innovation. Recently, we've made a new, unique composite material in which there's enormous movement, molding and pressing in the manufacturing processes involved for the materials to make these compounds. Thankfully, for that, we have a full robotic cell to complete the operation for us. So, now we're moving to the automation and digitization of things in our factories and we can incorporate a higher level of innovation to new materials that have not traditionally been used in the semiconductor industry, which can soon be introduced to industries that we previously may not have been able to reach," he expresses.
People first
These developments sound like substantial investments, and Brent would agree that they are. However, he also adds that they are a sign that, despite Greene Tweed's 150-year-old history, the company is keen to refresh the 'dull, dirty and dangerous' jobs for a safer environment in which its employees can not only work, but work in a safe, energizing and technologically interesting environment. "Our business is a tightly knit community that began with family and has continued as a business that treats its people like family. With this tremendous background of humanity and care for people, Greene Tweed's culture is one that prioritizes its staff. I worked with a multi-national business before being taken on here and I honestly noticed such a huge difference with the company culture, and I think that comes down to the fact that it is family owned, which means that there are great ideals and a wonderful sense of 'people first' in everything we do. In line with what we've been speaking about, what has really impressed me is how well thought out the transformation has been to ensure the team is still cared for. The management still looks to that family ethos as a leadership technique and takes into consideration generational growth. It's still important from quarter-to-quarter that we are growing because this is what will encourage a ten-year vision for the organization and for the attainment of our five-year strategic plan," he says. This approach is clearly what serves as the foundational strength for the company's prosperity.
As it looks further ahead to the continuation of its future, Greene Tweed is choosing to explore mobility as an overall market, and because it facilitates the supply for different aspects across a multitude of industries, while also pushing innovation boundaries, many opportunities are opening for the business. Where traditional aerospace sectors involve narrow and wide body airplanes, the industry is now expanding into materials used for aircrafts closer to the ground; drones, air taxis, standard planes and then, of course, the higher altitude planes that are sent into space. These materials require considerations regarding their weight and strength, while also keeping the environmental impact of manufacturing as low as possible. "As we continue to focus on our key industries like semiconductor which is seeing and will continue to see explosive growth, we are actively pursuing adjacent market spaces that our current solutions and development capability match. Market spaces like Mobility, an increasing hydrogen eco-system, batteries, alternative energy, and others. So, those are the areas that we'd like to grow in. We tend to do our best when we look to what's new and innovative, which is why we have seen a significant amount of our success in the semiconductor industry, because it continues to push its technology towards partners that can develop just as quickly," Brent says. As Greene Tweed continues to strive for state-of-the-art processing capabilities in order to keep its pace with an ever-changing sector, it is excited to sustain its success in servicing its industries with passion and dedication.
Greene Tweed
www.gtweed.com
Services: Elastomer, thermoplastics and thermoplastics components manufacturer