No humdrum affair
Greif provides a comprehensive range of industrial packaging solutions that it stringently tests to ensure that they are prepared to meet the needs of challenging environments
Greif is a world leader in industrial packaging and services, and provides consistently high quality and reliable products for customers across a range of sectors. A key feature of the business is that it places the customer at the heart of its operation and always seeks to build a better understanding of its client's needs. The business is currently a leading figure within the industrial
packaging sector, and it aims to improve further upon this with a focus on becoming a world leader for customer service within the industry.
In the UK due to the diverse nature of Greif 's customer base it has an equally varied portfolio of products. It is perhaps best known for its large steel drums, small and intermediate steel drums, specialty drums, and reconditioning. Within these there are even further options that offer higher levels of specification, an example of which are the options for tight head, open head, ISO open head, or composite steel drums, all of which offer their own unique benefits to the customer. This level of customised design extends across all four of its broad categories, and indicates the level of expertise and experience that is present at Greif. It particularly manifests in its specialty products, which Sales Director for the UK, Ireland and Scandinavia Chris Warren discussed: "These would be geared around stainless steel drums, from five litres up to 250 litres, and we are also producing a range of agitator drums that are designed to keep viscous materials fluid prior to application and have this particularly relevant to the coatings industry. We are also producing a number of over pack and salvage drums which are (UN) approved for specialist applications – such as airfreight, or to deal with spillage and accidents, and these drums are all produced at our Burton factory."
The extensive product range that Greif provides its customers is just one reason why it holds such a prominent position within the industrial packaging industry. It is also due to the strength of its facilities, which include its Ellesmere Port and Burton sites, and these combine to make the company the largest producer of industrial packaging in the UK. Further details were discussed by Chris: "The facility in Burton-on-Trent is involved in drum making, and has been since the early 1900s. We have also got our Ellesmere Port site that offers two sides to the business, one of which is the steel drum production for large 210 litre products, including heads and open top drums. The other is that we have a fully accredited wash plant that is used for the wash reconditioning of steel drums and intermediate bulk containers (IBCs)."
Its products supply customers from a number of sectors, and Chris provided further insight into this: "The main sectors that we provide services to are oil and lubricants, chemicals, and we also supply the coatings industry – this can be to manufacturers of paints, coatings, inks, and adhesives. In addition to these we also supply the food and beverages industry, the pharmaceutical markets, plus the flavours and fragrances sectors." All of Greif 's customers can expect to receive products that have been well-made and passed extensive UN testing examinations.
Greif ensures that its products always meet the highest levels of standards through a number of tests, which Chris spoke about: "We have an accredited packaging test station. The test station is able to inspect packaging and run a series of checks in order to prepare that specific packaging type for UN approval, and we can run a variety of assessments, such as those related to stack tests, drop tests, extensive leak tests, and more." The company is so confident in the capability of its testing facility that it actively welcomes its customers to visit and get an insight into the scale of analysis that the products undergo.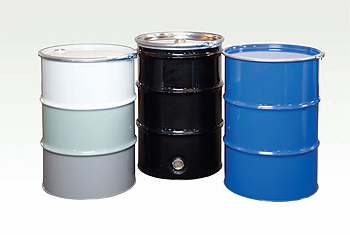 The forward thinking and problem solving nature of the company is demonstrated once more through its Earthminded Life Cycle Services activities. Within this part of the business it collects, cleans, and reconditions used drums and IBCs, creating a closed loop for its customers. This service has significant benefits in terms of economically and environmentally effective packaging solutions that extend the useful life of products.
While there have been a number of impressive developments for the company, an area that Greif is heavily pursuing is its company vision to build even further upon its strong customer service, and it has set itself the aim of becoming a world leader for this within the industrial packaging sector. An aspect of this approach was presented by Chris: "By listening to our customers and working closely with them we want of offer packaging solutions rather than just being a transactional supplier."
Therefore, with such a comprehensive portfolio of products that are continually being enhanced to meet the needs of its customers, Greif will no doubt retain and strengthen its position as a leader within the industrial packaging industry. It will also continue to pursue a company vision that seeks to keep its customers at the centre of its services. This vision is expected to help Greif bring its leading, reliable, and consistent products to even more customers across the world for many years to come.
Greif
Products: Steel drums, barrels, kegs, pails and specialty packaging solutions