The cutting edge
Delivering customer centric fabrication solutions has been the name of the game for Grenville Engineering since it was established in 1984, and 34 years later it continues to cater to the needs of its vast customer base
"In the many years that we have been dealing with Grenville Engineering, we have yet to be disappointed." That testimonial, provided by Specialist Structural and Group Repairs, is just one of many delivered from clients who have reaped the benefits of the services of the Stoke-based sheet metal fabrication, laser cutting and metal forming experts. Other titbits of praise pinpoint the company's "superb service", its "excellent value for money", its "dedication to meeting one's requirements and exceeding expectations", and its "depths of expertise". Taking such comments into consideration, it is perhaps easy to see why Grenville Engineering has continue to grow in terms of activity and turnover during the last few years.
When the company began its work back in 1984, the company had only five members of staff, but throughout the better part of three-and-a-half decades, during which time it has grown exponentially, its aim has always been to provide cutting edge fabrication with the vision of being one the UK's leading sheet metal fabrication companies. Serving regions up and down the nation, customer centric solutions are at the heart of what Grenville Engineering is all about. With a combined experience of over 100 years, it collaborates intensely with its customers to ensure that it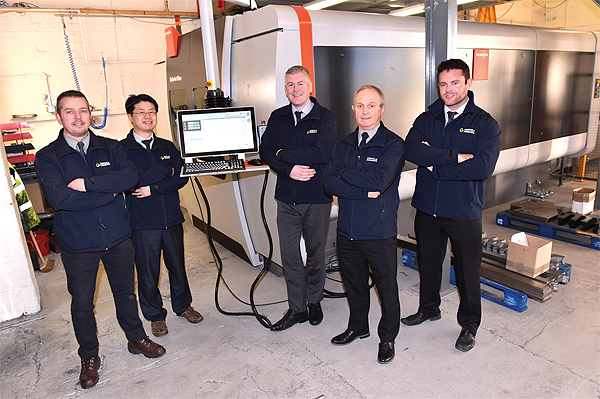 produces the highest quality products from carbon steel, stainless steel and aluminium to all specifications, without compromising on quality.
Grenville Engineering's range of fabrication services can be customised to suit all manner of requirements and include laser cutting, punching, sheet metal forming, welding and machining. These services are provided to a diverse range of industries, such as automotive, earth moving, construction, materials handling, rail, security and petro chemical. The 'design to manufacture' process is seen as an integral part of the company's activities.
A customer will begin the process with an initial enquiry, which can be through a physical object that requires replicating, a sketch of the design, or even verbal instructions depending on the complexity of the part. From there, Grenville Engineering's expert designers use the latest 2D AutoCAD and 3D Solidworks software to convert simple drawings into 3D designs that align with specific requirements. Once a final drawing is created, and subsequently approved by the customer, data can be transferred directly to the CNC Laser machines in order to streamline the production process.
During the prototype phase a dedicated design engineer is allocated to manage individual projects from the concept stage through to approval. It is their job to ensure that the most cost effective methods of manufacturing are considered at all times, while jigs and fixtures can be created in house to guarantee that parts are made to a high standard throughout.
When we last featured Grenville Engineering within the pages of Manufacturing Today Europe during 2017, we highlighted the steady growth of the company, its programme of investment and the fact that it was making more of a concerted effort when it came to attending some of the industry's major events and expos. In the case of the former, the growth of the company, which had stood at ten per cent per annum for the three years prior to our last conversation, has continued, as has its focus on not only its existing customers but also new target markets. Meanwhile, in terms of investment, the company followed up its £500,000 purchase of the latest fibre laser technology in 2016 with the purchase of two CNC Press Brake machines that were installed at the turn of 2017, and the addition of further fabrication machinery.
In the time since, Grenville Engineering has also made further strides with the addition of new units, an increased despatch area and a dedicated stainless steel fabrication area. The company is also celebrating the securing of a major contract worth £400,000, the single largest contract in the company's history, while the need to increase capacity has also seen the introduction of a two-shift system at its facilities.
Lastly, the company's attendance at industry events has continued throughout 2018, with it making a second successful appearance at the Southern Manufacturing show, this year held in February, and more recently at June's Subcon 2018 event at Birmingham's NEC, the premier subcontract manufacturing show. Over the course of three days, countless businesses, OEMs and subcontract suppliers were on hand to highlight the positive outlook of the manufacturing sector, and in the months since, Grenville Engineering has secured a host of enquiries as a result of its presence, ranging from simply laser cutting services to full-scale fabrications.
Grenville Engineering has a proud record of encouraging the development of new talent through the work of its hugely successful apprenticeship schemes, a fact that Operations Director, Dali Dong, was keen to emphasis when we spoke last year. "We are a forward-thinking company, and we are always looking for employees that have the potential and opportunity to grow with the successes of the company," he noted.
With a well-documented skills gap present within the manufacturing industry, Grenville EngineeringEngineering can say with certainty that schemes like its apprenticeship programme are doing their part to bridge this divide and create lasting value not only for those individuals coming through the business, but also the company's customers and the UK's manufacturing sector as a whole.
Sales Director, Stuart Rawlinson highlighted; "We are continuing to grow year-on-year and are currently ahead of this year's targets. With continual investment in machinery, expanding our skilled workforce and taking on additional units, the business is strong and agile. This has increased our capacity and opportunities, whilst fitting into our overall long term business plan. Having had another great year at Southern Manufacturing and Subcon we are seeing more enquiries from outside of our traditional area – so the future is looking great!"
Grenville Engineering
Services: Metal forming and cutting specialists