On top form
Based in Stoke, Grenville Engineering specialises in sheet metal fabrication, laser cutting and metal forming
Grenville Engineering has been working on sheet metal fabrication, laser cutting and metal forming since 1984. Having begun operation with just five members of staff, the ambition of the company remains the same as when it was founded – 'to provide cutting edge fabrication with the vision to be one of the leading sheet metal fabrication companies in the UK.' Today, the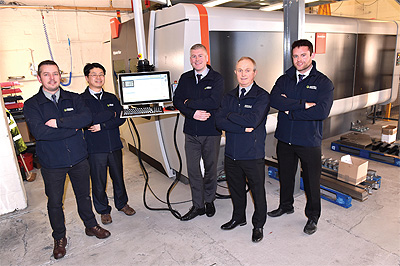 business fabricates for a diverse range of industries, including automotive, earth moving, construction, materials handling, rail, security and petro chemical. The services available from Grenville Engineering include laser cutting, punching, metal forming – pressing or rolling, welding, assembly, machining, grinding & finishing, logistics, plastic injection, and moulding and glass making.
Steering Grenville Engineering towards its ambitious plans are 50 trained and knowledgeable staff, and a very experienced management team, which includes Operations Director Dali Dong. Dali's career at Grenville Engineering began through a Knowledge Transfer Partnership (KTP) programme, which was created to implement a new IT infrastructure. "We wanted to develop and implement an ERP system to streamline processes and provide an effective way of bringing all aspects of the business together," he explained. "The KTP was of huge benefit to us and it transformed our fundamental business practices, and I remained with the company, now managing all aspects of operation efficiencies, quality management and IT infrastructure."
It is clear to see why Grenville Engineering was keen to embrace a state-of-the-art ERP system, as its growth meant not only managing its comprehensive team, but also working with high-profile clients such as Network Rail and JCB. With a current turnover of £5 million, over the last three years the company has grown by ten per cent and this has been achieved chiefly through its ability to not only produce high quality components but also to ensure that these parts arrive on time, at the right location. "Going forward, our strategy is to focus on existing customers and new target markets," stated Dali. "We are continually innovating and investing in new machinery, as well as being agile and responsive to both changes in the market and demands from our customers."
Indeed, 2016 saw Grenville Engineering invest £500,000 in the latest fibre laser technology, which opened up new capabilities with the addition of cutting materials such as brass and copper. The new laser can cut with greater speed and accuracy than conventional CO2 lasers providing cost efficiencies and shorter lead times.
This investment was quickly followed by two CNC Press Brake machines installed in early December, and further fabrication machinery investments in 2017. With an eye on the future, Grenville Engineering also has plans for moves into increased automation and robotics.
The level of accuracy that these state-of-the-art machines offer not only makes Grenville Engineering more efficient but also enables its customers to pursue their own lean manufacturing models and cut waste wherever possible. This reinforces the company's ambitions to 'provide the best solutions, options and quality for customers.'
While the technology is important, there is also a focus on close personal interaction with the client, building relationships from the initial quote stage, where it's even possible for Grenville Engineering's team to work on a prototype based on a physical object, sketch or even simply through verbal description, depending on how complex the design is. "We then work with 2D and 3D CAD software which gives the customer a visual representation of the final product," noted Dali. After this, any potential issues regarding the design can be discussed, before a prototype is created and, if that is approved, the creation of multiple batches can begin.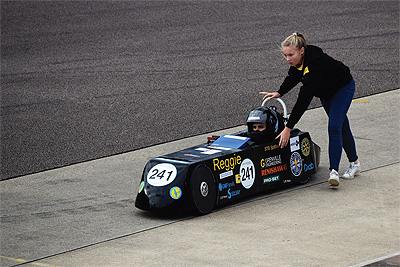 The approach adopted by Grenville Engineering is being welcomed by a loyal and growing customer base, and to ensure that it is advertising its extensive capabilities to a wide audience, during 2017 it made appearances at several industry events. "We exhibited at Southern Manufacturing – our first appearance there, and Subcon where we've already exhibited three times before," stated Dali. At Subcon, Grenville Engineering was involved in the Buyer Programme where new buyers were met and the organisation was able to share its sheet metal fabrication expertise. "We will be exhibiting at both of these shows again in 2018 following these successful events," he added.
Away from business events, Grenville Engineering also supported the designers of the future and encouraged environmental awareness through the Green Power Car Project. The team arrived at Thomas Boughey High School in Stoke where students had to design, build and race an electric car, alongside teachers and an industry mentor. The company provided the components as well as providing a fascinating lesson in how the manufacturing process works, hopefully inspiring the next generation of engineering talent.
One of Grenville Engineering's major benefits over the competition is its 100 years of experience at the top level from its management team. This solid background in industry means that the business understands the need to continuously improve and as a result it is always looking to develop the quality of its processes. In recent times Grenville Engineering passed its ISO 9001 inspection 'with flying colours', an indication that its machinery is not only fast and precise but also safe to use – health and safety is a top priority, with all employees receiving proper protection and training to minimise risk while working. "We have a Health and Safety policy and we have recently been awarded for our commitment to Health and Safety in the workplace as well," stated Dali.
Furthermore, Grenville Engineering continues to invest in the people behind the processes, and is proud to credit its team as being of major importance to its continued success. "We are a forward-thinking company, and so we are always looking for employees that can have the opportunities to grow with the successes of the company," Dali noted. "We have a very successful apprenticeship programme as we have identified the need to bridge the skills gap the industry faces."
Thanks to a base created a century ago, Grenville Engineering has its roots in its local area, steeped in an industrial tradition that favours the values of hard work and a gritty, determined attitude, while at the same time embracing the benefits that come with innovation and maximising the returns from the effort put in. What the company provides allows more industries to move forward, cutting out inefficiency and forming a business that is poised to continue crafting more success. "Our vision remains the same," concluded Dali. "We aim to be a Complete Fabrication Solution provider, and our success is in our responsiveness to change, commitment to our customers and our brilliant workforce."
Grenville Engineering
Services: Metal forming and cutting specialists