The success of Iowa-based Grimm Brothers Plastics has nothing to do with glass slippers, long hair or a little man spinning straw into gold. According to CEO Brent Dobbs, the company's success comes from its employees and its innovations.
Grimm Brothers Plastics began when brothers Kent and Curt Grimm fabricated particleboard electronic cabinets, which were covered with Formica, at their parents' farm. The demand for their cabinets grew to the point where the brothers could hardly keep up. However, in order to increase business and find the tools to make that possible, the Grimm brothers attended the 1985 National Plastic Expo in Chicago.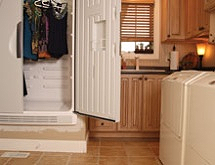 As a result of the show, the Grimm brothers recommended their cabinet buyer replace its current cabinet with a plastic one. The client approved, and a Chicago pressure forming company was selected to mold the cabinets. Having an outside source build the cabinets allowed the Grimm brothers the opportunity to learn more about pressure forming. The first machine they purchased was a vacuum former, which the brothers retrofitted into a pressure former.
Grimm Brothers Plastics has come a long way since its barnyard days. Now, the company operates out of a 100,000-square-foot building and provides pressure formed plastic products for the medical, fitness, industrial, recreation, appliance, food and beverage, RV and heavy equipment industries. Dobbs says the company ships its products to China, Brazil, Canada, Mexico and the Caribbean, but most of the product remains in the United States.
Gimme Some Skin
Dobbs says the company mostly manufactures "skins," or covers, for its clients. Some of the "skins" the company produces include the outsides of medical equipment, the housing for ice machines, hoods and roof caps for heavy equipment and forklift parts to name a few.
"Some clients have asked for us to install the guts of the product," Dobbs says. "We do provide some 'value-added' steps." Other value-added services offered by Grimm Brothers Plastics include assembly, painting, decorating and screen-printing.
Recently, Grimm Brothers Plastics has branched out and created its own products: the BreezeDry and the Ball Baby. According to Dobbs, the BreezeDry is an air drying cabinet that dries clothes by pumping indoor or outdoor air through a cabinet to gently dry clothes with no shrinking or damage to them. It's also 90 percent more efficient than a traditional dryer, which makes it a very "green" product. The Ball Baby is a chute that allows spectators at baseball or softball games to return any foul balls to the field without interrupting the game or causing any harm to the players or attendees.
Eyes on the Kaizen
Grimm Brothers Plastics practices the Japanese philosophy of kaizen, where everyone focuses on the continuous improvement of processes in manufacturing, engineering, supporting business processes and management.
"Kaizen is a war on waste," Dobbs says. "We practice just-in-time for our inventory in that we keep a three- to five-week supply of plastic. Most of our customers want their products in five to 10 days."
Dobbs says the company incorporates kaizen into its training. "Our standard operating procedure is: each step of the manufacturing process is identified, the exact steps taken are demonstrated, and visual instructions are created.
"Part of our culture here is an undying commitment to having integrity in everything you do," Dobbs says. "Our employees are our business partners. We share everything we do and we value our employees' opinions. Our peo­ple set us apart."
Paging Dr. Grimm
One of the perks for working at Grimm Brothers Plastics Dobbs says is watching FOX's television program "House." "I don't think a week goes by without seeing one of our medical supply products on 'House,'" he says. But perhaps Dobbs is most proud of the company's redesign of its client Lantech's stretch wrapping machine.
"We were able to help reduce their costs by 25 percent," Dobbs says. "It felt good to help them save some money through a project that was a true partnership. It was a success for both companies."
Pride, however, is not something the company likes to exude. When the company makes a charitable donation, helps people or organizations in the community, they keep it low-key, Dobbs says. "[Kent and Curt] consider the business as a Christian outreach," he explains. "They're dedicated to doing the right things, for the right reasons. They don't like a lot of attention drawn to themselves or the company. "It's just part of their Christian upbringing," he adds.