Harvesting success
GRIMME UK is a sales and service subsidiary of the GRIMME agricultural machinery brand, known for its potato, beet and vegetable technology
While GRIMME UK can look back at 27 years of history, its parent company – family owned German root crop and vegetable machinery manufacturer GRIMME – has been a market leader in its segment since its establishment in 1861.
By the time GRIMME set up its sales and service subsidiary in Sleaford in 1993, the UK market was already familiar with the quality, innovative nature and reliability of its products, as it had been exporting machines to the UK since the 1960s. Once its market share had grown substantially, GRIMME UK was born, and benefitting from that impressive legacy and pedigree it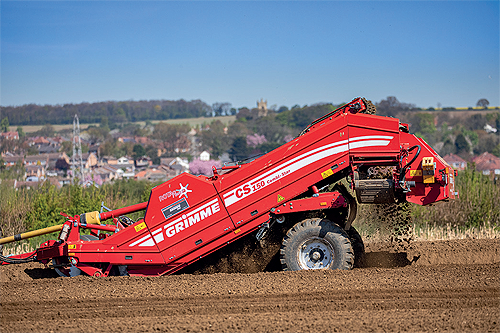 has grown from a seven-person business to an organization with almost 100 members of staff and a bespoke facility in Swineshead.
This location was originally constructed in 1997, but further additions and developments have been ongoing, including new workshops and stores, and a new Technicom training center, which was officially opened in 2015. More recently, the company has invested considerable capital into a new site in North Yorkshire, as well as a new Scottish facility. Patrick Grote, Managing Director, gave Manufacturing Today some more details: "In Yorkshire we are currently halfway through a build project for a new workshop and warehouse facility for the business-to-consumer (B2C) side of the business, which looks after the sales and service of GRIMME machinery in the Yorkshire and Humber area. The project features bespoke built premises on a 4.5-acre site on the outskirts of Market Weighton. With regards to Scotland, we are currently looking for a new location to re-locate our B2C team currently based in Fife to the Dundee area in order to better look after our customer base in Scotland," he said.
At the heart of the success of GRIMME is its range of extraordinary agricultural machines, and as Patrick states, the company's number one aim is to be 'the first port of call for all root crop and vegetable growers when it comes to their mechanization needs.' "Providing machinery for all specialist operations involved in the root crop chain, GRIMME offers bed forming, destoning, bed tilling, potato planting, vegetable and beet seeding, harvest and handling equipment," he added. "In-house, we have over 40 members of staff in service and around £6 million worth of parts on stock, as well as a vastly experienced dealer network."
The company manufactures around 80 per cent of its machines components in-house or through its subsidiaries INTERNORM and RICON. "This high level of in-house manufacturing is achieved through GRIMME's manufacturing depth with metal, PU and web fabrications," emphasized Patrick. "This not only helps us remain flexible and able to adapt to demand, but also means we are very self-sufficient."
Patrick also gave credit to the GRIMME team, without whom the business could not achieve any of its current success. "A business is only as good as its employees and we are extremely fortunate to have a group of dedicated, committed and vastly experienced staff," he agreed. "We have a great mix of ages in our business and a very flat hierarchy, which means that our staff can have open, honest conversations with one another. The keys to a successful culture are transparency through clear direction and measurable objectives, direct and open communication from top down and bottom up, trust through employee empowerment and a solutions-orientated approach to challenges faced. Our innovative approach to product development, integrated full-line sales offering and our industry leading after-sales set us apart from our competition."
In fact, product development is at the very heart of the GRIMME operation, with innovation and new solutions being given priority since the day the business was conceived. "Product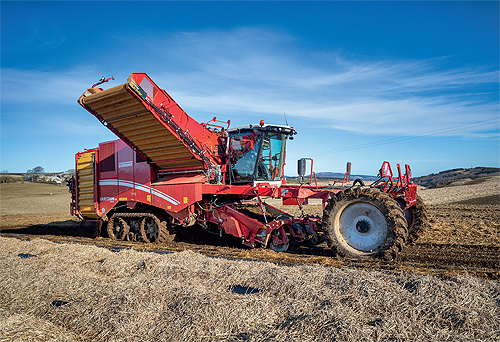 development is engrained in our DNA," Patrick confirmed. "With a staff of over 200 technical designers, some of whom have been with the business for over 25 years, we have a very experienced team of engineers across our group. Our four-stage product development process ensures the products we bring to market have withstood intensive testing and are proven concepts. We pride ourselves on our practical, in field approach to product development, which we combine with new techniques such as SCRUM project management in order to achieve the best results.
"Recently we have further expanded our product offering for our customer base to include more bespoke handling, packing and storage solutions by forming a strategic partnership with the British Vegetable Handling manufacturer Haith Group," he revealed. "This is an exciting development as it means we are now able to offer fully integrated solutions to the post-harvest sector to our grower base. On top of this, our partnership will also provide current Haith customers with a more localized after sales back up through our network. As a family orientated, innovative manufacturer Haith Group is a partner whose business values are very similar to our own."
Having raised the issue of business values, Patrick then moved onto the environmental side of operations at GRIMME, and the green strategies it has on the agenda. "As a vegetable and root crop machinery manufacturer we have a large degree of social responsibility in that our products are essential to the food supply chain," he said. "A significant part of our product development is focused on improving efficiencies within on-farm operations, especially the use of inputs such as fuels, lubricants, fertilizers and pesticides. Alongside this, soil health is a major part of development with reducing soil compaction and the intensity of operations to prevent soil structure breakdown at the forefront of our minds."
As Patrick so rightly pointed out, as a vital cog in the agricultural machine, GRIMME plays an essential role in the nation's food supply chain, and the importance of this came to the fore just as the UK Covid-19 lockdown came into place. "This arrived right in the middle of our crop establishment period, so our business was under a lot of pressure to keep the after sales side of the business running," said Patrick. Thanks to its adaptability and quick reactions, GRIMME was able to organize its processes and keep working. "Operational staff in service and parts remained in work either on site or with our customers, whilst our administration and sales teams worked from home. The introduction of masks and social distancing has since enabled us to return all staff to work in time for our main harvest season from September onwards. On the manufacturing side of things, our main factory in Germany was very proactive in reacting to the situation introducing masks, staggered shift patterns and home working for all non-manufacturing staff. Due to our high level of in-house manufacturing and key worker status we were able to keep our manufacturing running and our supply chain open."
Looking at the product list that is now available from GRIMME, and the variety and range of equipment the company has created, it is clear that this is a company that invests significant time and money into thinking of innovative solutions that will benefit its customers, at the same time as working more harmoniously with the natural world. Going forward, Patrick predicts that it will remain focused on satisfying its customers' needs. "As a business, our primary aim is to make our customers businesses more profitable by providing them with advanced mechanical solutions and ensuring their downtime is kept to an absolute minimum," he concluded. "At GRIMME UK our focus is around ensuring this and we will continue to build on this through measures such as programs of preventative maintenance, increased reliability and cost predictability. Within the next five years, we hope to have further nailed down our position as the dominant market player in the Potato sector, but to also establish this market position in t e Beet and Vegetable sectors, too."
GRIMME UK
Services: Agricultural machinery manufacturer
www.grimme.com/uk