For Grindmaster-Cecilware Inc., the best way to retain and attract new business is simple – create products that are unlike any others available on the market and that make its customers' jobs easier.
"I think we've proven to ourselves and to the market that innovation is one of the best ways, if not the best way, to be accepted by customers," says Nestor Ibrahim, CEO of the Louisville, Ky., manufacturer. "We've brought innovations and products to the market that did not exist before. We have had customers flocking to us because they're interested in the new technology we've introduced."
The company is an industry-leading provider of beverage-dispensing and foodservice equipment to large national grocery and convenience store chains, restaurants and beverage producers. Since its formation in 2009, Grindmaster-Cecilware has focused specifically on developing and producing non-carbonated beverage-dispensing equipment. "We foresaw that more customers would take to non-carbonated drinks because of the negative press surrounding the negative health attributes of carbonated drinks, and we were proven right," Ibrahim says. "We're seeing more companies rolling out non-carbonated drinks in response to consumer demand, and that's why we've updated and expanded those product lines."
Grindmaster-Cecilware formed following the merger of Grindmaster Corp. with Cecilware Corp. Cecilware, a foodservice equipment manufacturer, dates its history back to 1911, when it was founded in Long Island, N.Y. Grindmaster was established in 1933 by Richard Shuman, who had patented a unique style of coffee grinders.
Both companies expanded their operations and product lines through the years. Grindmaster acquired Crathco, a manufacturer of cold beverage dispensers, in 1988, and American Metal Ware, a manufacturer of coffee and tea brewers and urns, in 1995.
A New Buzz
Grindmaster-Cecilware this year introduced its latest innovation, the Radiance™ powdered cappuccino dispenser. The device is wi-fi capable and features touch-screen cappuccino dispensing. The machines feature telemetry and diagnostic technology that enables chain owners to manage product inventory and proactively respond to consumer flavor preferences, which often vary by region.
"If a chain customer of ours has these machines at each of their 2,000 locations, they can control them from a single location and make changes to certain machines remotely," Ibrahim says. "We talked to our customers, who told us they wish they could do what other industries can, which is control machines from remote locations. We have added elements above and beyond what anyone expected from us; no one in the food and drink industry had put the time and cost into developing a machine like this."
Each Radiance™ dispenser has a sensor that will tell the owner if a hopper is empty and needs to be filled, and enables chains to analyze how well flavors are selling in certain locations. "This is technology that did not previously exist in our industry," Ibrahim says.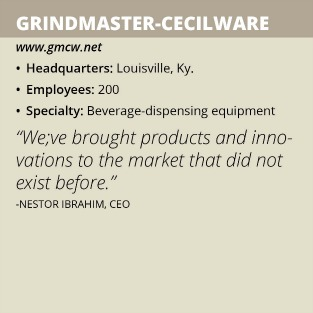 Ibrahim says the Radiance dispenser is the company's largest new product introduction in the past three years. The first set of Radiance machines was recently produced and is now being shipped. "This has brought us a lot of buzz, and we've had a lot of customers interested in this machine," he says.
A Rich Lineup
In addition to the new Radiance dispenser, Grindmaster-Cecilware recently introduced two new additions to its non-carbonated beverage lines.
The company in May introduced a new stainless steel iced tea urn that is the only product of its kind on the market, Ibrahim notes. The urn is easier to clean and sanitize than the plastic urns that are currently on the market, and does not require the use of a plastic liner or tube. "This can save millions of dollars for large chains that are using plastic liners or plastic tubes to dispense iced tea," he adds. "Everyone who serves iced tea can benefit from it."
Customers for the new dispenser include restaurant chains, which can use it at the front of the house for customer self-service or at the back of the house, and convenience stores and gas stations. The new tea urn is one of several iced tea dispensers available through the company. "We have the richest lineup and largest variety of iced tea dispensers of anyone in the industry," Ibrahim says.
Grindmaster-Cecilware last year introduced the Simplicity Bubbler®, which is used to dispense premix beverages, including lemonade, tea, and other flavored juice drinks. The machine differs from comparable products in that it features a front-to-back airflow system as opposed to flowing air from side to side. "This allows it to require minimal side-to-side spacing between it and other pieces of equipment on the counter," Ibrahim says. "This has been a tremendous success for us; a major chain has already rolled these out, and we have other national concepts scheduled to roll out 10,000 of them in the next six months."
The company is now working on introducing redesigned versions of several pieces of its beverage equipment that would be proprietary to particular customers. "We've seeing a lot of high-profile chains interested in aesthetically better-looking equipment," he adds. "We're now engaged in designing equipment for two or three of the largest beverage companies in the world."
Internal Investments
The company prides itself on its ability to produce high-quality equipment for its customers. "I'm most proud of our level of service to our customers; we're a very proactive, customer satisfaction-oriented company that is very easy to do business with," Ibrahim says. He cites positive feedback Grindmaster-Cecilware has received from customer surveys conducted by third-party companies.
Grindmaster-Cecilware's research and development teams – located in Louisville and Bangkok, Thailand – play a large role in giving its customers what they want. Both locations actively research new equipment and technologies and reinvent equipment to provide new options for beverage dispensing. "We invest heavily in research and development of new products, which pays off for us when high-profile global companies come to us to test their product," he adds.
Once a new product is developed, it is produced in one or all of Grindmaster-Cecilware's manufacturing plants, which are located in Louisville and Bangkok. The company's manufacturing facilities in Louisville and Bangkok are both ISO 9001-certified, which Ibrahim says keeps its facilities disciplined and on the cutting-edge of manufacturing methods.
Both facilities operate based on lean manufacturing principles. "We've invested heavily in being a lean company in order to keep costs reasonable for our customers," Ibrahim says.
Grindmaster-Cecilware's manufacturing employees are critical to its continued success. "We've looked very closely at any and all improvements we can make for our employees," he adds, noting the company's recent increase of entry-level salaries and introduction of wellness programs. "We try to focus on becoming a better employer."